This July, the United States Army announced a new $9 million initiative it's pursuing with Michigan State University to make electric autonomous vehicles safer, smarter and more dependable.
With support from the Army's Ground Vehicle Systems Center, or GVSC, Spartan engineers are working to create every advantage they can for vehicles that will serve our country's service members. But it doesn't take long to see how these innovations will benefit civilians, too.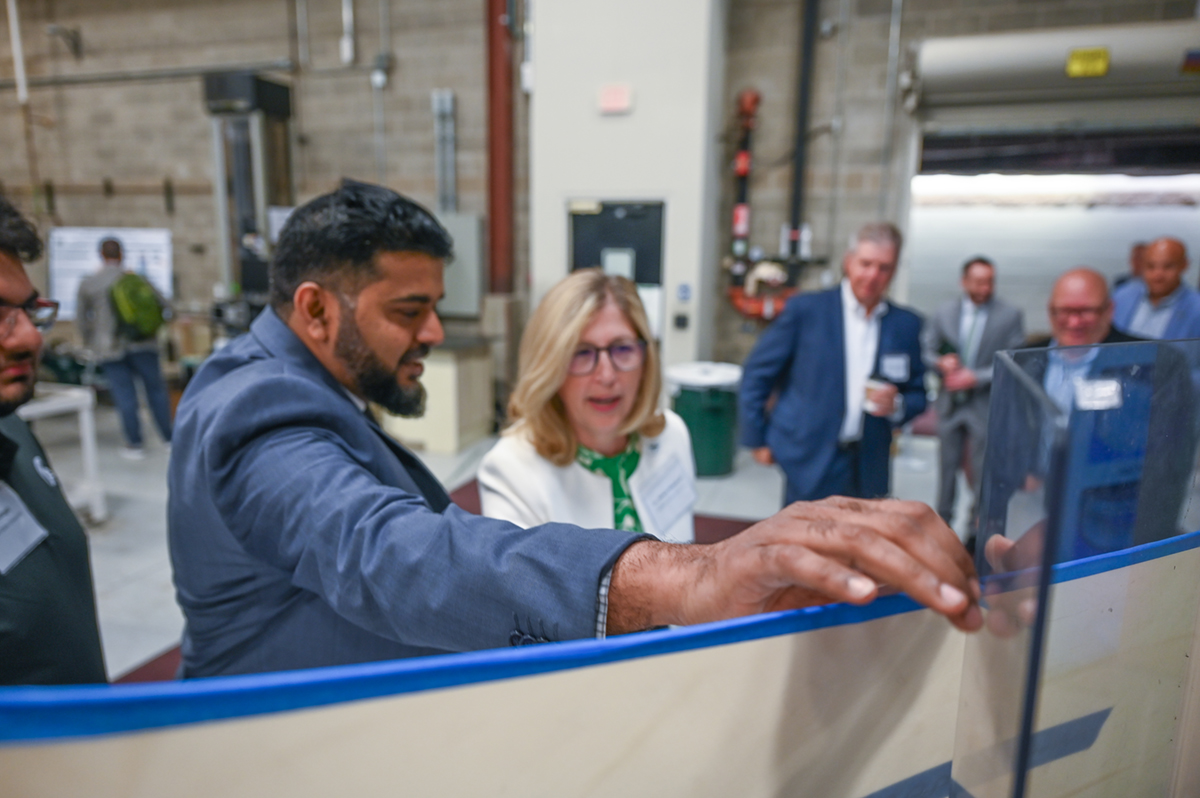 Mahmood Haq, director of the Composite Vehicle Research Center at MSU, talks with MSU Interim President Teresa K. Woodruff, Ph.D., at the announcement of a new $9 million mobility research initiative launched with support from the U.S. Army. Credit: Derrick L. Turner
In fact, the team will first demonstrate its new ideas, designs and technologies on a commercially available passenger car before disseminating these advances to other vehicles.
For today's average driver, perhaps the biggest problem MSU's researchers are working to solve is related to range anxiety, the fear that electric vehicles, or EVs, will run out of charge before reaching their destination.
"If you were to ask 10 electric vehicle owners what is the single biggest issue they have with their car, I would bet eight out of 10 would say range anxiety," says Satish Udpa, a University Distinguished Professor in the Department of Electrical and Computer Engineering.
Udpa is a leader of the GVSC project and an EV owner. He's been impressed with how well his vehicle keeps him informed of his charge level and nearby charging stations, but it doesn't fully alleviate the stress.
"If I have to go to Chicago, I'm still going to worry about where to charge," he says. "There's a level of anxiety that you don't associate with vehicles powered by internal combustion engines."
And range anxiety doesn't just affect current drivers. According to industry surveys, it's the top barrier outside of cost for consumers considering the switch to EVs, even as manufacturers and the government are working to accelerate that transition.