Jacob Pepper is a social relations and policy student in James Madison College with a minor in business graduating this May.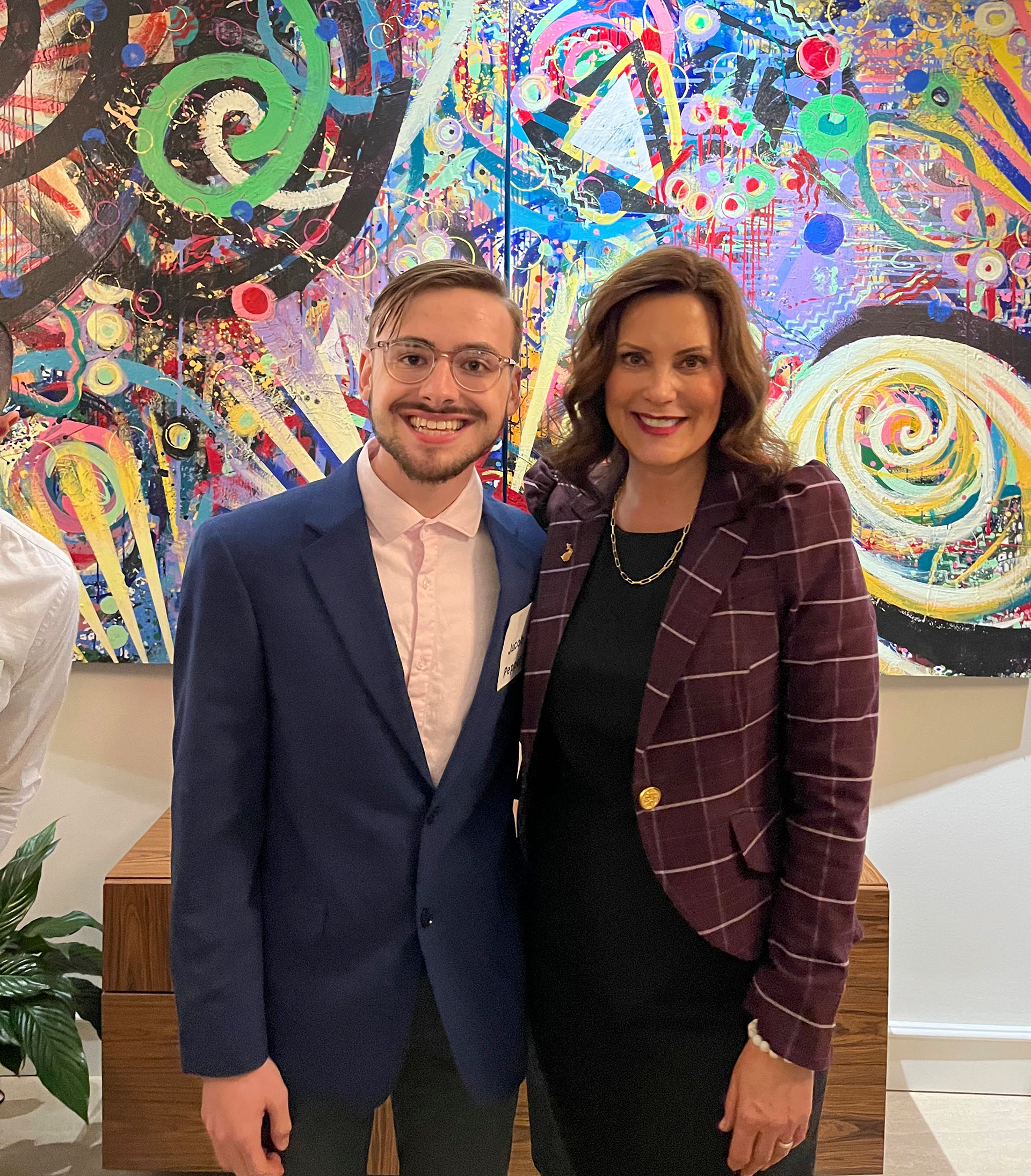 Jacob Pepper (left) with Gov. Gretchen Whitmer celebrating the amendment to the Elliott-Larsen Civil Rights Act at the Michigan governor's mansion.
As MSU's Pride Month and my time here at Michigan State University come to a close, I wanted to reflect on my experiences as an openly gay student as well as the opportunities MSU has given me to explore my identity. Coming from a small village of less than 1,500 people, I knew I wanted to go to Michigan State and, more specifically, James Madison College to broaden my worldview and give me access to a space where I felt free to be openly gay. Through academic and professional experiences during my time here, I have had the opportunity to explore my identity in ways I never felt possible.
This past fall, I traveled to Sydney, Australia, for 10 weeks on an internship abroad program through James Madison College and Global Academic Ventures. During this time, I got to befriend other young queer professionals and learn about Australian LGBTQIA+ history. My supervisor Linton Davey, with Assistance Dogs Australia, was particularly inspiring to me as an LGBTQIA+ leader. I truly appreciated having a professional experience seeing a gay person model the things that I wanted to do with my life.
One weekend, I got to explore Bondi Beach and I stumbled upon the Bondi Memorial, a monument honoring gay and transgender victims of hate crimes that opened just last year. I learned that in the 1970s and 1980s, LGBTQIA+ people were murdered, tortured and assaulted on the beach's cliffs as gangs of hateful individuals came to target the LGBTQIA+ people who occupied the space at night. It was profound to stand by those same cliffs that by night had been a hunting ground for people like me — people who were just looking to explore their identity. This experience abroad, along with my social relations and policy courses in James Madison, has put into perspective how pervasive and global the issues of homophobia and transphobia really are.
This past March, Max Olivero, a field experience coordinator and academic advisor with James Madison College, invited me to attend the celebration of the passage of an amendment to the Elliott-Larsen Civil Rights Act at the governor's mansion. At this event, I had the opportunity to talk with Lt. Gov. Garlin Gilchrist as well as other Michigan LGBTQIA+ allies and leaders about relevant issues in our community. This new amendment reaffirms legal protections for sexual orientation and adds protections for gender identity and expression from workplace discrimination. I am fortunate to live in a state where our local leaders take time to amplify LGBTQIA+ voices and protect our rights through legislation.
I hope to take the lessons learned and the experiences I have gained at Michigan State into my life post-graduation and into my career. Each day, I am reminded of the support and love from my professors, peers and administrators. From the Gender and Sexuality Campus Center to professors and supervisors who mentor with diversity, equity and inclusion in mind, my identity as a gay man is accepted and celebrated at MSU, and I am excited to see what progress future queer Spartans can make.
MSU recognizes Pride Month in April while many students are still on campus. Support the GSCC Unconditional Love Fund, which provides students with flexible assistance to address unexpected financial hardships associated with their sexual and/or gender identity.