This morning on the top floor of Spartan Stadium, researchers from Michigan State University and the Michigan Department of Natural Resources secured tracking bands – in a banding ceremony – on four peregrine falcon chicks to monitor their movements once they leave the nest. This continues MSU's efforts to help the species recover.
"Banding the chicks helps us track their survival," said Jim Schneider, a senior specialist and undergraduate program coordinator in the College of Agriculture and Natural Resources at MSU. "As well as their migration patterns."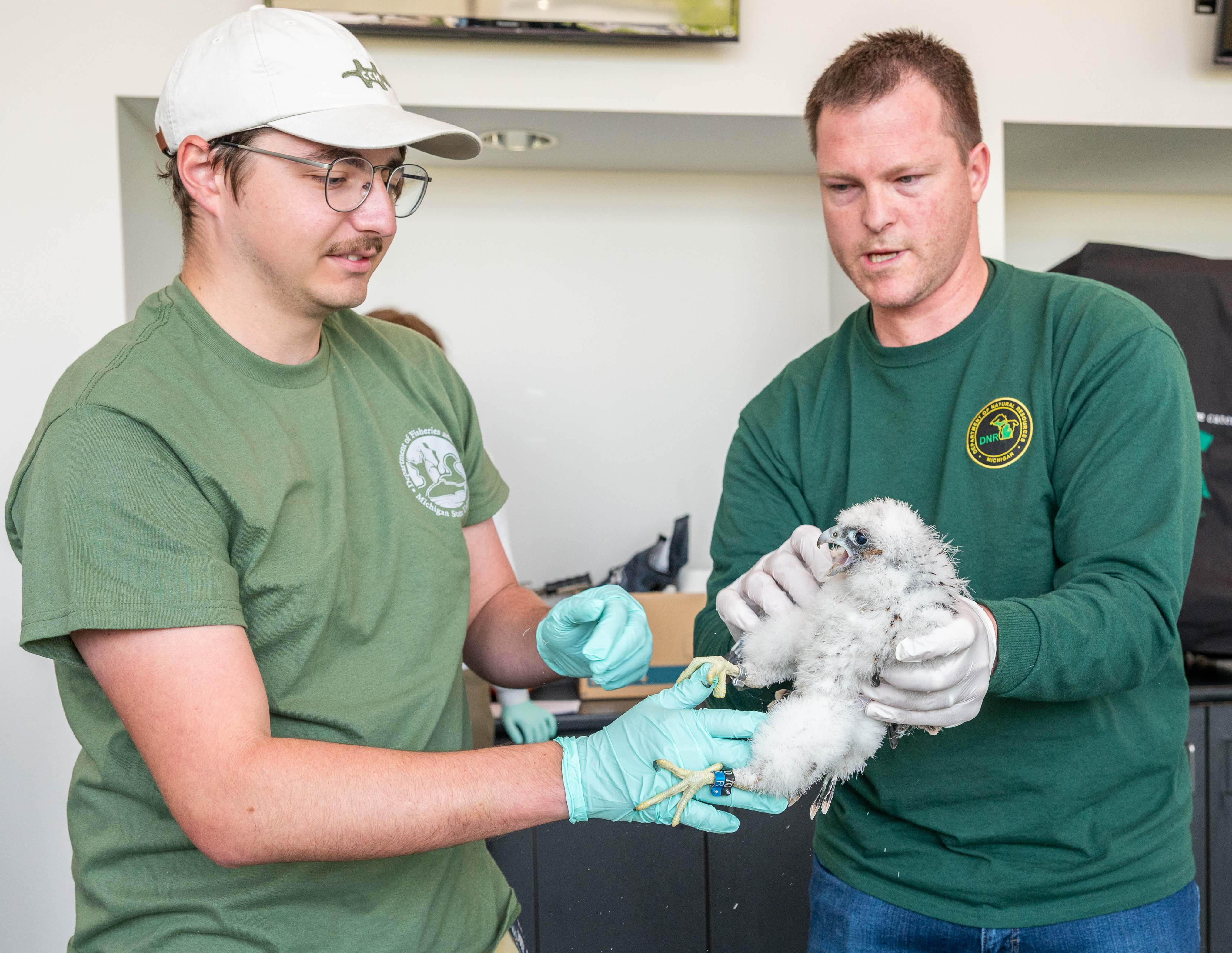 L-R: Endi Piovesana (Third year student) and Chad Fedewa (Michigan Department of Natural Resources) hold peregrine falcon chick, Muhammad. Credit: Derrick Turner
First, the researchers had to remove the falcon chicks from their nest. This is extremely dangerous for the researchers because peregrine falcon parents will instinctively defend against anyone who invades the nest. To protect themselves, the researchers wear hard hats and use umbrellas as shields to gather the chicks and bring them inside. Once the chicks are safely in the hands of the researchers, the entire banding process takes 10-15 minutes with the expected squawking and squirming from the chicks.
In 1999, peregrine falcons were removed from the federal endangered species list, but they remain a threatened and vulnerable species. Michigan State University's Fisheries and Wildlife Club secured funding to construct a falcon nest box in 2021 for research and conservation, which attracted a peregrine falcon mating pair, Apollo and Freyja last year. The pair returned for their second year, and gave birth to four falcon chicks, named Muhammad, Swooper, Egbert and Pickles, close to a month ago.
"Having this nest box available and having peregrines use it is helping their species recover," said Schneider. "We're hoping they get caught at another banding station or show up on a web cam so we can see where they go."