Lily Kirkman, of Bloomfield Hills, Michigan, is a senior in the Michigan State University School of Packaging and is expected to graduate in spring 2023. Her packaging pursuit began in high school with a passion for both art and science. At the time, she didn't imagine she could combine them both into a profession.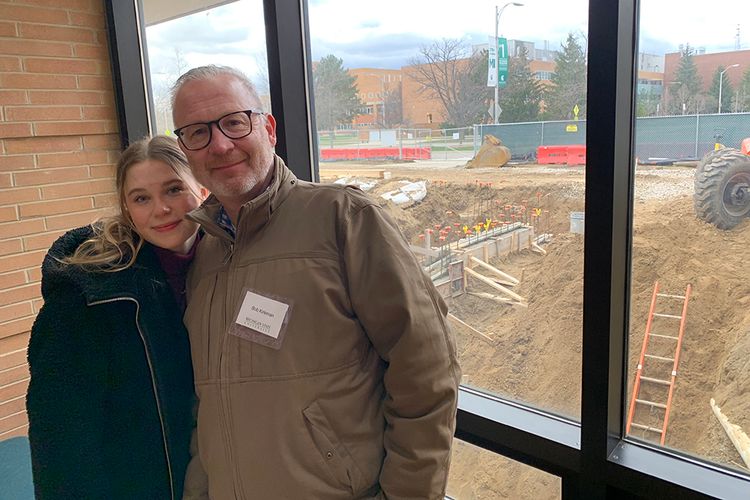 Packaging senior Lily Kirkman with her father, MSU alumnus Bob Kirkman, at the Packaging Building groundbreaking ceremony.
While on my college search, I stumbled upon an amazing degree called packaging. It is the perfect mix of design-based learning and the science I longed for. From freshman year to now, I have fallen in love with the program at MSU and all the opportunities it brings.
I believe this degree will give me the best of both worlds with a good mix of both design-based learning and science.
Through the School of Packaging in the MSU College of Agriculture and Natural Resources, students learn to create innovative solutions that enhance or maintain product quality, increase efficiency and reduce waste. In doing so, students contribute to the economic development and quality of life of people across the world through highly relevant, educational experiences and cutting-edge research.
Outside of my studies, I am a member of the MSU Women's Club Hockey team and I serve as president of the MSU Coalition of Packaging Professionals and Academic Connections. This club provides a platform for companies and packaging professionals to network and engage with MSU's packaging students. In fact, my involvement with CoPPAC has been one of my best experiences at the School of Packaging.
Through my services on the board for CoPPAC, I have become even more immersed in the program, gained close packaging friends and made close ties with our packaging professors.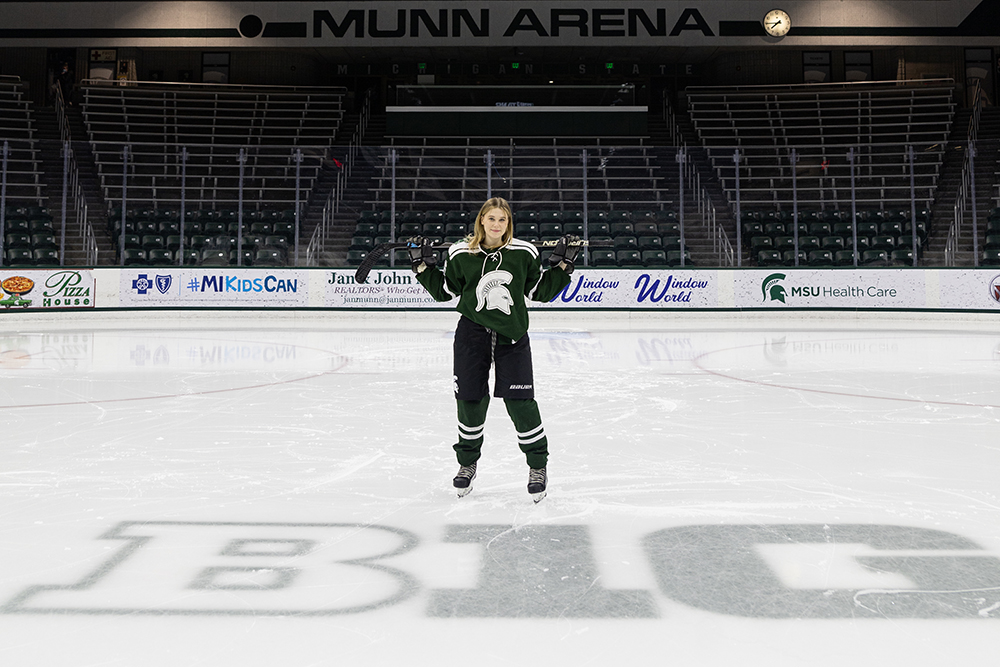 Lily Kirkman is a member of the MSU Women's Club Hockey team.
Because of my role as president of CoPPAC, I represented the packaging student body at the Packaging Building groundbreaking ceremony in April 2022.
There, I told the crowd in attendance: "With the new facility, we are not just getting a new building, but a new home to create connections, to collaborate and to explore professional opportunities. Having a facility that promotes this will be so exciting and will enrich all future packaging students.
"I am beyond excited about all the new equipment and labs in the new facility. They will more closely match what is being used in industry and will better prepare packaging students for their careers. I am thrilled to see the School of Packaging turn from an outdated building to a hub for connections and learning. This program is amazing and having a state-of-the-art facility to match it will only increase our value for the packaging industry."
I am currently in the midst of an internship with Nestle Coffee Partners I started this summer that will conclude in December. Moving forward, I plan to explore as much of the packaging industry and continue learning as much as I can before graduating in May 2023.
I want others to know that packaging is such a great degree because there is so much you can do with it in your future career, and the sense of community in this major is so strong.
This story was adapted from a piece that originally ran on the College of Agriculture and Natural Resources website.