Amber McAddley is a sophomore in the College of Arts and Letters from Canton, Michigan. She is majoring in African American and African Studies and pursuing a minor in Spanish.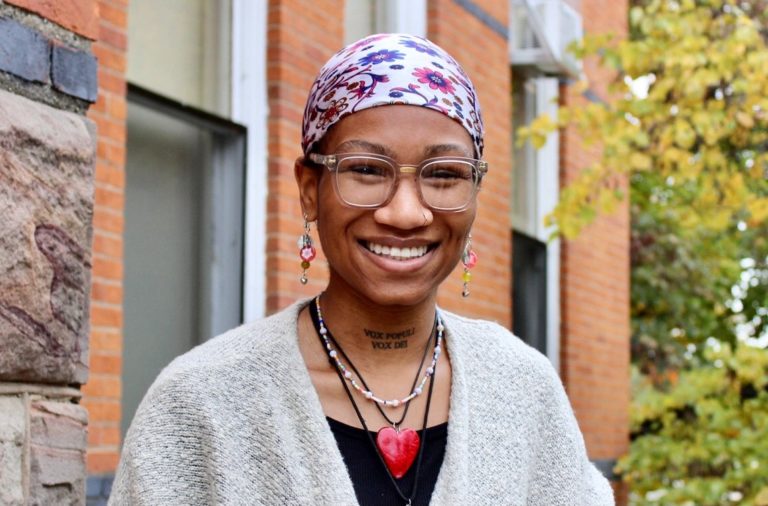 Last spring, the College of Arts and Letters launched a new major: a Bachelor of Arts degree in African American and African Studies. It was through the Department of African American and African Studies, and I was one of the first students to declare AAAS as my major.
I am minoring in Spanish, but the AAAS major was exactly what I was looking for.
It makes me really feel like I have a place here on campus. It offers a sense of community. It's super-connected.
I thought I would pursue a business major. I thought it would be good and reassuring for a career, but it lacked soul. That was something I wanted to make sure my studies had — my heart in it. With African Studies, because it is so open, it dives into a lot of things that many people may not consider.
I grew up in a town and went to a school without much diversity. The AAAS program has changed things for me.
I came to a predominantly white institution after growing up in a predominantly white hometown, and I really wanted to learn more about what it means to be Black because I felt such a disconnect. Walking into class now and seeing more than two or three Black people in class is comforting. Growing up, I was often the only Black person in my class.
Now, the more I learn while majoring in AAAS, I am discovering that I would like to teach at MSU someday.
I want to try to come back and allow other people to see that school is not just learning and it's not just a career. It's more so learning about yourself. I want to come back and advocate for that.
It has meant a lot to be among the first cohort of AAAS majors. Everything's new. It's a clean slate. And it's just comforting to be a part of the first steps of it being offered.
I think others should explore the AAAS program. Any person of any single major, if they were to take just one class within AAAS, they would learn a lot. It offers a strong foundation regarding heart and soul. There is no limit with this major and the topics it covers.
In November, the College of Arts and Letters held an official opening for a new space dedicated to AAAS.
---
This piece was adapted from a story that originally ran on the College of Arts and Letters website.