Farmers across the country are increasingly concerned about the impact of climate change on their farms and are looking for ways to prepare for the future.
Researchers at Michigan State University are part of a team of more than 30 researchers and stakeholders nationwide who will use a five-year, $15 million grant from NASA to strengthen U.S. agriculture as it faces climate threats.
"In the U.S., there are more than 20 million jobs related to farming," said David Roy, interim director of MSU's Center for Global Change and Earth Observations and a professor of geography in the College of Social Science. "This grant will empower sustainable, productive and resilient agricultural decision making and policy."
Roy is joined by Lin Yan, an assistant professor with the CGCEO, representing MSU. The grant, known as NASA ACRES: A Climate Resilient Ecosystem Approach to Strengthening U.S. Agriculture, will begin in January 2023. The goal is to help farmers use NASA earth science data to make their farms more productive, adaptable and sustainable.
"This work fits very well with our mission to utilize the latest geospatial technologies to characterize ongoing changes in climate and land, understand the forces leading to these changes and their impacts, and help provide solutions to problems to improve human and societal well-being," said Roy.
Under a previous NASA-funded grant, Roy and Yan developed an automated computational method to extract the locations and boundaries of crop fields from satellite imagery, which will be useful to this project.
"People think it is pretty easy to identify crop fields from space, but it's not," Yan said. "We get around that by using images acquired over the year to take advantage of the temporal differences between fields and their surroundings, and using computer vision algorithms to recognize field shapes and delineate boundaries."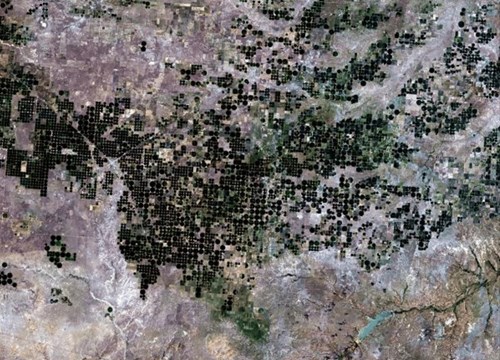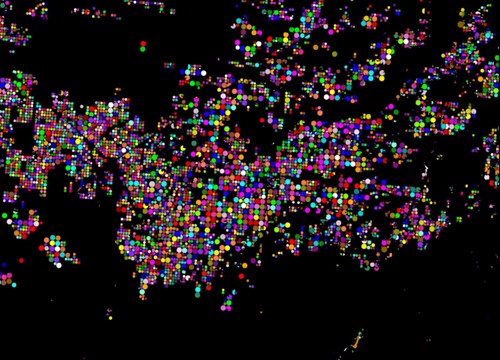 Top shows Landsat imagery of crop fields over a 150 x 110 km area in the northeastern Texas Panhandle; bottom shows the crop field extraction results (individual crop fields are colored). Credit: Lin Yan and David Roy.
This earlier work provided evidence that U.S. crop fields are increasing in size — an important factor in understanding changes in agrarian activity.
"We have always wanted to know how, where and why crop field sizes have changed," Roy said. "Twenty years ago, more farms were family owned and operated and now, they are more mechanized, and the farms tend to be larger."
For this new grant, Roy and Yan will refine their methodology to analyze about 20 years of Landsat data from 2008 onward for the contiguous U.S. to trace variations in agricultural capital investment, mechanization and labor intensity. The results will be used by consortium members to model the changing agricultural landscape and examine the relationship between crop field size and climate resilience.
"The hope is that in the future, this data can be used to help farmers improve the climate resilience of their farms," Yan said.