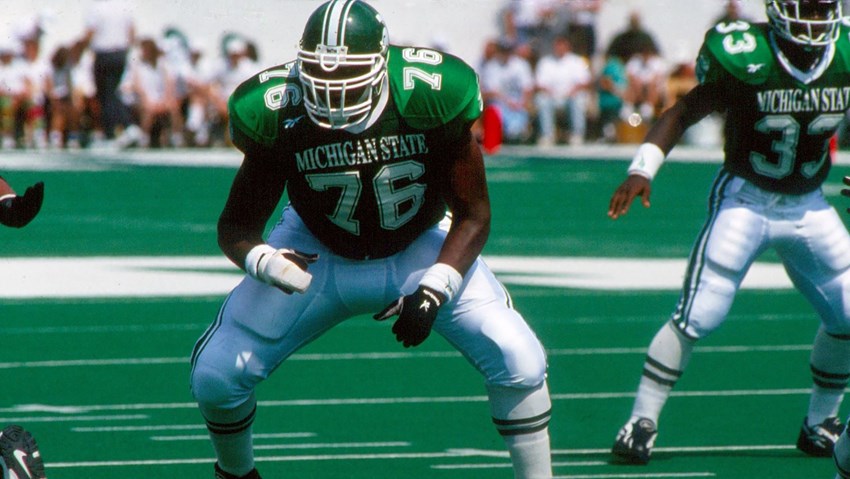 Former Michigan State All-American offensive tackle Flozell Adams and former Spartan head coach Darryl Rogers are featured on the National Football Foundation's 2023 (Football Bowl Subdivision) ballot for induction into the College Football Hall of Fame.

In addition, former Spartan Gideon Smith, the first African American to play intercollegiate athletics at Michigan State and a three-year letterwinner from 1913-15, is on the ballot in the divisional coaching category. Smith coached at Hampton University from 1921-40 and led the Pirates to the 1922 Black College National Championship. He recorded four CIAA titles and two unbeaten seasons in his career. The longest tenured coach in Hampton history, Smith has the second-most wins all-time at the school.

"It's an enormous honor to just be on the College Football Hall of Fame ballot considering more than 5.54 million people have played college football and only 1,056 players have been inducted," said NFF President & CEO Steve Hatchell. "The Hall's requirement of being a First-Team All-American creates a much smaller pool of about 1,500 individuals who are even eligible. Being in today's elite group means an individual is truly among the greatest to have ever played the game, and we look forward to announcing the 2023 College Football Hall of Fame Class early next year."

The ballot was emailed Monday, June 6 to the more than 12,000 NFF members and current Hall of Famers whose votes will be tabulated and submitted to the NFF's Honors Court, which will deliberate and select the class. The Honors Court, chaired by NFF Board Member and College Football Hall of Famer Archie Griffin from Ohio State, includes an elite and geographically diverse pool of athletic administrators, Hall of Famers and members of the media.

The ballot includes 80 players and nine coaches from the Football Bowl Subdivision and 96 players and 33 coaches from the divisional ranks.
For the full story, visit msuspartans.com