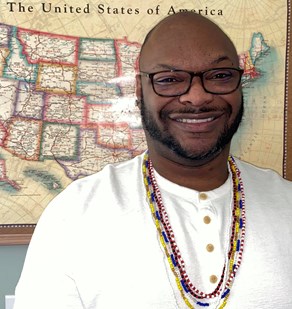 This August will mark the first time many Spartans will live, work and learn on campus after more than a year of being remote.

To ease this transition, Kaston Anderson-Carpenter, assistant professor of psychology and director of the Advancing Community Empowerment and Social Justice research lab, offers his expertise about building a welcoming, inclusive environment that allows for meaningful discussions based on civility and mutual respect.

When it comes to moderating difficult discussions with my students, I have a simple yet poignant philosophy: We can debate ideas, but we don't debate people.

I always tell my students that my job is not to teach them what to think. It's not in my contract, so I'm not doing it. My job is to teach them how to think. I don't shy away from sensitive conversations and I bring that sentiment into the classroom. Through those conversations, my goal is to teach them how to debate ideas and their merits and to support their positions with evidence.

My first semester at MSU was during the 2016 election cycle. I had to teach my community psychology class the morning after the results came in. Even though I was supposed to be teaching about implementation science that day, I knew that wasn't going to happen. I brought boxes of tissues to class because I knew there was going to be some tears. Some students supported Donald Trump and some supported Hillary Clinton. Needless to say, there were many strong feelings on both sides. As the instructor, my job is to be a facilitator, moderator and supporter to my students.