Do you ever have those moments when you think, "How did I not know that?" I mean, there are a lot of things I don't know anything about. But sometimes, I learn something new that seems like something I should have learned a long time ago. That happened to me this weekend.
I've been a Michigander my whole life, except for a short stay in South Dakota while my spouse served in the military. I grew up in the Detroit suburbs and have traveled the state extensively. I learned Michigan history in school and have visited Detroit many times. I've never lived there, but I thought I knew most of the major things about Motown. But I was wrong.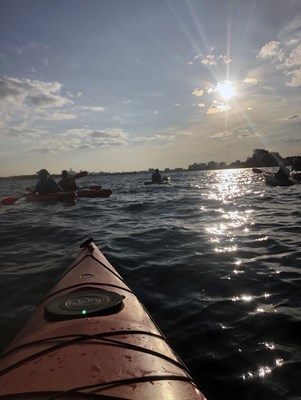 I had absolutely no idea that there are really cool canals connecting the Detroit River and Lake St. Clair that offer great kayaking routes and a very different look at the city. Some friends invited me and my husband on a sunset canal kayak tour of Detroit and I was stumped. I knew all about the river separating the U.S. and Canada, but canals? Who knew? (Apparently a lot of people, including the awesome guides.)
It was a beautiful evening with perfect weather. Our guides took us on a two-hour paddle and showed me things I'd never seen and told us tales I'd never heard. We did a bit of rocking and rolling on the choppy river while speedboats and a huge freighter passed by us. It was an incredible adventure, and I was thrilled to learn something new.
The spirit of exploring and seeking answers is part of being a Spartan. Students, researchers, staff and alumni have lifelong learning embedded in their DNA.
Lauren Goldstein, a graduate student pursuing a master's degree in entomology, learned at a young age that she was fascinated with bees. Always seeking new information about these incredibly important pollinators, she's making a career out of studying them. Read her Student view: Thank goodness for honeybees for a great read about her work.
Meghan Milbrath, assistant professor of entomology, is also invested in the study of bees. She's the coordinator of the Michigan Pollinator Initiative, dedicated to addressing concerns and threats to bees in the state. She, too, started down this career path at a young age as a kid in Northern Wisconsin helping her dad in the bee yard. Check out her Faculty voice: Getting answers about the bees for more buzz on the topic.
MSU researchers are learning all the time. They ask questions, find solutions and then ask new ones. The more they know, the better off our world will be. They're studying sleep deprivation and whether naps help (spoiler alert…nope) and gaps in ecological genetic data that could help global conservation. Microbiologist Gemma Reguera spent 10 years finally cracking the case about bacteria that can clean up radioactive waste.
That's the thing about Spartans — we don't give up.
Very soon we will be welcoming the next generation of learners to campus. I'm already seeing people moving into the neighborhoods, and campus has anticipatory energy about it right now. While we still have some things to do to keep everyone safe, we can't wait to be back together. President Stanley put out a special video to make sure all Spartans know how welcome they are in East Lansing.
One of the best things about new generations of Spartans is the opportunity to learn from each other. We are all unique which means we all have something we can teach someone else. And, we all have more to learn. Keep your minds open and your hearts full, Spartans. The more you know, the more power we have to change the world. #Spartans Will
Lisa Mulcrone
Editor, MSUToday
Photo by Derrick L. Turner