This is it, Spartans. Today is the start of a new semester. It doesn't look anything like the fall semesters we're used to, but not only will we survive, we will thrive. That's who we are.
We might not have the residual excitement from the masses of freshmen moving into residence halls this past weekend. And, yes, we must celebrate convocation and fall welcome events virtually. That being said, we have worked incredibly hard to give students the best experience possible. Classes may be online, but that doesn't stop the learning. Our students and faculty are resilient and creative. Being a Spartan is who we are, not where we live and work.
There are some important things to know about this semester, and President Stanley outlined them in a recent letter about setting expectations. Many of our students, staff and faculty call East Lansing home. We're working hard with the city to keep our community safe. And despite all the challenges brought on by the pandemic, we're still doing important research. Take a look at the story, Healthy plants, healthy people, to learn how our scientists use plants to understand and treat illnesses.
This is the time of year I traditionally offer advice to incoming students. As I thought about what I usually write, I realized that it doesn't matter that this isn't a "traditional" fall semester. No matter where students are as they start their Spartan adventure or are continuing with one they've already started, my advice remains the same, with a few additions:
• Fall in love with MSU. I honestly don't even have to say this because you can't help it — you will.
• Wear your mask, wash your hands, practice physical distancing — you know the drill.
• Be grateful. This isn't just college. This is one of the most incredible opportunities ever presented to you. Many young people around the world would give anything to go to school and will never be able to. Never, ever forget how fortunate you are and remember to thank those who helped you get here. Don't ever take being a Spartan for granted.
• Make the most of it. This is a very special place, even virtually. You could simply log on to your class, do your work and earn your degree — but you would be missing out on so much more. Even if you can't physically participate in clubs and activities right now, make connections virtually to explore more than just your classes. Get creative and find ways to enhance your college experience in the hundreds of ways that are offered. Look into online undergraduate research offerings. Virtually volunteer in your community. Check out online museum exhibits. Watch online performances. The options are endless. And when it is safe to return to campus, you'll find even more things to do. If you are bored, you aren't trying hard enough.
• Give back. You are now part of the Spartan family — more than a half a million strong around the world. This family believes that giving back is just part of who we are. You don't have to cure cancer to make a difference (though some of you might do that too). Fill the bus. Tutor a classmate. Pick up trash. Run a food drive. Shovel snow for someone who can't. You have talents and time that can help someone else and trust me; you'll never feel bad about helping someone else
• Be bold. Don't sit back and let life happen to you — this is the only one you get so make it great. Try something new. Stand up for what's right. Stand up for others. Explore everything. Look at the world of possibilities before you and attack them. You never want to have regrets.
• Be genuine. Don't ever try to be someone you aren't — everyone can see right through that. With more than 50,000 students and almost a half a million Spartan alumni, I guarantee that there is someone else who will like you just as you are.
• Be open to new things. College is about learning — so learn something! When it's safe to do so, find a way to do a study abroad course. Until then, find other ways to expand your worldview to one outside of our borders. Become a global citizen who understands other cultures. Talk to people everywhere who are very different from you. Expose yourself to diverse opinions, ideas and people and you will be amazed at how much you can learn.
• Never give up. Spartans don't give up; they just don't. Especially now when the challenges are unprecedented for all of us. College isn't easy — if it were, everyone would do it. You will have challenges but fight them head-on. Find solutions to the toughest problems. Give everything your all and simply find a way. You might not be perfect, but never throw in the towel completely. You don't have to go it alone — ask for help when you need it.
• Be collaborative. This one kind of goes with being open to new things. Project an openness that lets others know you're approachable, and approach others with a spirit of partnership. Every single Spartan has something special to offer the world, but our collective power is simply astounding. Find the best in others and work together to make a difference.
• Be passionate. College is a place where you can discover what you love. You might start thinking you'll follow one career path and find another that makes your heart sing. Follow what you love — you will spend a huge portion of your life working, so make sure it's what you truly want to do.
• Seek out mentors. Life is hard and everyone can use some help. Talk to your professors or graduate assistants. Just because you aren't in the same room doesn't mean they aren't more than willing to talk with you. Do an internship and find someone in the field to guide you. Never think you have all the answers and know that, most likely, someone else has faced whatever you're facing. We old folks love nothing better than giving advice so use us.
• Be proud. Being a Spartan is something special and a privilege. Spartans will change the world and solve the most challenging problems. Amid all the schoolwork and fun, never ever forget that Spartans Will.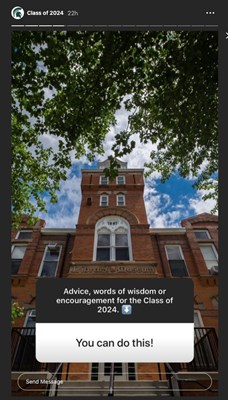 Recently, we asked all Spartans for advice for the class of 2024 on our Instagram account. Take a look at what others had to say.
I know that it's tough for those of us not able to be on campus right now. We do have the most beautiful falls in East Lansing. So, while you ponder my advice, I thought I'd offer some beautiful shots of previous falls on campus to remind us of the place that connects us, no matter where we are.
Enjoy this fall semester in the best way you know how. Make the most of what we've been given and stay optimistic about tomorrow. No one is sure exactly what the future holds, but we will be ready for it. We're Spartans and Together We Will.
Lisa Mulcrone
Editor, MSUToday