Smarter. Better. Faster. Softer.
That's what Michigan State's Zhaojian Li has in mind for the next generation of robots that he and his team are building with the support of a new $1.5 million National Science Foundation grant.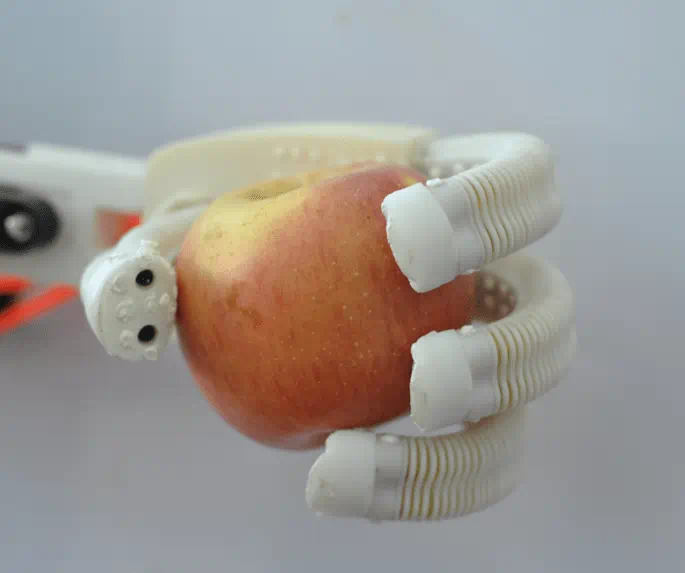 A robotic hand made from soft materials grips an apple. Courtesy of Changyong Cao.
Li, an assistant professor in the Department of Mechanical Engineering, envisions a future where robots work side-by-side with people in a variety of settings, including apple orchards, operating rooms and assisted living facilities. His team is working toward that future on multiple fronts with this project called "Soft Mult-Arm Robot," or SMART.
One goal of the work focuses on developing softer materials that will help robots navigate their surroundings more safely and effectively without sapping their strength. Another goal is building trust between robots and the humans they assist.
"We want our robots to understand their environment and understand the humans they're working with," Li said. "We want to enable robots and humans to interact and communicate without talking to each other. You want that all to be automatic."
To understand how the team will do that, it's helpful to look at where they're starting from. Li has already been working with agricultural technical leader Renfu Lu of the U.S. Department of Agriculture for about 18 months building an apple-picking prototype. It's a rigid and sturdy machine that plucks apples from trees using a tube-like appendage and suction.
Think of an elephant's ability to grab things with its trunk. The next generation of robots will be more like octopuses with several softer arms that can grip independently of one another, said MSU Foundation Professor Xiaobo Tan. Tan, a co-investigator on the grant, is the Richard M. Hong Endowed Chair in the Department of Electrical and Computer Engineering and an adjunct professor of mechanical engineering.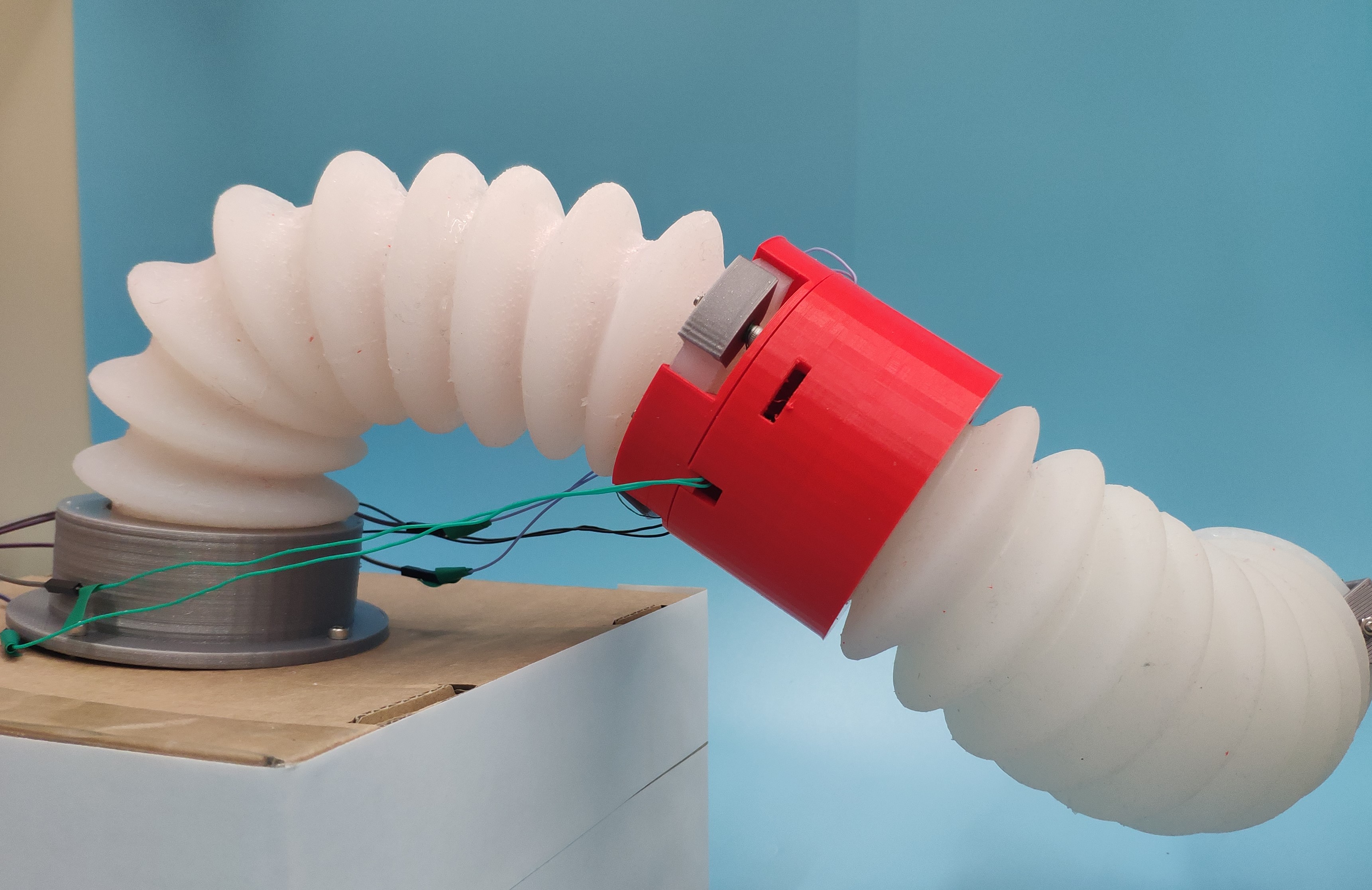 This photo shows an example of a robotic soft arm, built from two flexible white segments connected at a red elbow. Courtesy of Changyong Cao.
Robots will pick faster with more arms — the team plans to start with four limbs — and they'll be able to squeeze through an orchard without harming trees or apples given their softer construction. But therein lies one of the challenges.
"We want materials that can be soft enough to not hurt an apple, but that can still be stiff enough to hold onto the apple. We want to have tunable stiffness," said Tan, who recently helped create soft humanoid hands for robots. "It's not easy."
Although the team plans to test and validate its robots with apple picking, other potential applications will also benefit from soft but strong arms. For example, in assisted living facilities, robots could help caregivers lift residents who have fallen. And these sorts of ideas have inspired the other big questions this grant aims to answer, Li and Tan said.
Namely, how can you train a robot to understand what a human intends to do and assist in that task? But also, how do you promote trust among the humans working with robots?
"We're developing robots not to replace humans, but to assist humans," Li said. "We think about it as the robot is your partner. If you don't trust your partner, you won't work well with it."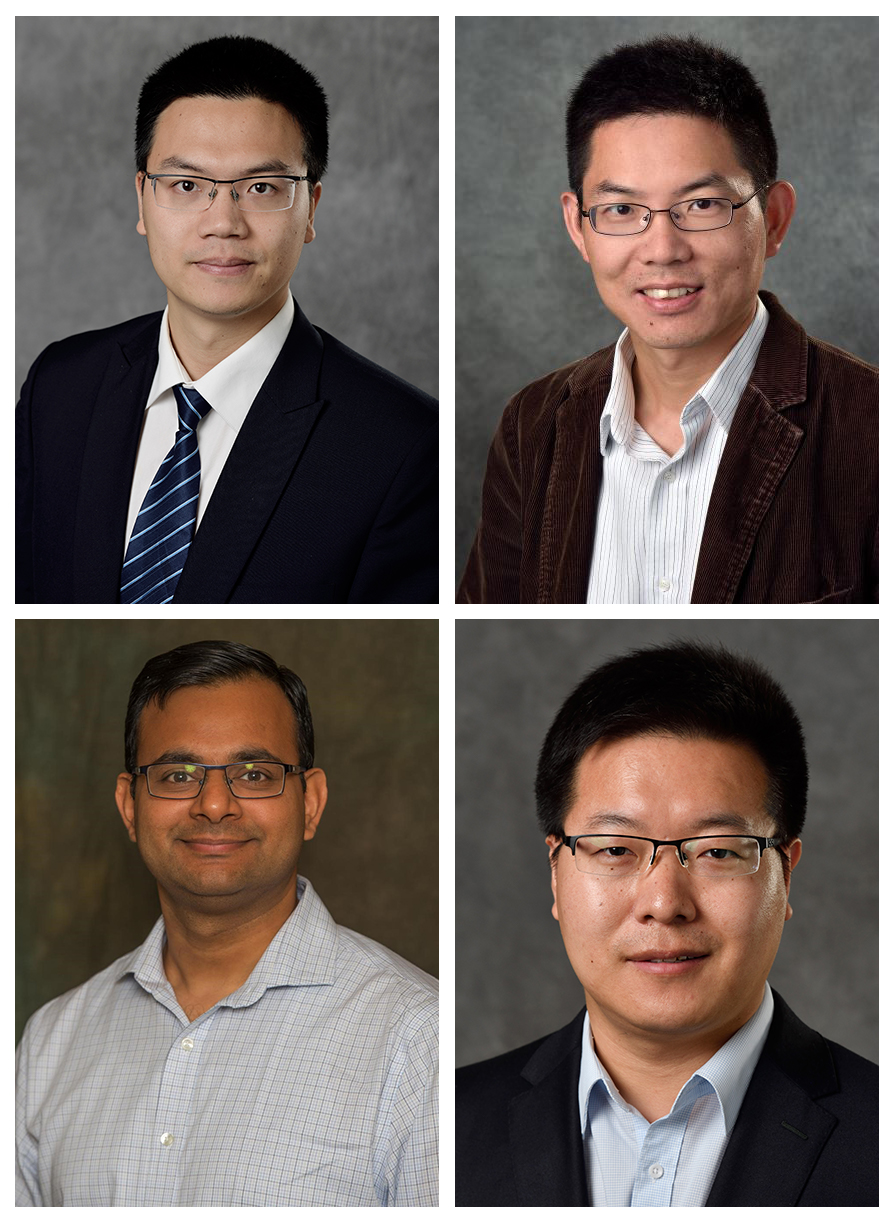 The Spartan SMART project is led by Zhaojian Li (upper left) and includes Xiaobo Tan (upper right), Vaibhav Srivastava (lower left) and Changyong Cao (lower right).
On the robotic side of the equation, cameras, sensors and programming will help machines anticipate how they can best help their human partners. Building up trust on the human side will require a better understanding of the psychology of working with robots.
"For this kind of project, you really need a multidisciplinary team. We have a USDA expert on apple harvesting, along with experts in materials and human-robot interactions," Tan said. "We've got Spartan strengths in different areas and a leader like Zhaojian to unite these forces and attack bigger problems."
Li and Tan are joined on the grant by MSU researchers Vaibhav Srivastava and Changyong Cao. Srivastava is an assistant professor in the Department of Electrical and Computer Engineering and affiliated with MSU's Cognitive Science Program. Cao, who developed the soft humanoid hands, is an assistant professor in the School of Packaging and director of the Soft Machines and Electronics Laboratory.