July 18, 2018
"Ingonyama nengw' enamabala… Ingonyama nengw' enamabala…" has been running through my head all morning long. I woke up singing along with no one but myself. For those of you who don't recognize those words, they're from "Circle of Life," the opening number of "Disney's The Lion King," which I saw last night at MSU's Wharton Center. (It was absolutely fantastic, and I'm pretty sure you can still get tickets so catch a performance if you can.)
The opening number involves incredible puppetry, dance and song, and makes you believe you're in the middle of an African animal kingdom with lions, gazelles, giraffes, birds and even an elephant. The production is beautiful, heartwarming, sad, funny and inspiring all wrapped up in a breathtaking theater experience. It was a wonderful night out, but there was a small price to pay when we returned home to our own animal kingdom.
After we lost our sweet 16-year-old Molly last fall, I didn't think I could handle getting another dog. And then this past February, this busy little puppy came into our lives and Islay Skye became a member of the family.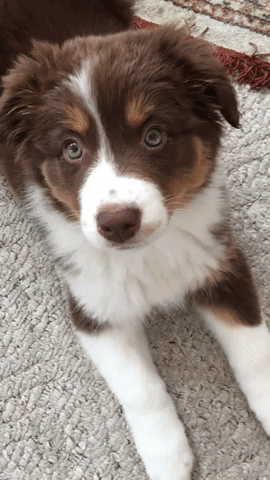 I mean, just look at what she looked like then – how could I not want her? Named after two Scottish islands (pronounced Eye-lah Sky), this beautiful girl is truly queen of our kingdom. (She even has her own Instagram account.)
But, as mentioned, she is a busy one. After being alone during the evening while we were out, she was totally alert and ready to play when we were ready for bed. I think we might have gotten four or five hours of sleep. But my bleary eyes are overshadowed by a full heart. The joy she brings us every day more than makes up for a few hours less sleep.
Though she's never outside alone, she's become quite a stealthy vacuum cleaner on her walks. Everything goes in her mouth. Which has meant a seemingly endless amount of, shall we say, digestive issues. Many texts between my husband, my daughter and me involve this emoji: 💩 I never dreamed I'd have so many conversations about animal 💩, but that's who we've become.
If only we had an anaerobic digester in the backyard to convert the waste into energy. Luckily, thanks to MSU, the Detroit Zoo is the first zoo in North America to have one, creating clean energy that actually powers some of the zoo's operations, including its animal hospital. Check out the MSUTODAY FEATURE: From poo to power, to learn more about the project. We even created a light-hearted, animated video that helps kids understand the science behind the machine.
Dana Kirk, the Spartan researcher who worked on the zoo project, is an engineer. But, I'm guessing there are certainly some other Spartans working at the zoo as veterinarians. Since MSU has the only veterinary school in Michigan, chances are strong that if you have a pet, you've taken it to be treated by a Spartan.
But, as John Baker, a professor of large animal clinical sciences, points out, treating zoo animals and pets are not the only things veterinarians do. In his FACULTY VOICE: Veterinary medicine is food safety, he points out the important role that they play in agriculture, food, disease and the circle of life.
See, I'm still singing that song. I will admit that both times I've seen the show I get a lump in my throat and a tear in my eye upon hearing the opening chords. I love the message in the song about finding "our place on the path unwinding."
I'm pretty sure Breanna Escamilla, who graduated in May with a degree in anthropology and a double minor in Chicano Latino Studies and African American African Studies, will have no problem finding her place on the path in front of her. She was the inspiring student speaker for the College of Social Science and has already done some pretty great things as a first-generation college graduate from a migrant worker family. Watch the short video in the STUDENT VIEW: Speak your truth, to learn more about this determined young woman.
We do all have a part to play in the circle of life – it's how we define that part that truly matters. For Spartans, our parts are played with determination, smarts and a true desire to improve the circle of life for everyone. Spartans Will.
Lisa Mulcrone
Editor, MSUToday

@LMulcrone
🐾
Islay Skye