The women's cross country team claimed the 2023 Big Ten Championships title on Friday, Oct. 27, going back-to-back and topping the conference for a fourth time in five years.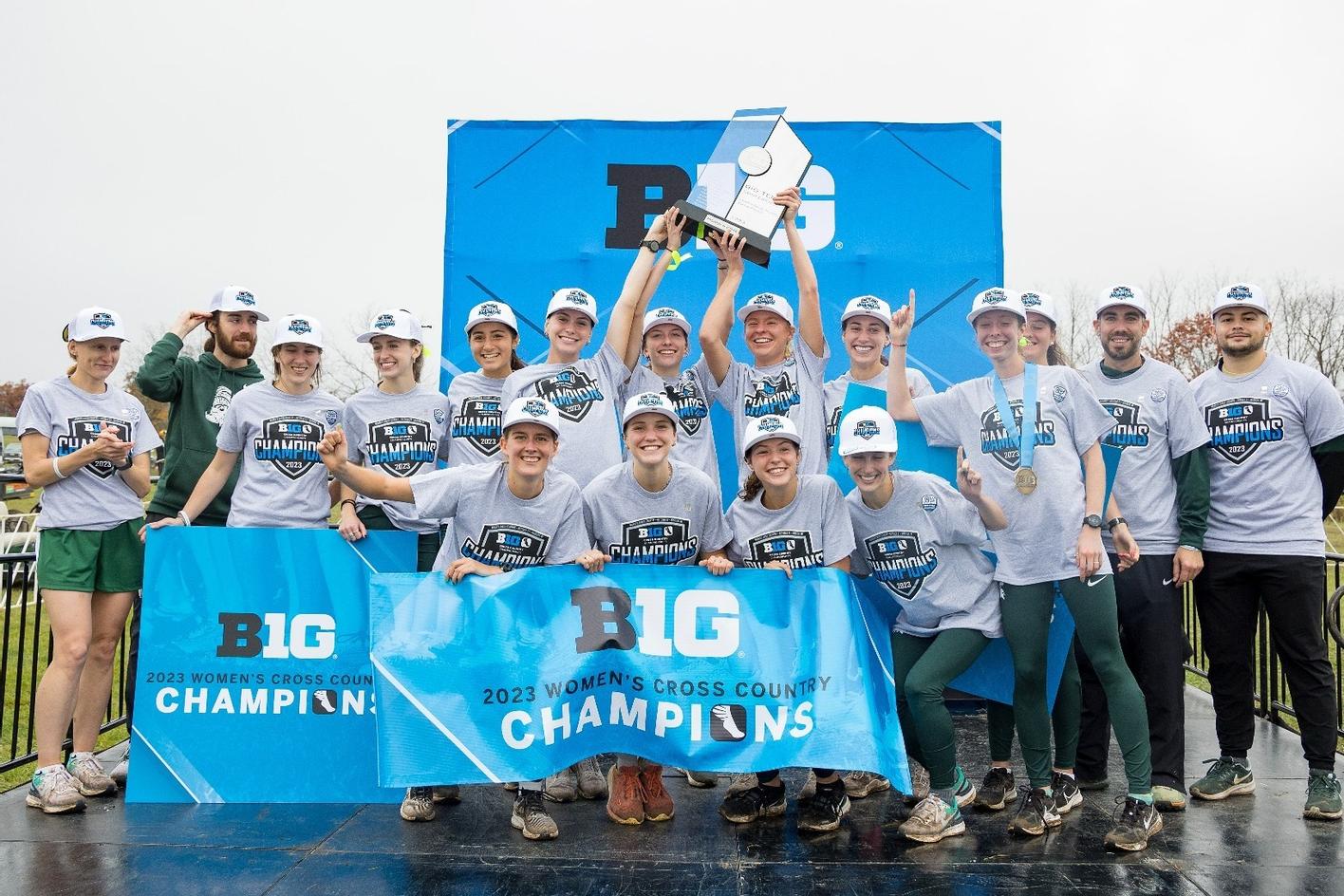 Photo by David Stluka
"I'm super proud of them all," said Lisa Breznau, director of cross country and track and field. "They've been a phenomenal team all fall and I know that's what we're going to continue see the rest of the season."
The Spartans finished third in the men's event, their best finish in the conference championship race since 2017. Senior Andrew Nolan earned First Team All-Big Ten recognition with a sixth-place finish in the race. Seniors Owen Huard and Alexander Penski also collected Second Team All-Big Ten after finishing in the top 14.
"They put themselves in a position to be successful and I thought they were outstanding today," assistant coach Aaron Simoneau said of his men's group. "I think the team is in a really good spot and our strength going forward is going to be our depth so I feel good about where we're at as a group and as a whole."
On the women's side, senior Makenna Veen led the way in third, followed closely behind by grad-senior Katie Osika in fourth place, as the two raced to first team all-conference honors. Grad-seniors Lauren Freeland and Grace Molloy also collected Second Team All-Big Ten, placing 10th and 14th respectively.
Senior Emily Bardwell just missed out of all-conference honors but rounded out the title-winning scoring contingent in 15th place. Senior Eleanor Kendell was also barely omitted, placing 17th overall despite her points not counting to the team total.
With 46 points, the women cleared the runner up by 35 points as Wisconsin finished with 81 points while Michigan finished third with 102. Ohio State's Addie Engel, winning the race for a second consecutive year, and Wisconsin's Leane Willemse in second joined Veen on the podium.
In the men's 8K, the Spartans finished just 23 points behind second place Michigan while Wisconsin cruised to their sixth straight Big Ten Championship with just 19 points. The Badgers' Bob Liking was the individual race winner for a third season in a row.
Behind Nolan, Penski and Huard in the MSU scoring were the grad-senior Smith twins. Joshua Smith placed 25th as Aden Smith crossed the line in 28th. Promising sophomore Andrew Lane also cracked the top-30.
This story originally appeared on msuspartans.com.