Rajvi Trivedi is a junior and Addison Kiteley is a sophomore, both majoring in supply chain management in the Broad College of Business.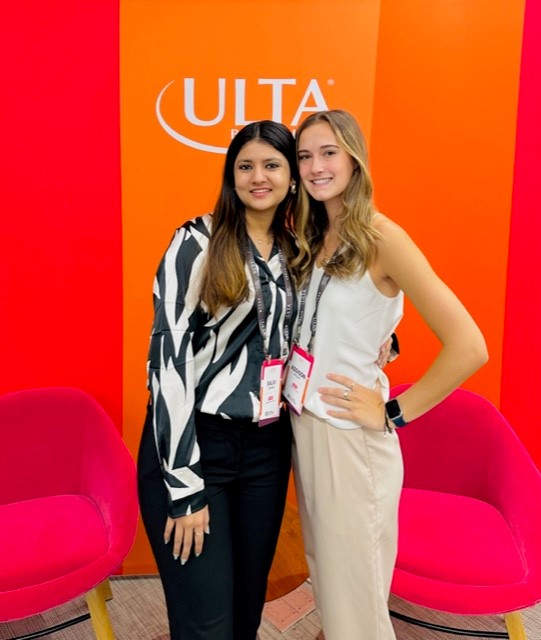 Rajvi Trivedi and Addison Kiteley at the Women Impacting Supply Chain Excellence Women Choose Ulta Beauty conference
Building a personal brand and growing your professional network are critical for success in the business world, and as Spartans we have access to opportunities that allow us to get a jumpstart.
In April, we had the distinct honor and privilege of representing Michigan State at the Women Impacting Supply Chain Excellence, or WISE, Women Choose Ulta Beauty conference, held at the Ulta Beauty headquarters in Chicago. Over the course of two days, we focused on building and cultivating our personal brand and authenticity alongside like-minded students and faculty attendees from 17 different universities.
A key aspect of our experience was building our professional network with other future supply chain leaders from around the country. As we exchanged insights about internships and summer 2023 plans, we gained invaluable knowledge about the diverse opportunities available within the industry. Sharing our personal and professional experiences allowed us to learn from each other's successes and challenges, fostering a supportive environment for growth and development.
We also had the opportunity to hear from various female industry professionals who covered topics such as building a personal brand, advocacy, mentorship, and being an ally. Ulta shared its diversity, equity, and inclusion efforts that promote psychological safety within the workplace so that each team member can be their authentic self. As young professionals navigating various career paths in the supply chain, witnessing Ulta's values shine through in their day-to-day practices was both inspiring and informative.
Connecting with other women in the supply chain field was particularly impactful for us, as we gained new perspectives and insights into the industry. This sense of camaraderie and support made the experience all the more meaningful. Meeting with and having candid, transparent conversations with various industry leaders from Ulta provided us with an unparalleled opportunity to gain practical advice and guidance from seasoned professionals.
Our experience at this conference was transformative and enriching. Not only did we build lasting connections with other women in the supply chain industry, but also gained valuable insights into the career paths and opportunities available in this dynamic field. The conference served as a reminder of the importance of cultivating our personal brand, engaging in continuous learning, and actively seeking mentorship and support from others in our professional journeys.