Aditi Kulkarni is a third-year student studying Comparative Cultures and Politics in James Madison College with minors in Spanish, economics and international development. She is the co-founder of the Spartan Food Security Council.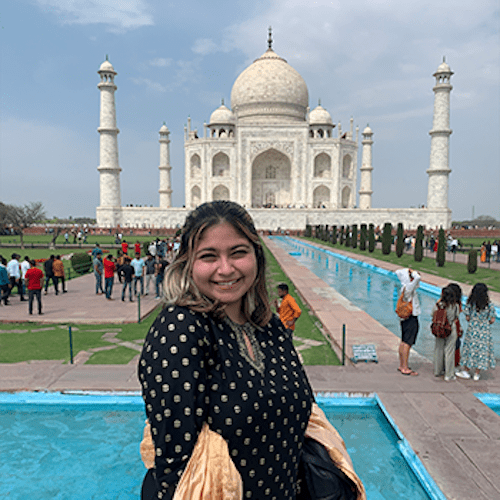 Aditi Kulkarni in front of the Taj Mahal
Growing up in America and being raised by Desi parents was a stereotypical coming-of-age identity crisis. I never wanted to be Indian and yet I never felt American enough. My entire sense of identity was a gray space; how could I honor a heritage I didn't even care for while attempting to fit in with my American peers?
This confusing relationship between culture and belonging was at the core of my discomfort until my first year of college. When I decided to major in Comparative Cultures and Politics, or CCP, I felt my discomfort ease. The course material was eye-opening and I met students from all backgrounds who knew my situation well. Knowing that my feelings were universal and that being a confused diaspora kid was not exclusive to me was incredibly reassuring. Therefore, when my CCP professors encouraged me to apply for the Madison Diversity Leadership Program, or MDLP, I knew I was in the right place.
The MDLP encouraged me to participate in leadership training and network with professional leaders across the state. Through debates, campaigns and projects, I learned about different leadership styles and the impact of these varying ways to enact change. Perhaps most notably, the MDLP also offered me the opportunity to travel to India for two weeks with my cohort.
We stayed in Delhi at an organization named PRIA (Participatory Research in Asia) and conducted field visits to learn more about participatory research and democratic processes from a cross-cultural perspective. While incredibly exciting, this was also incredibly daunting for my inner identity crisis. Would I feel shame for pushing away my heritage by visiting India? As it turned out, it was quite the contrary.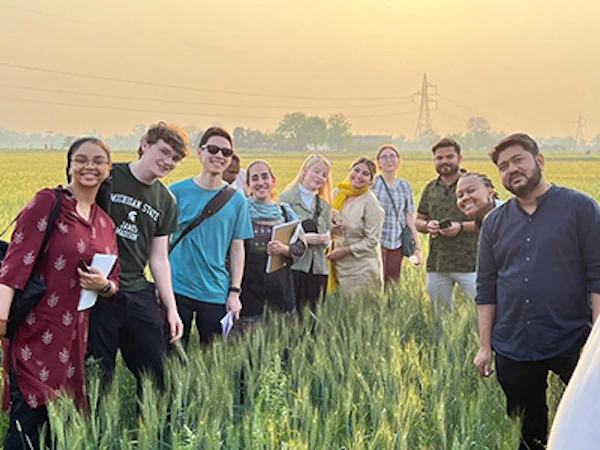 Madison Diversity Leadership Program cohort in the wheat fields in Chandauli
My trip to Delhi inspired a new appreciation for my roots while teaching me incredibly important lessons on leadership, values and perspective. We stayed in Delhi, Agra and Varanasi over the course of two weeks. At each location, we participated in field visits and learned of different research initiatives. For example, in Chandauli (near Varanasi), we met a group of wheat farmers working with a civil society organization to innovate their land and practices. All the farmers were hesitant to give up their traditional practices, and rightfully so! Their livelihood depends on crop yield, and it is risky to give up land for only a promise of higher crop production.
The organization works side-by-side with farmers to train them on new irrigation techniques, solar panel implementation and sowing practices. Over the next crop seasons, the farmers saw an increase in crop yield, thus providing extra income. While the organization's plans helped the farmers' crops, I noticed changes within the farmers themselves. They were proud of their community and rarely credited themselves for personal success; rather one's achievements were always for the betterment of the community. This communal message was powerful for me, allowing me to recognize the importance of working together toward a common goal. It also made me realize that I'm part of a much larger community, too, as a Desi American, and I was proud to be part of something bigger than myself.
This story originally appeared on the James Madison College website.