Emily Hoyumpa is a third-year student majoring in social relations and policy in James Madison College with an anticipated early graduation date. Hoyumpa is from Shelby Township, Michigan, and has been actively engaged as a student coordinator in JMC, executive director of the Association of Big Ten Students, officer-holder within ASMSU and now serves as Michigan State University's student body president. She was recently selected to serve on the Growing Michigan Together Council.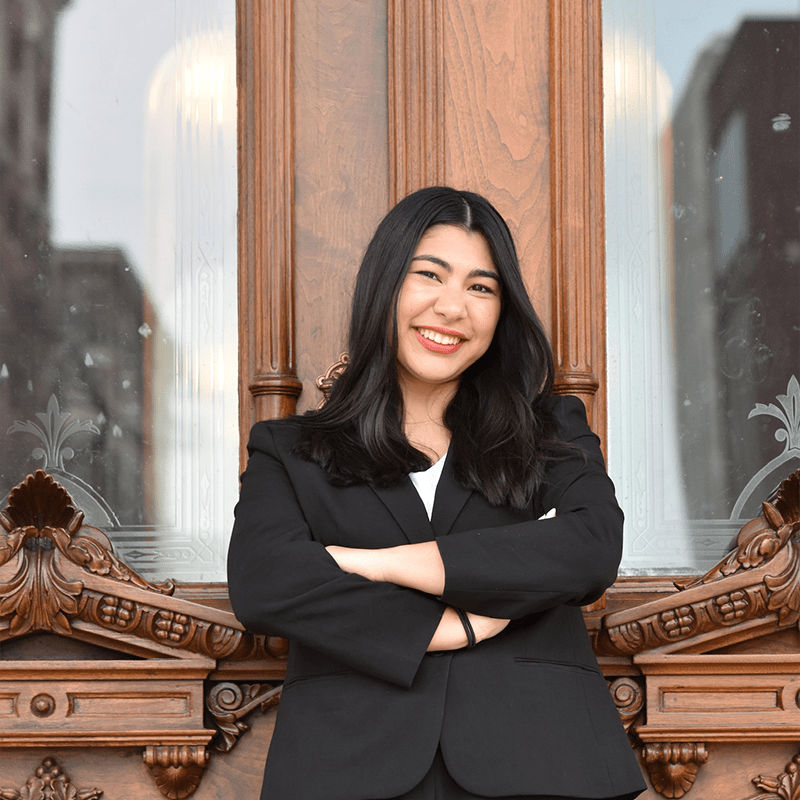 Emily Hoyumpa
I have been involved in the Associated Students of Michigan State University, the undergraduate student government of the university, for two years. In my first year, I was an Emerging Leader Program intern in the academic affairs and sustainability departments. In academic affairs, I got to work with the department to look at how to get different colleges involved in ASMSU. Then, with Sustainability, I helped craft and put on the first-ever Earth Week, which is now becoming an ASMSU and MSU staple event. This past year, I served as the Associate Vice President for Internal Administration. In this role, I worked alongside various facets of ASMSU, specifically the class councils and their programming, ranging from study events to election engagement.
Now, I am fortunate to serve as the president of our student body. It is an honor I look forward to acting in.
What inspired me to run for president is seeing the power and voices of the Spartan community. Student voices are crucial now more than ever not only for the advocacy we want done, but for the support we can give one another. Working alongside students to fight for what is best for the community is what inspired me to run, and it is what I am most excited to do throughout my term.
JMC has prepared me in so many different ways for the ASMSU Presidency. I've not only learned how to connect with others in numerous settings, but I also understand also the value of being an inquirer — I am constantly questioning and brainstorming what can be done. JMC has also taught me how to be organized, have effective communication and how to best manage my time.
Time management is extremely important for me, especially now that I am also on the Growing Michigan Together Council, which was established in June 2023 to "develop a long-term vision that addresses current and future challenges and sets Michigan up for success in the 21st Century." I am serving on the higher education workgroup within the council.
Being the youngest member of both the Growing Michigan Together Council as a whole and the higher education workgroup is incredibly nerve-wracking, but I am honored to have received the invitation. As someone who is considering law school and becoming an attorney for higher education, I was thrilled about the offer to join the Growing Michigan Together Council.
Students in higher education should have a say in their journeys and the policies that impact them, and with this work, I will do my best for my fellow students to ensure that higher education becomes accessible for today's generation and future ones. I am super excited about the Growing Michigan Together Council and honored to work alongside the many impressive members of the group.
Doing so while finishing my classwork and serving as the student body president is exciting for me. My main goal as president is to support and uplift the Spartan community as best I can. Specifically, I want to hear from students across campus and figure out what the biggest issues affecting our community are, and how we can all work together to address them.
I am looking forward to putting words into action and seeing what we can all accomplish together.
This story was adapted from a piece on the James Madison College website.