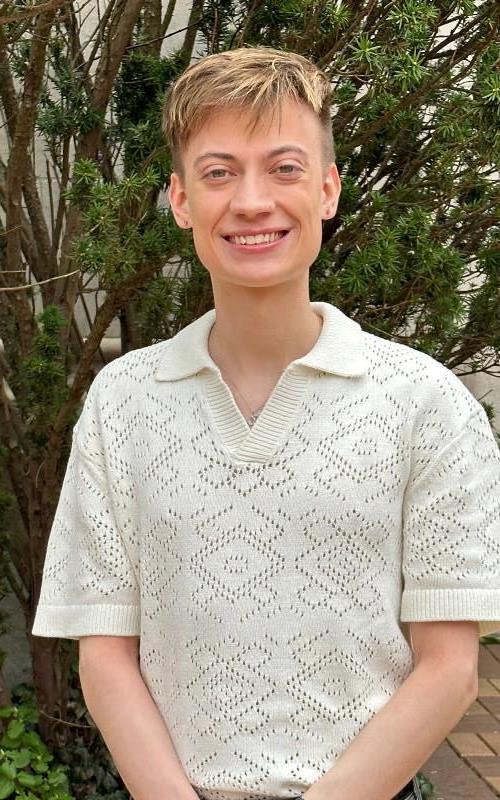 Cody Evans
Cody Evans will graduate in May with a degree in social relations and policy from James Madison College. Currently, he serves as the director of sustainability for the Associated Students of Michigan State University as well as a member of the Student Sustainability Leadership Council.
Growing up in Flint and later living in Oscoda — two Michigan communities devastated by contaminated water — I have always been passionate about environmental protection and sustainability. From a very young age I knew I wanted to work in a field that would help protect communities like mine from being impacted by these disasters.
This passion has only strengthened during my time here at MSU and, as a first-generation college student, I am grateful to have found such a welcoming community around sustainability. For me, sustainability is about passionate and driven people all working together toward a more sustainable world for future generations.
Working within the university's student government organization has allowed me to channel my passion for sustainability into action in the form of advocacy. Serving as the director of sustainability at ASMSU, I have had the unique opportunity of working closely with MSU students as well as staff and faculty involved in sustainability efforts around campus. One project I am particularly proud of is hosting the first annual Sustainability and Registered Student Organization Resource Fair last spring. The goal of the fair was to bring together the student groups, faculty and staff that work and advocate for sustainability all in one place. The event engaged hundreds of Spartans in conversations about sustainability at MSU, and it is something I hope continues for years to come.
During my time at MSU, I have connected with incredible people doing incredible things centered around sustainability. This sense of community is why I fell in love with Michigan State and why I am proud to be a Spartan.
With graduation next month and the beginning of a new chapter for me, I am excited to use my MSU experiences to continue advocating for the environment and finding communities of people passionate about sustainability. My hope is that all current and future Spartans encounter this sense of community and get involved in sustainability efforts on campus.