Joe Burr is a junior at Michigan State studying communication with a focus in mediated communication. This is his first official year on campus, attending in-person classes.

A month after completing my freshman year at Michigan State online in May 2021, I received some heartbreaking news. What was supposed to be a routine doctor's checkup turned into a nightmare: My leukemia that was in remission for over a year had returned.

I was originally diagnosed with Acute Lymphoblastic Leukemia in September 2018. I underwent three years of chemotherapy and was six rounds left from being done with treatment when I relapsed. Because chemotherapy did not work, my next option was undergoing a bone marrow transplant.
I was adopted from Guatemala and finding a match from the registry would not be easy because I have no family history. Fortunately there was a 12/12 Human Leukocyte Antigen match on the Be The Match registry. This was a shock to me and my family but I was ready to get the transplant and get back to a healthy life.

From the moment I got this wonderful news, I knew I wanted to meet my donor if they wanted to meet me. Before my transplant I was only allowed to send my donor an anonymous letter stating general facts about myself. He sent a letter back doing the same; that was the first contact we had with each other.
In September 2022, a year had passed since my transplant. I was healthy and cancer free. My mom and I told our doctor we would love to release my personal information to the donor and wait and see if the donor did the same. In October, I received an email from someone named Armando Garcia who stated, "I have to say that I started my day on a pretty excellent note, hearing from Be The Match that you had agreed to be in touch and passing along your contact info." Hours later, my mom texted me telling him to look him up. I thought this was odd considering there could be thousands with the same name, but I did anyway.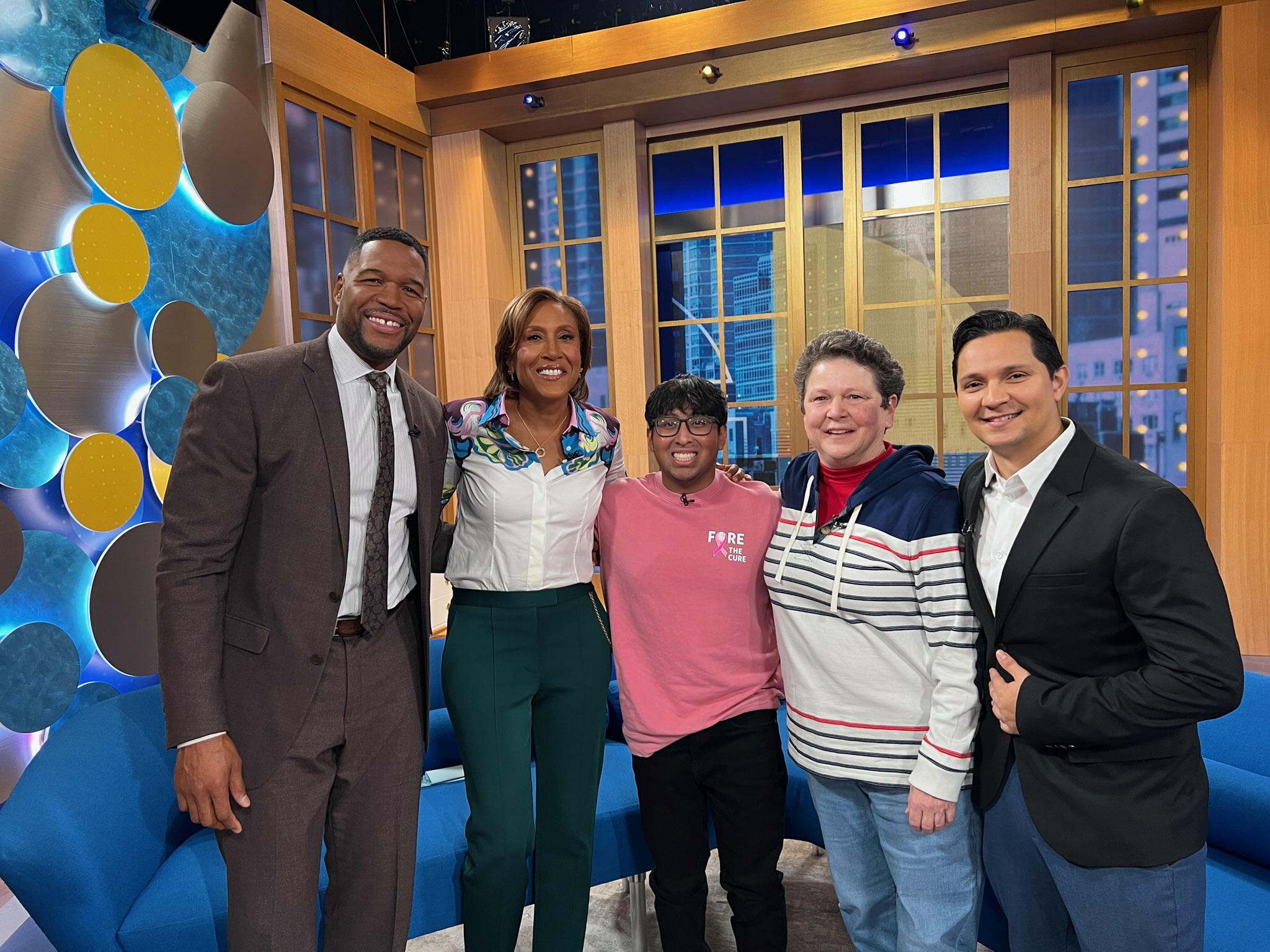 Michael Strahan, Robin Roberts, Joe Burr, LeeAnn Burr, Armando Garcia. Courtesy photo
What I found was amazing.
Armando worked for ABC News, and had documented his whole experience in 2021 for a news story on what it was like being a donor and the process he went through. I called him for the first time that night. We talked for 30 minutes and told each other hopefully we could find a good time to meet in person. A week later he called me saying ABC wanted to do a story with the two of us as a follow up to his original story. I told him I was all for it. Armando soon informed me that Good Morning America wanted to have us meet for the first time live on-air as a part of their "One Match Second Chance" segment honoring Robin Roberts' 10 year Bone Marrow Transplant anniversary, also bringing awareness to Be The Match and get more people registered on the registry.

Next thing I knew, in December, there was an ABC producer and a camera crew interviewing me and my mom at our home. I was scheduled to meet Armando on Jan. 19, 2023, live in the Times Square studio in New York. That morning I found myself in the GMA green room with my mom anxiously waiting for this special moment. I got to meet Armando live on-air beside Robin Roberts, Michael Strahan and my mom. I told him how thankful I was for his gift of life and how much it meant to me, my family and friends. It was very emotional for everyone involved and I will never forget that moment.

Armando saved my life and is the reason I am finally attending Michigan State in person and living with three friends off campus this school year. His gift to a total stranger saved my life and gave me an opportunity of a lifetime to not only tell my story but also bring awareness to Be The Match and understand how important ethnicity is when it comes to finding a match. I hope my story helps others who are looking for their match, giving them hope their match is out there.