This story refers to the violence the Michigan State University community experienced in February. FAQs, important updates, messages from campus leaders as well as mental health and supportive resources are available.
The content of this piece also mentions suicidal thoughts. If you or someone you know needs help, please call, text or chat the Suicide and Crisis Lifeline at 988.
--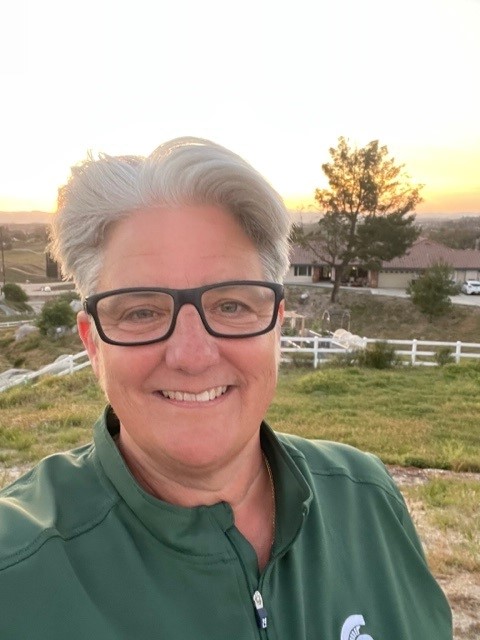 Lisa Laughman is the coordinator of Michigan State University's Spartan Resilience Training Program, which seeks to provide comprehensive resilience education to interested members of the MSU community, including students, employees, leaders, alumni, retirees and family members. Over the past 30 years, Laughman has worked with others to craft the Spartan Resilience Training Model, braiding together social justice education and social-emotional learning.
Typically, when we talk about mental health, we focus on what we struggle with. Things like anxiety, depression, suicidal thinking, imposter syndrome and posttraumatic stress. We focus on our patterns of numbing our pain with substances or distracting ourselves with spending, gambling, over-work and other vices.
It is important for us to name and talk about these common challenges so that people experiencing these moods, thought habits, or addictions know that they are not alone, and resources are available to help them find freedom from these experiences.
I also think it is crucial for people to know they are not broken, there is nothing inherently wrong with them, and their innate health and well-being is still intact. It is important that they have resources that can provide them with new insights — a new path forward.
The best thing that anyone ever taught me, or rather helped me realize, is that I am connected to a steady flow of healthy life energy that can help me live my life lined up with my deepest wisdom and my greatest sense of purpose. That no matter what happened to me in the past, regardless of the trauma and oppression I had endured, how troubled my thought world had become, or how entrenched I was in my addictions — at my core, I still had innate health and well-being.
At first, this was difficult to believe. I had spent 20 years secretly believing I was defective and flawed, unworthy of love and belonging. I hid this from the world. On the outside I looked happy and successful, but on the inside, I was anxious, depressed and, at times, suicidal. I was overwhelmed by emotions I was not taught how to express and was saturated in stress. The ways in which I was numbing these emotions had led me to behaviors that further convinced me I was not OK. This message that I was not worthy of love and belonging was amplified by dominant cultural messages based on my sexual orientation and my gender — that I was less than, not good enough, damaged. I very nearly became one of the many LBGTQIA+ people lost to suicide.
Gratefully, something about this simple, yet profound message about innate mental health spoke to me. I was curious and became willing to learn more about our innate human ability to be in a state of mind that is calm, relaxed, open, present, reflective, creative and wise. I still remember the first moment that I realized I was experiencing my innate health. I saw my own health, my own beauty, my own grace.
Once I caught a glimpse of my innate health, I started to notice how I moved in and out of this healthy state of mind. I realized that this healthy state of mind was actually my default setting, that in moments when I was not caught up in fear-based thinking, when I didn't have anything on my mind, I naturally rested in my health and well-being.
Over time, I shifted from living in my fear-based thinking and occasionally visiting my health, to living in my health and occasionally getting caught up in insecure and anxious thoughts. As I strengthened my ability to witness myself and notice when I was terrorizing myself with my conditioned thought habits, such as worst-case scenario thinking, I became better at navigating moments of upset. I learned more about what took me away from my health and I slowly strengthened my ability to return to my innate health. I stopped believing my low-mood thinking and began to interrupt the low-mood behaviors that had been causing me so much pain and suffering.
During Mental Health Awareness Month, what I most want people to know is that our connection to this healthy energy is our birth right and cannot be taken away from us by any person, event, trauma or circumstance. From birth to death, we can access our innate health, dip into our "well of being" and draw upon these valuable inner resources to help us in our present moment situation. This is particularly important to remember as we individually and collectively work together to name and dismantle racism, sexism, heterosexism and other forms of oppression at the personal, interpersonal, institutional and cultural levels.
Realizing your own innate health is a core element of resilience. I have spent the nearly 30 years since realizing my own innate health and well-being helping others do the same. What I have learned in the process is now integrated into the Spartan Resilience Training Program. The model followed in the program incorporates core principles of healthy human functioning with several evidence-based theories to help people build capacity for emotional resilience, psychological flexibility, empathy, shame-resilience, self-compassion, mindfulness, courage building and value-guided action. I passionately believe these skills are essential for high-quality, authentic relationships within and across human differences, healthy conflict resolution, the development of healthy work cultures and daring leadership in our personal and professional lives.
If the idea of innate mental health speaks to you, I hope you will engage in a learning journey for your own discovery. For more information, contact spartanresilience@msu.edu.