Recent graduate of the Broad College of Business, Sean Gordon, an Army ROTC cadet, is the recipient of the 2023 Saber Award from the Arsenal of Democracy chapter of the Association of the United States Army, making him the top ROTC cadet in the state.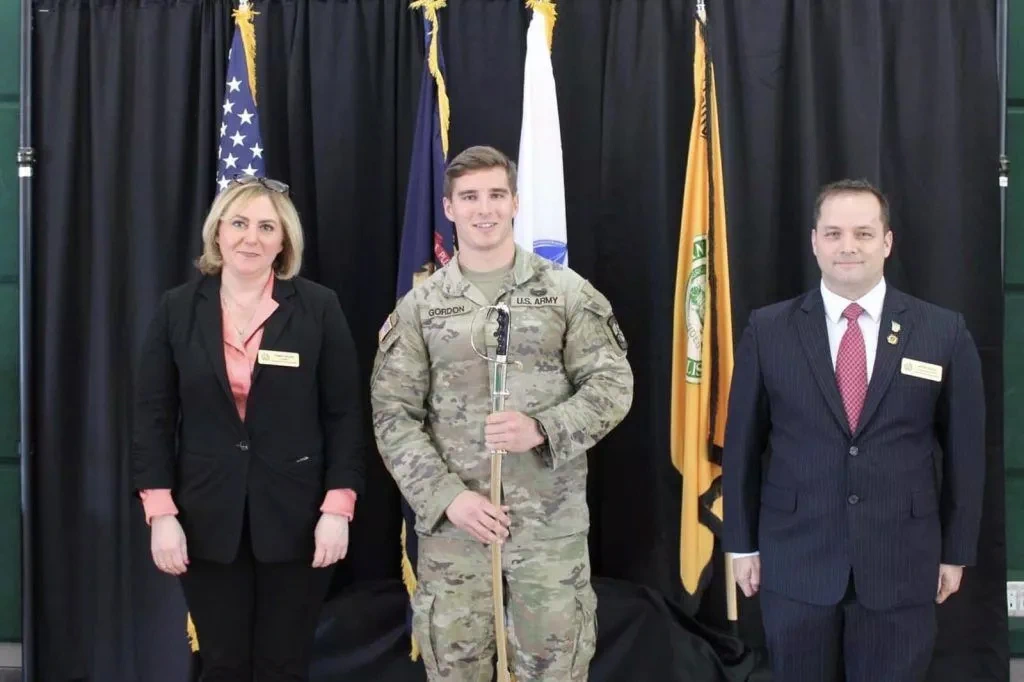 Sean Gordon, an Army ROTC cadet and graduting finance senior, is the recipient of the 2023 Saber Award from the Arsenal of Democracy chapter of the Association of the United States Army, making him the top ROTC cadet in the state.
This award, which began in 2013, honors a nominated cadet each year from one of Michigan's seven Army ROTC programs, based on criteria including an applicant essay, GPA, academic standing and military and extracurricular leadership roles. Gordon is the third Spartan ever to receive the award.
"Being recognized by such a distinguished organization as AUSA is a huge honor," he said. "Most importantly, it will serve as a reminder for me to learn from my noncommissioned officers, remain committed to improving the people around me and bettering the Army as a whole."
Gordon is leaving the banks of the Red Cedar at the top of his class, specifically in the top 10% of this year's ROTC commissioning cadets — about 6,000 students nationwide. Gordon has been a standout during his time at Michigan State, taking on leadership positions as a cadet and earning awards for his efforts and success, all while maintaining a 3.96 GPA.
One of Gordon's noteworthy military accomplishments is that he earned a slot to attend the U.S. Army Air Assault School at Fort Campbell, Kentucky, home of the famed 101st Airborne Division; he successfully graduated from the course, earning the coveted Air Assault Badge. He has also been a member of MSU's Ranger Challenge Team (Army ROTC's varsity sport) that competed at last year's Sandhurst Competition, held at the United States Military Academy.
In addition, last summer Gordon received the Magellan Award for achieving the highest Army Combat Fitness Test score in his regiment of about 600 cadets while attending Advanced Camp at Fort Knox in Kentucky.
"Sean has been an exemplar of a student aspiring to become an Army Officer," Lieutenant Colonel Joseph Dumas, chairperson of MSU's Military Science Department, said. "He has demonstrated successfully during his time on campus that one can balance their academic pursuit with the requirements to earn a commission as an Army Officer. In Sean's case, this is illuminated by his GPA and distinction of being in the top 10% of graduating cadets nationally this year."
In his free time, Gordon has enjoyed running ultra marathons — about 50K, or 31 miles — along with training in Brazilian jiujitsu and boxing. He's also taken time to give back to various communities and volunteer with nonprofit organizations.
Gordon said he's enjoyed all aspects of his time at MSU, inside or outside the classroom.
"I had tons of great moments at Michigan State. Specifically, within the Broad College, I was afforded countless opportunities to network with alumni and learn about their experiences at MSU and the financial sector," he said. "The highlight of my time as a cadet would be participating in the 2022 Sandhurst Military Skills Challenge at USMA, where I was able to compete against military academies from all over the world. Both of these experiences have taught me valuable lessons that undoubtedly molded me into the person I am today."
Gordon was inspired to join the Army ROTC program because of his mother's journey. As a Russian immigrant, he noted, she built herself up from nothing to achieve the American dream and provide for her family.
"Her experience taught me to appreciate the opportunities and freedom that this country provides," he said. "That's why I love America; it truly is the land of opportunity. I chose to join the Army because I want to protect American values and ensure it remains a symbol of hope and opportunity to the world."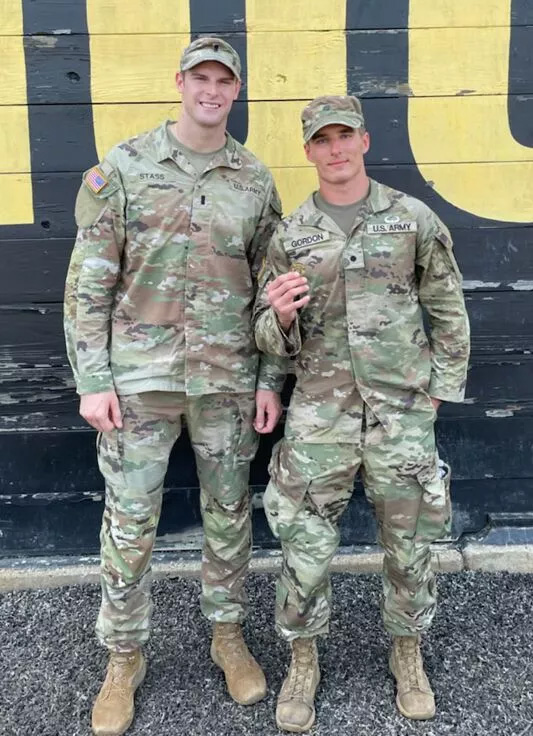 Gordon (right) has been a standout at MSU, taking on leadership positions and earning awards for his efforts and success, all while maintaining a 3.96 GPA.
Following this passion with fervor, Gordon sought out cadet leadership positions within the Spartan Battalion this year on campus. He served as the battalion executive officer and command sergeant major, both of which are highly regarded. These voluntary positions allow cadets to set an example for fellow cadets and help establish a peer reciprocal learning culture within Army ROTC on campus. Gordon took on the opportunity to practice Army-specific leadership and managerial skills learned as part of the curriculum.
In addition, Gordon volunteered for a summer "internship" in Alaska last summer, following active component with the 5th Squadron, 1st US Cavalry, 11th Airborne Division, commonly referred to as Cadet Troop Leading Training. This program is a leadership growth and career immersion opportunity that gave Gordon the ability to lead a U.S. Army platoon during training exercises.
"This is great exposure to the operating environment he will experience as a company grade officer in the Army following graduation and commissioning from MSU," Dumas noted.
After he crosses the Breslin Center stage at commencement this weekend, Gordon will be commissioning as a second lieutenant and an infantry officer in the United States Army and moving to Fort Benning in Georgia.
"When Sean leaves campus this spring for service in the active component of the Army, he will contribute to the established reputation of Michigan State University graduates in our Army," Dumas said. "Spartan graduates are known as engaged leaders of character and competence who will routinely exceed standards set for them."
For fellow Spartans and those looking to follow in his footsteps and achieve great things, Gordon's advice is to find what you love and pursue it.
"During college, you have the opportunity to discover what you want to do with your life," he said. "Find what gets you out of bed in the morning and pursue it unapologetically."
This story was originally featured on the Broad College of Business website.