Michigan State University's Society of Women Engineers Chapter recently celebrated a milestone that connects generations.

The student organization recognized its 50th year. It embraces the journey traveled to show that engineering shouldn't have barriers.

"50 years later and SWE is still here, expecting women to be here," said Laura Genik, the MSU College of Engineering's Applied Engineering Sciences director. "It started as a small group of women trying to survive."

Genik was introduced to SWE as an MSU student and notes the rise of the organization coincides with slow, steady, incremental changes over decades in academic and career expectations.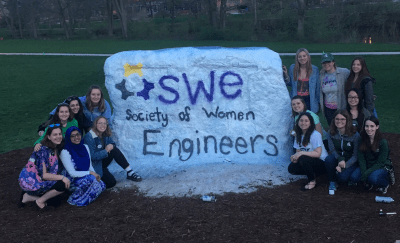 Member of the Society of Women Engineers at MSU pose near the Rock. Courtesy photo.
About two years before MSU's chapter was founded, Peggy Seeger, the sister of folk legend Pete Seeger, put out a song entitled "I'm Gonna Be an Engineer."

It chronicles the life of a girl who faces obstacles pursuing her career goals.

A teenage Genik heard Pete Seeger sing it at a concert in Detroit. It stoked a fire which eventually helped ignite her successful MSU career.

"An engineer could never have a baby," some of the song's poignant lyrics read. "… Remember, dear, that you're a girl."

The 50-year run of MSU's SWE chapter drives home the importance of consistent support for students, Genik said.

"It's one thing to have a seat at the table," Genik said. "But you also have to look at everything that's changed over that time to understand its impact."

MSU's chapter has grown into one of the most vibrant, active engineering-focused student organizations on campus. New members are always welcome.

The chapter kicked off this fall semester with more than 100 members. They volunteer in schools, organize social events, mentor each other and network with corporate partners.

"You can share your experiences," said SWE member Ashley Siegmund, a computer science senior. "That's what really hooks a lot of people in."

MSU's College of Engineering has made it a priority to attract more women to the career fields it offers. The SWE Chapter plays an important role, as do other college-affiliated organizations like Broadening Participation K-12 and Women in Engineering.

Together the MSU organizations try to build on a College of Engineering participation rate that stands at about 23 percent. Nationally, universities have an average of about 22 percent female participation in undergraduate engineering programs, said Roberta Rincon, SWE's national associate director of its professional and collegiate organizations.

"Even though we don't see the representation of women in the engineering profession as quickly as we'd hope, I think the SWE chapters have helped retain more women," Rincon said. "It's been quite a change from decades ago."

The national organization is currently studying what drives high school girls to pick specific majors and how they can develop an "engineering identity," Rincon said.

Researchers have identified a variety of factors including media exposure, depiction of roles in TVs and movies, parental guidance and peer influences. When organizations like SWE stay consistent with engagement opportunities and mentoring, they can change attitudes and expectations, Rincon said.

"You're introducing women and girls to a community so they can see and meet others with similar interests," Rincon said. "They can see what's possible."

Women accounted in 2020 for about 15 percent of the global engineering workforce and 14 percent in the US. This research from the World Economic Forum and US Census has helped SWE's national organization determine that women who leave engineering have lower levels of satisfaction and commitment than women who stay in the field.

Research has also shown managerial support for work-family balance and professional development opportunities are essential for women who want to stay in engineering professions.

MSU senior Jenni Aubin, a mechanical engineering major and a SWE member since her freshman year, said the chapter's efforts to carry an encouraging and inclusive message are paying off.

Members attend national and local engineering conferences regularly and have a full agenda of on-campus events and activities planned for this year.

"We want to show that engineering can be for everyone," Aubin said.

For more information about SWE, visit egr.msu.edu/swe.
This was adapted from a story that originally ran on the College of Engineering website.