Thanks to an intended $15 million "challenge" grant from the Charles Stewart Mott Foundation, Flint moms and babies could soon benefit from an innovative program that boldly tackles a root cause of health disparities — poverty. Rx Kids will be the first citywide program in the United States to address maternal and infant poverty with the novel approach of unconditional cash allowances to all pregnant moms and babies in the city of Flint.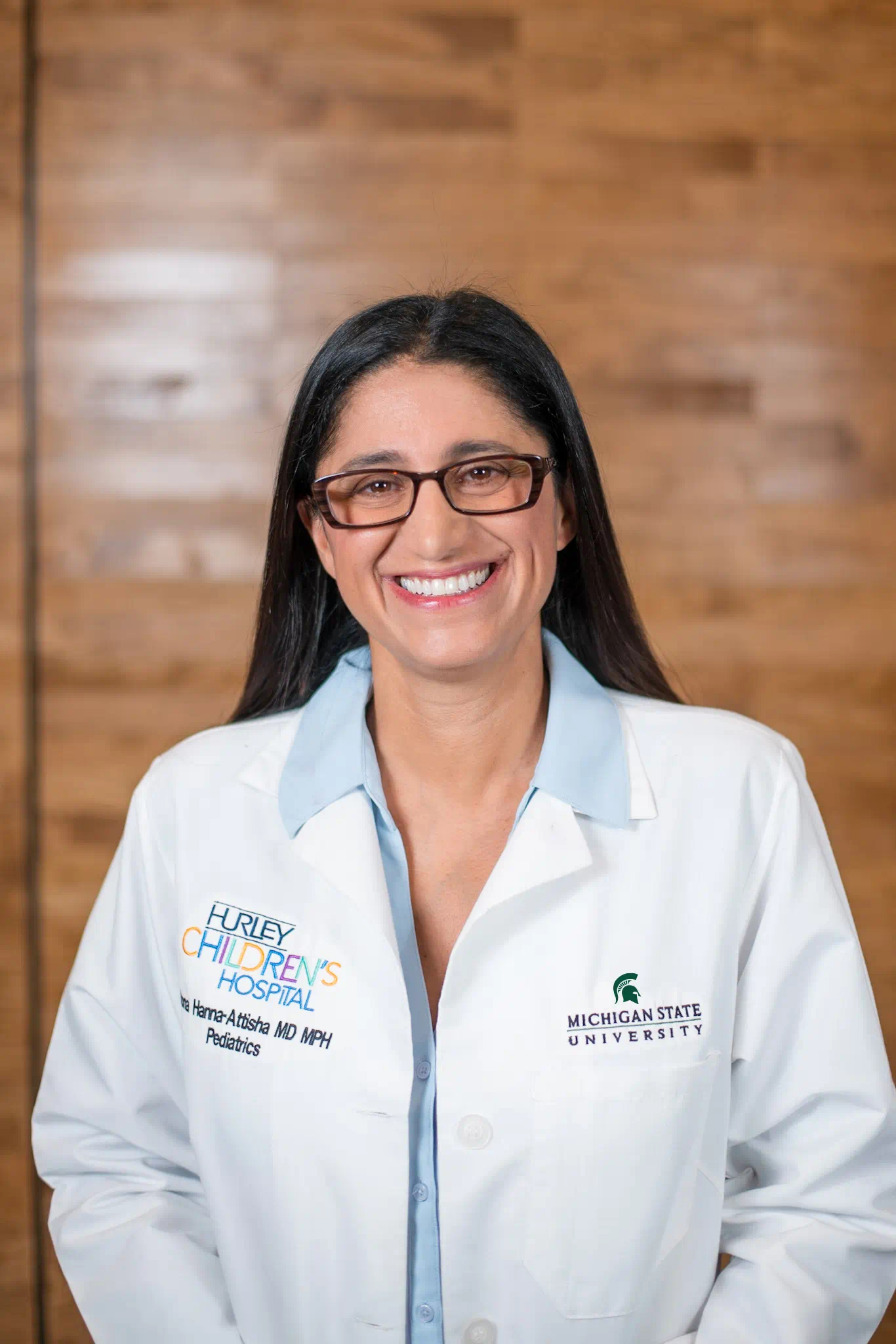 Dr. Mona Hanna-Attisha is the associate dean for Public Health and C. S. Mott Endowed Professor of Public Health at the MSU College of Human Medicine
Led by Mona Hanna-Attisha, pediatrician and director of the Michigan State University-Hurley Children's Hospital Pediatric Public Health Initiative, Rx Kids is a transformational effort that will help Flint children thrive at a critical time in their development.
"We are over-the-moon grateful to the Mott Foundation for this significant investment," said Hanna-Attisha. "This opportunity helps fulfill a promise to Flint families that we can and will do better. A promise that we believe in them and a recognition that together we can build a better tomorrow for our kids."
Flint is the poorest city in Michigan, with an overall childhood poverty rate of approximately 50% — more than three times the state and national rates. In many areas of Flint, the poverty rate for kids under 5 exceeds 80%. Growing up in poverty is one of the leading causes of poor health, potentially affecting a child's life trajectory.
"The idea of being able to help Flint babies to be successful from the womb through the entire first year of life is a unique opportunity, and some would say impossible, but over the last year, Dr. Mona has shown us that we can make this happen," said Ashley Strozier, a Flint mom. "Rx Kids is the type of support that will fill a void and offer an intentional level of added support by encouraging all of those important milestones and well-care visits for mom and baby. This is the type of program that can enhance the success rates of healthy kids and healthy families for generations to come."
Flint families will be "prescribed" $7,500 in cash through Rx Kids. This will include a one-time $1,500 payment to expectant mothers in mid-pregnancy, followed by $500 monthly for the first year of a child's life.
"Rx Kids is just the right solution to our city's needs. When moms and babies are supported, we uplift a community village and help the next generations for years to come," said Shearese Stapleton, executive director of Mothers of Joy Institute for Parenting and Family Wellness Inc.
With a likely start date in 2024, the project is estimated to cost $55 million for five birth years of mothers and babies and will include funds for cash transfers and program research. "Like all of our work in Flint, we hope to rapidly learn from our innovations and improve the lives of kids and communities everywhere with systems and policy changes," said Hanna-Attisha.
The Mott Foundation is structuring its intended support as a $15 million "challenge" grant — a one-to-one match that will unlock once Rx Kids raises an additional $15 million from other sources. With national excitement growing for Rx Kids, the team is actively pursuing additional public and private funding for the program.
Learn more about project partners, endorsers, and how to support Rx Kids at FlintRxKids.com.