The Rizvi family wasn't unfamiliar with Michigan State University before Syed Rizvi joined the MSU College of Osteopathic Medicine's Class of 2025 in 2021. In fact, his mother, Humaira Rizvi, M.D., at Ascension Providence Hospital – MSU College of Human Medicine's Southeast Michigan Campus and a clerkship site for the College of Osteopathic Medicine – has served as a clinical assistant professor with both of MSU's medical schools since 2021.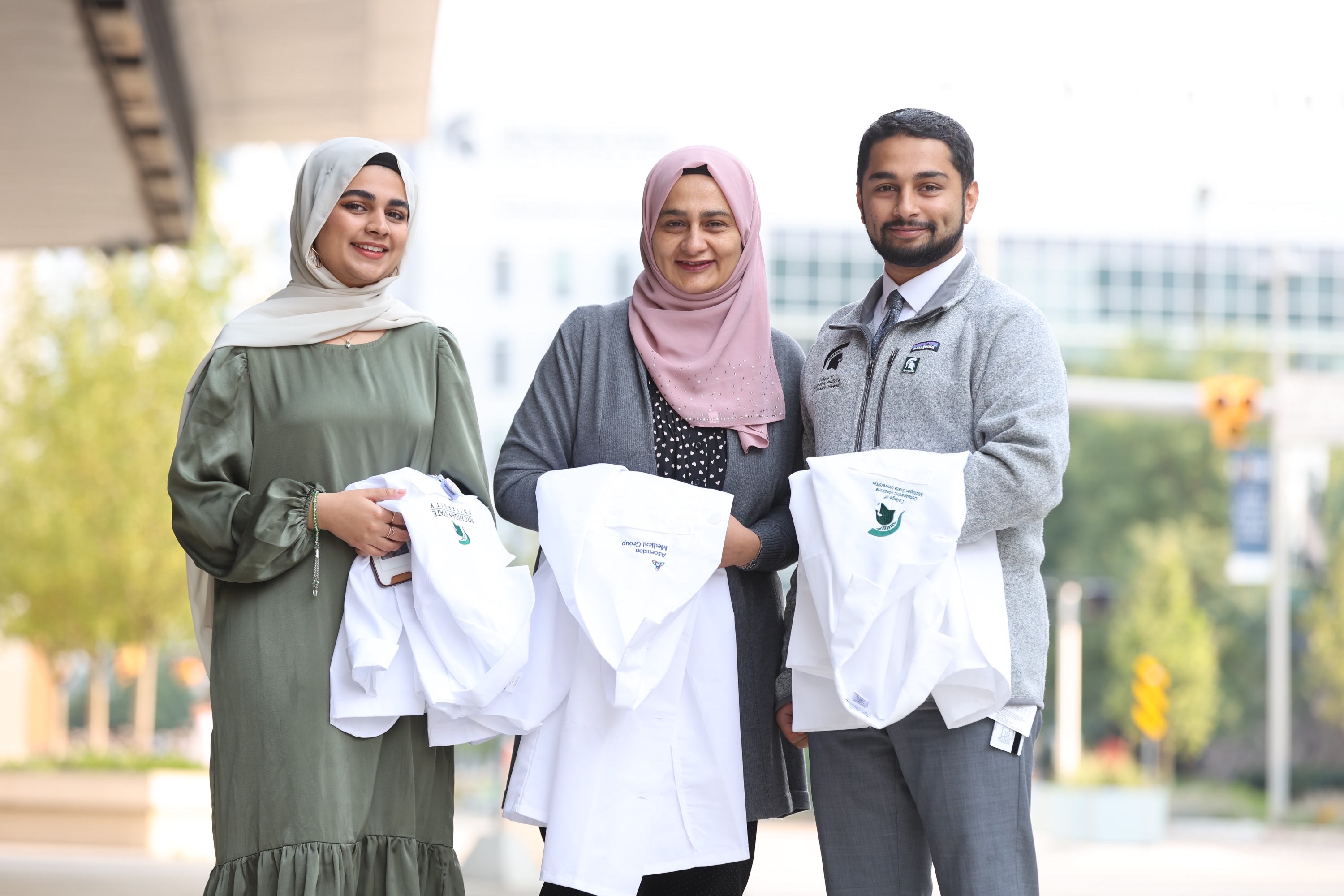 Ramsha, Humaira and Syed Rizvi (from left to right)
No one from the family, however, had attended the university or donned the green and white before Syed Rizvi entered East Fee Hall on his first day of medical school. Since that time, the family's ties to MSU have grown deeper. His sister, Ramsha Rizvi, joined the MSU College of Human Medicine this year and the family gathered to celebrate her matriculation and white coat ceremony where she received her white coat on Aug. 19.
MSU is the only Big Ten university that is home to two medical schools training both physicians in osteopathic medicine earning a Doctor of Osteopathic Medicine, or D.O., and allopathic physicians earning a Medical Doctor degree.
It seemed natural for the siblings to follow their mother's footsteps and pursue a career in medicine. However, the paths that brought both Syed and Ramsha Rizvi to MSU are different and result in interesting conversations.
Syed Rizvi came to MSU after graduating from Wayne State University where he earned a degree in kinesiology. While an undergrad at Wayne State, he had opportunities to work with D.O.s at the Detroit Medical Center – one of three medical training sites for the MSU College of Osteopathic Medicine's education. He not only got to know physicians from the college, but he also submersed himself in learning from them. During that time, he even submitted research that was published in the Spartan Medical Research Journal, working with Furqan Irfan, Ph.D., MBBS, assistant professor and director of research development, and Alla Sikorskii's, Ph.D., M.S., faculty in Psychiatry, both at the MSU College of Osteopathic Medicine
"I learned more about osteopathic medicine and saw first-hand their support of underprivileged populations," he said. Knowing her son not only wants to be a physician, but also an advocate, Humaira Rizvi encouraged her son to pursue his D.O., believing that was the right path for him.
Syed Rizvi also wanted to stay in Michigan and close to his home in Detroit to follow his path to advocacy as a physician – the MSU College of Osteopathic Medicine fit his plan. "He is flourishing, and his time here has helped him grow his strong advocacy and political side," Humaira Rizvi said.
For example, since he joined the MSU College of Osteopathic Medicine, Syed Rizvi has served as the National Liaison Officer for the Student Osteopathic Medicine Association and worked with student colleagues in the college's Islamic Medical Student Association to raise money to place water wells in Pakistan villages.
He believes physicians in training need to be strong advocates even before they graduate with a D.O. or M.D. "Yes, you're in med school, but you should not only have a medicine focus," he said. "This is a great opportunity to utilize and explore pathways. For me, the biggest thing was advocacy."
He did want his sister to join him in the MSU College of Osteopathic Medicine, he said jokingly, but is happy she found her place at MSU in the College of Human Medicine. In fact, Ramsha Rizvi initially thought she would follow her brother into osteopathic medicine because she loved seeing all he has been able to accomplish and do while at the medical school.
Like her brother, she wanted to stay in Michigan. After looking more into both medical colleges at MSU, she was attracted by the curriculum offered by the College of Human Medicine, which she likens to a flipped classroom where each week she would read and study and then have an opportunity to be in clinic.
"There is a plethora of opportunity at MSU," Ramsha Rizvi said. "MSU is full of people who are full of heart. It's not just about a professional degree – deep down they want good for people. I will be making the most of it and using resources to make change in others' lives."
Her interest is in pediatrics, but Ramsha Rizvi wants to keep all doors open, including looking into research opportunities. At Wayne State, she double majored in neuroscience and the honors program.
For Syed Rizvi, in his third year of medical school and doing clinical rotations at DMC, he has come full circle from where his interest in osteopathic medicine began. He sees MSU as an internationally known institution that produces reputable and incredible physicians and a place where anyone wanting to become a doctor can find a home.
Humaira Rizvi sees the university as diverse and inclusive, serving a population of people from many walks of life. "This is very important because everyone has cultural differences, every community has different challenges," she explained. "As an example, the Detroit population (alone) has different needs and experiences and needs physicians who are more culturally sensitive and practice inclusiveness."
Syed Rizvi added that being in Detroit and investing in populations from which the family comes is important, and MSU helps them to keep that focus. Add that to the leadership opportunities he's found, being near family and in a "COMmunity" that feels like family, added to being at a Big Ten university where he can go to games with friends – nothing compares. "It's the entire experience," he said.
Ramsha Rizvi said already in her first days at the MSU College of Human Medicine, she is finding people who are helpful and share resources. "It already feels like home," she said.
Humaira Rizvi also points out that "receiving your white coat is a privilege and responsibility because people trust physicians with their lives." MSU medical schools provide the foundation for the profession behind the medicine.
As Syed Rizvi reminds us, "we need to focus on serving the underprivileged and revitalize the healthcare system currently in place," his mother and sister smile knowingly as his focus never wavers – being a caring physician and advocating for others.
"MSU gives you the opportunity to compare perspectives and gives you what you need, like my brother focused on policy and those working at the ground level and providing resources," Ramsha Rizvi said. "MSU gives you all of the opportunities to do whatever you are passionate about."