When third-year Michigan State University student Kailyn Butler was narrowing down her college selection, the deciding factor ended up being two things no other school had: MSU's residential, science-focused Lyman Briggs College and, perhaps not surprising, Big Ten athletics.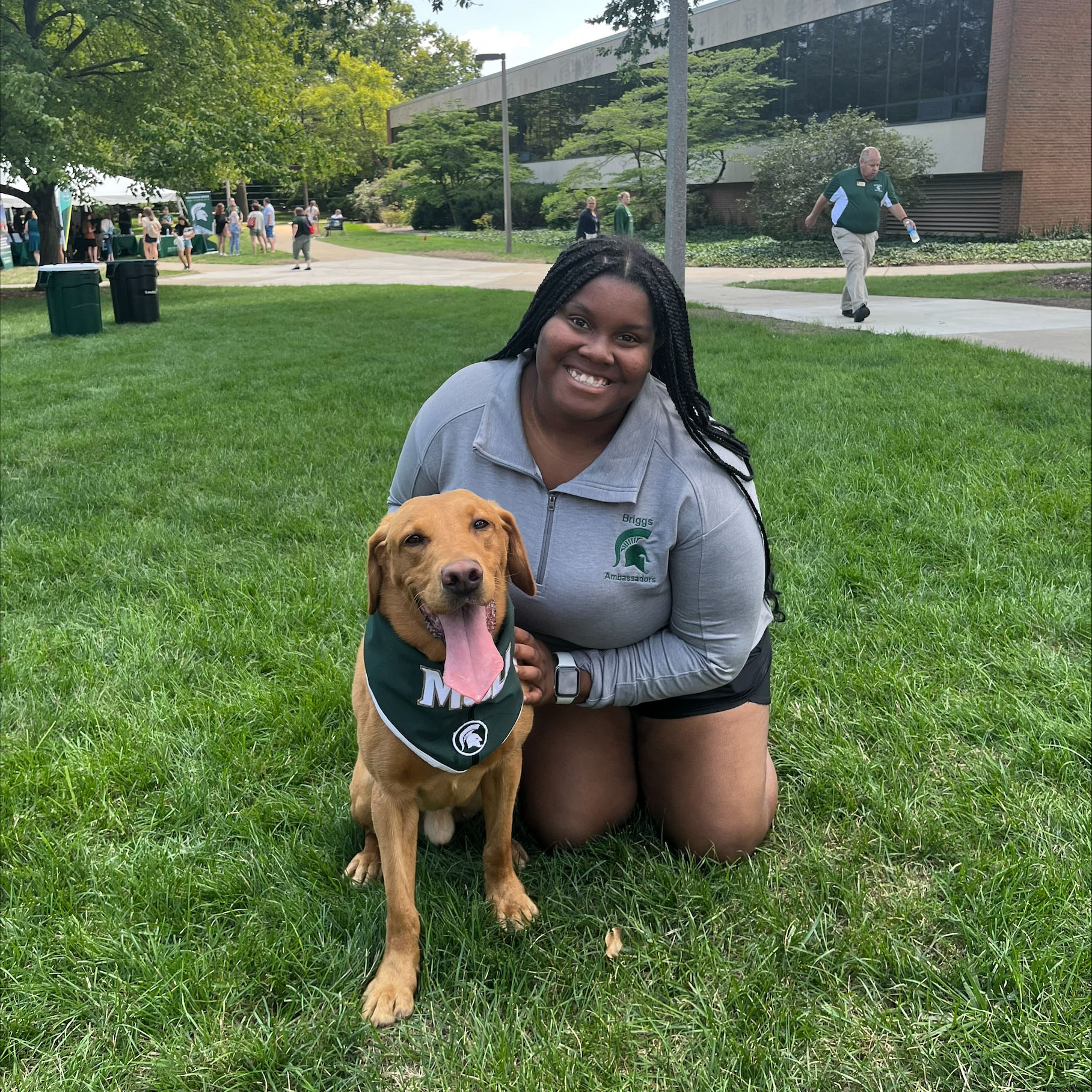 Lyman Briggs College student Kailyn Butler poses with Zeke the Wonderdog at an MSU home football game. Photo courtesy of Kailyn Butler
When Butler, an Indiana native double majoring in neuroscience and human biology with a minor in bioethics, toured campus during a Green and White Day, the beauty of MSU's campus — and its abundance of squirrels — clinched her decision.
Once she arrived on campus for her first semester, however, it was the people in her small college, located in Holmes Hall in the northeast corner of campus near the Red Cedar River, who made her feel at home.
"The people here make it special," says Butler. "I came here knowing no one and met my best friend. There isn't a big Black population, but the people here make me feel included."
Butler's classes and area of study are rigorous, but the college is known for its support systems that help all students thrive and find the resources they need to excel from the start.
'Collaborative, not competitive'
MSU's residential college model is distinctive from other universities that offer these programs. The three colleges — Lyman Briggs College, James Madison College and the Residential College in the Arts and Humanities — are all degree-granting colleges, each is empowered to make decisions about curriculum and faculty tenure, and each has a unique structure and culture. Nearly all of their first-year students live in the residence hall where their college is located. Class sizes are small, and students benefit from personalized academic and career advising as well as access to the wealth of opportunities, research facilities and student organizations MSU offers. And the model is working: MSU's living-learning communities overall rank No. 1 among all public universities in the nation, according to U.S. News & World Report.