Can providing mental health and community resources to high-risk adolescents prevent mass violence? Can this holistic model be replicated in other communities? A team of school safety experts from Michigan State University's Department of Psychiatry and Safe and Sound Schools, a national nonprofit school safety organization that provides research-based tools and support for crisis-prevention, response and recovery, is launching a violence prevention project to explore these possibilities.
Funded by a $15 million appropriation from the Michigan Department of Education, the "Prevent 2 Protect: The Adolescent Targeted Violence Prevention Project," is led by co-directors Alyse Folino Ley, an MSU child and adolescent psychiatrist with clinical expertise in trauma-related disorders who serves as the associate chair of education and research in the Department of Psychiatry, and Frank Straub, senior director of violence prevention research and programs at Safe and Sound Schools. The project seeks to advance knowledge, policies and practices to prevent targeted violence in schools. Over the past year, the co-directors have been building the infrastructure and networks required to implement the community outreach and collaboration project.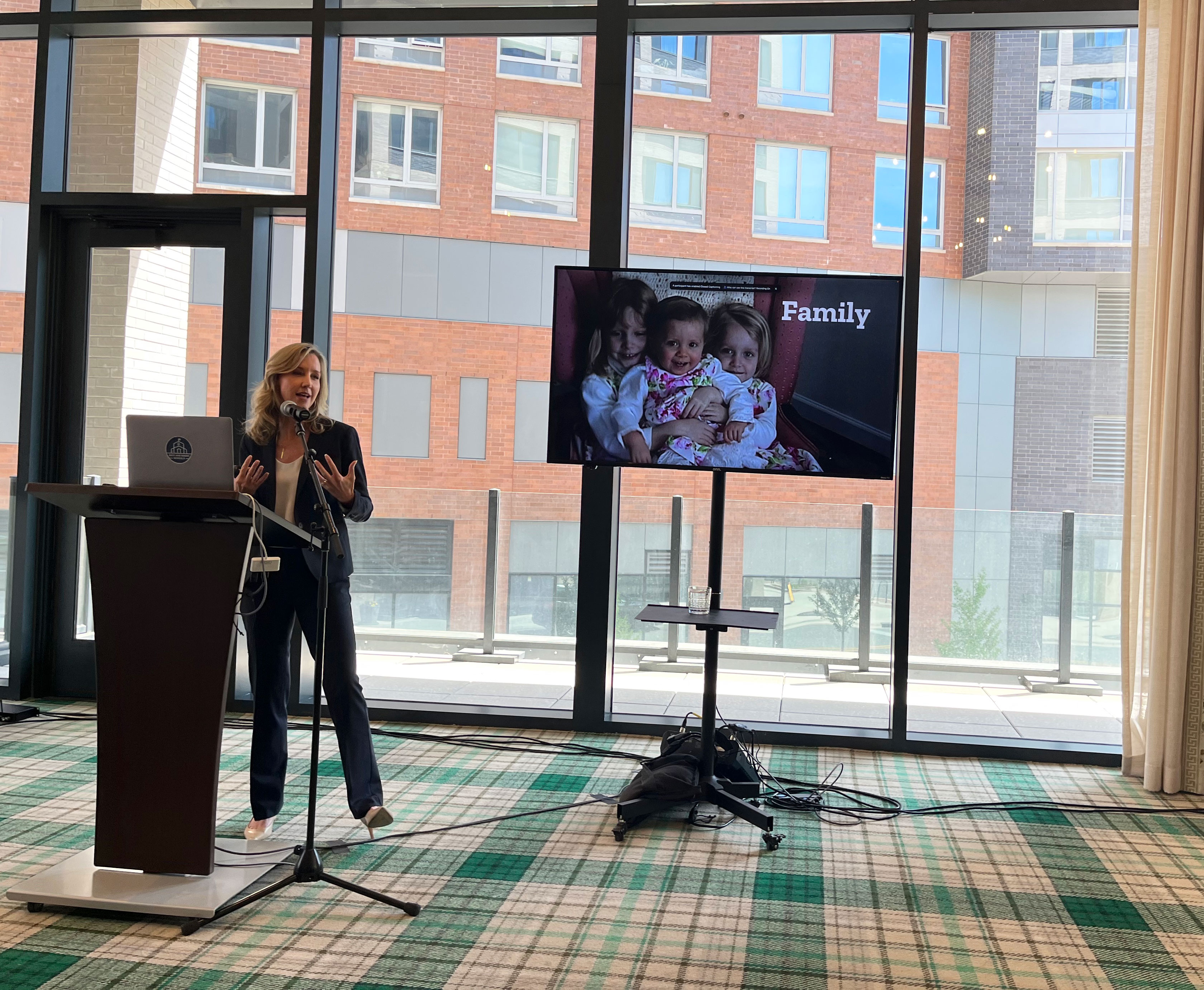 Michele Gay, founder and executive director of Safe and Sound Schools, speaks during the launch of the Prevent 2 Protect project.
Drawing on the expertise of the MSU Department of Psychiatry — a shared department in the Colleges of Osteopathic Medicine and Human Medicine at MSU — Safe and Sound Schools and a broad network of national experts, the program aims to provide a multidisciplinary research-to-practice hub with psychiatrists, psychologists, criminologists, resident physicians, medical students, allied health professionals, educators and law enforcement who all conduct research, provide clinical services, training and technical assistance to inform targeted violence prevention policies and practices throughout Michigan and beyond.
Prevent 2 Protect will provide:
Five regional intensive support teams throughout the state to support high-risk/high-need adolescents and their caregivers within their communities

Consultation services for community professionals working with adolescents who engage in high-risk behavior indicative of posing a threat of targeted school violence

Education and training programs grounded in research and promising practices to help community members obtain new skills and strengthen existing ones to prevent targeted school attacks

Technical assistance to communities to support their efforts to prevent, respond to and recover from acts of targeted school or public violence
"The idea is, if we can increase community collaboration, increase resources and supports for our high-risk, high-need adolescents in the community, we may be able to change the trajectory of their lives going forward so that they are less likely to commit an act of violence. We hope that they find a sense of connection, companionship and confidence within their community. The goal is to help create productive and engaged citizens instead of individuals who are going down the path toward violence," Ley said.
"We see that many of these children are isolated, withdrawn," added Straub. "If we can find that area of interest that resonates with these children . . . anywhere from art to sports and everything in between, the mentor would help connect them to that area of interest, could help them navigate education," said Straub, whose work as the director of the National Policing Institute's Center for Targeted Violence Prevention focuses on developing the averted school violence database and reporting on incidents of averted school attacks. In most of the averted cases, he noted, relationships with peers and adults, as well as early warnings from community members, helped prevent an act of violence.
"We're really looking at the evidence regarding what works, and we believe that the case manager can help navigate systems for both the adolescent and their family, and the mentor can work directly with the adolescent and their family. The mentor can really be an adult role model in many ways, helping the adolescent navigate some of the challenges they may be having, but also really trying to identify activities they're interested in."
From the dark, light
The project launched during this year's Enzer Endowed Lecture, an event named in honor of child psychiatrist and former MSU Department of Psychiatry chair, Norbert Enzer.
The keynote speaker was Safe and Sound Schools Founder and Executive Director Michele Gay, who lost her daughter Josephine Grace during the school shooting at Sandy Hook Elementary School in 2012.
In her presentation, Gay discussed her family's experience, pointing out the shooter's troubled childhood and teenage years and how things might have been different if he and his family had received the resources to help.
"To see that there will be a model built around supporting families to ensure that there's not another Dec. 14, 2012, is really my life's work," Gay said. "Finding good partners that are willing to roll up their sleeves and do the hard work is incredible because it seeks to create a structured approach."

U.S. Rep. Elissa Slotkin sent a video message for the event in support of the project. She said the joint project is a perfect example of the type of collaboration that we need to tackle the very complicated issue of targeted violence in our schools and in our communities.
"If we're going to get serious about protecting our young people, it is going to take just this sort of collaboration to first understand the roots of the problem and then work together and implement solutions. We can't work in silos…where we pass a law over here, implement a mental health initiative over there, change a policing strategy over here and expect comprehensive results. We need a holistic community approach, exactly as you are taking here to address what has become a pervasive community issue."
Ley and Straub said they have identified two regions — Calhoun and Mason counties and surrounding communities — where they will roll out the program, with the next three regions to be identified later this year. They estimate they'll be able to serve 10 to 15 participants per region.
"As we phase in this model, we really need to look at the evidence; we have to figure out what works and how it works," Straub said.