After years of work and delayed dreams, today Henry Dorn holds two doctorates from Michigan State University, one in conducting that he completed in 2022 and one in composition that he completed in 2023. His story is one of success, burnout and depression, financial distress, mentoring, and the power of music.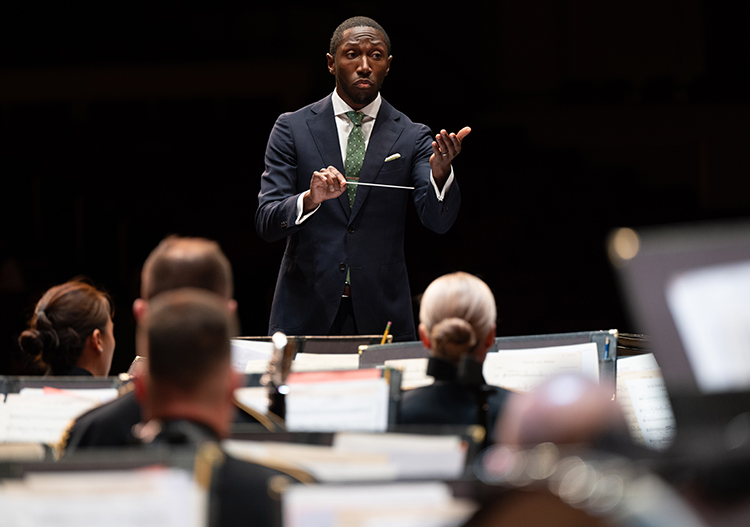 After a six-year hiatus from when Dorn managed a CVS store to support his family and felt he had completely abandoned hope of a career in music, this fall he begins his tenure as Conductor of the St. Olaf Band at St. Olaf College in Northfield, Minnesota. Dorn will also maintain a composition studio.
At St. Olaf, he will become an integral part of a revered music program, joining another MSU alum, Anton Armstrong, the college's long-time choir director. It is simultaneously a lift off to a new beginning and a safe landing after a turbulent flight.
For Dorn, music was a calling at an early age, from standing on the coffee table in his living room at three or four years old and dancing as his father played Motown records, to taking up trombone in his Little Rock, Arkansas school. He earned all-state honors on a borrowed instrument, and it meant a lot to him considering there were not many opportunities for young Black men to succeed in his hometown.
Dorn earned a scholarship to study engineering at the University of Arkansas, but that was his father's dream. He was never convinced it was the right path, and the calling of music was stronger than ever.
"I made a last minute decision to audition at the University of Memphis," Dorn said. "I rode a bus from Little Rock to Memphis by myself at 17 years old, and I took this audition using my studio professor's horn because I didn't have my own professional instrument to play."
Memphis accepted Dorn with scholarship support. He majored in performance while playing in every ensemble he could and took composition classes. He narrowed his focus to composition, earning his degree in 2010 while still performing trombone at gigs in a lively blues scene in the city.
"At Memphis, I had too many irons in the fire," he said. "I didn't know at the time that I was suffering from burnout and just being overwhelmed. I'd taken on too much."
Still, he was on a path, and he expected himself to continue and succeed. He almost immediately began a two-year program studying wind conducting at the Peabody Institute at Johns Hopkins University. He and his wife, Alicia (his girlfriend at the time), made the move to Baltimore. She pursued an advanced degree program as well and is now a mental health professional.
To read the full story, visit the College of Music website.