WKAR Public Media was awarded $50,000 from Michigan State University Federal Credit Union to support the station's community-wide educational initiatives. The donation was presented at WKAR's annual PBS KIDS Day event on Jan. 28, 2023, where hundreds of families gathered to participate in educational activities hosted by partners from communities throughout mid-Michigan.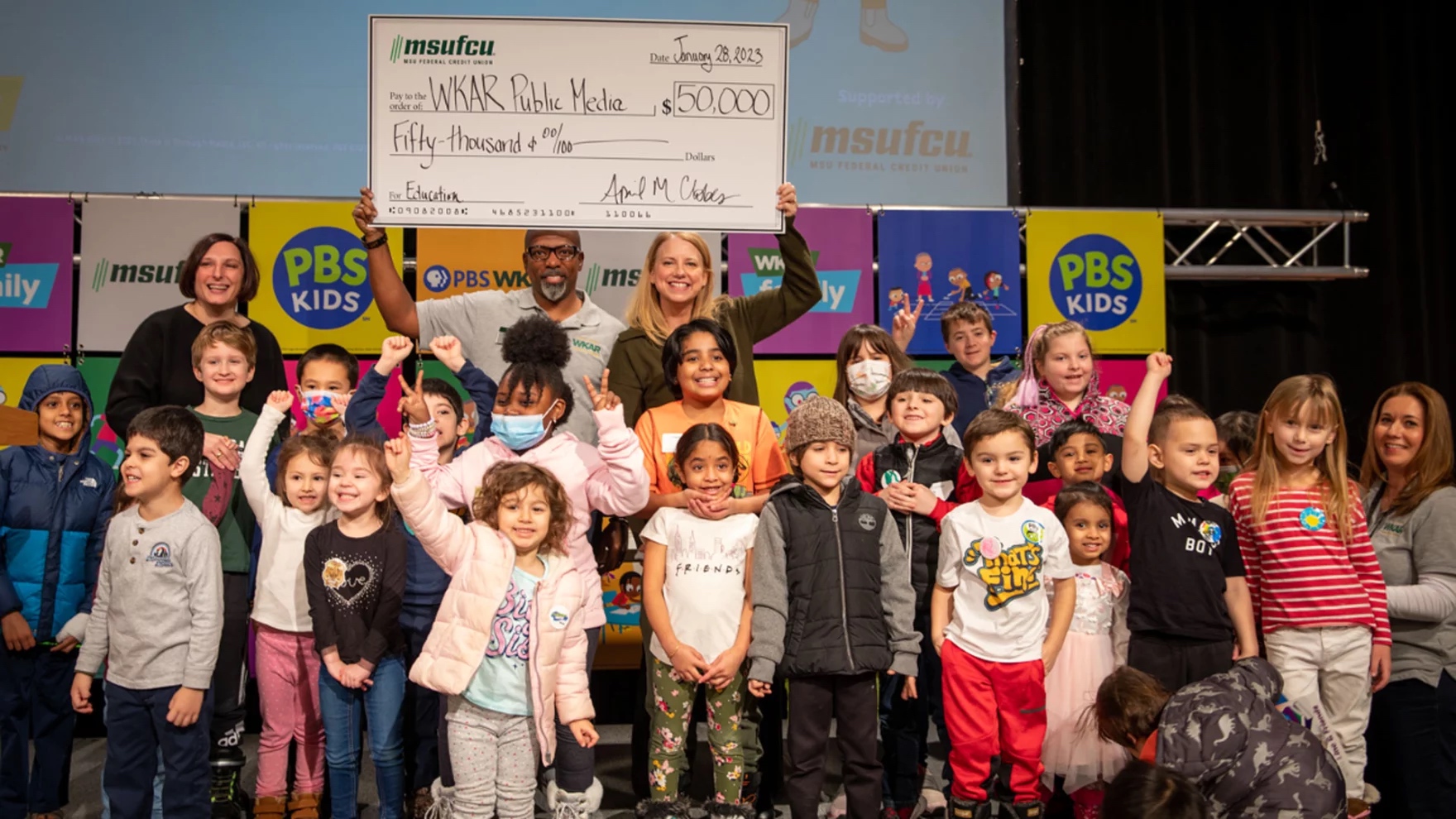 MSUFCU presents a check for $50,000 at the PBS KIDS Day with WKAR celebration on Jan. 28, 2023. April Clobes and Susi Elkins of MSUFCU (back row left and right) and Shawn Turner and Julie Sochay of WKAR (back row center and front row right) pose with just a few of the hundreds of children attending the event. Photo by Emily Dickerson / WKAR-MSU
"We are proud to sponsor WKAR's educational initiatives, including the WKAR Reading Kit project that provides over 10,000 books to children and families," said April Clobes, MSUFCU president and CEO. "We're pleased to partner with WKAR to ensure that all children in our community have access to high quality educational programming."
The MSUFCU donation will enable WKAR's education department to host community pop-up events and procure more literacy tools and books to be distributed to children and families throughout mid-Michigan. In addition, the donation will assist WKAR in hosting more virtual education workshops and trainings for educators and families.
"This gift from MSUFCU will allow us to support the educational needs of the community in ways that will have a lasting and positive impact on children and their families," said Shawn Turner, general manager of WKAR. "Thanks to the generosity of MSUFCU, we are able to put resources in place to benefit parents, educators, and children across mid-Michigan. It's the kind of work that really matters to everyone here at WKAR."
The annual PBS KIDS Day drew event drew more than 900 attendees of all ages. It was the first in-person celebration of PBS KIDS Day since 2020.
The celebration included interactive presentations with Dr. Rob and the Curious Crew, along with other activities such as giveaways and a prize wheel. Alma, of the PBS KIDS program Alma's Way, was there for children to meet and pose with for photos. WKAR is also celebrating a century of service, so the crowd of children in attendance sang Happy Birthday to WKAR for its 100th birthday.
"Being able to watch my boys enjoy a morning full of learning with their favorite PBS characters was a wonderful experience," said Marianne Black, a mother who attended the event with her two sons. "As an MSU alum myself, it brings me so much happiness when there are events like this for parents to come and enjoy with their children."
"Seeing kids of all ages engage with our characters and programming with such excitement was an absolute pleasure," said Turner. "Watching the crowd of children learn about physics and chemical reactions from Dr. Rob and the Curious Crew in real-time was especially a highlight for me."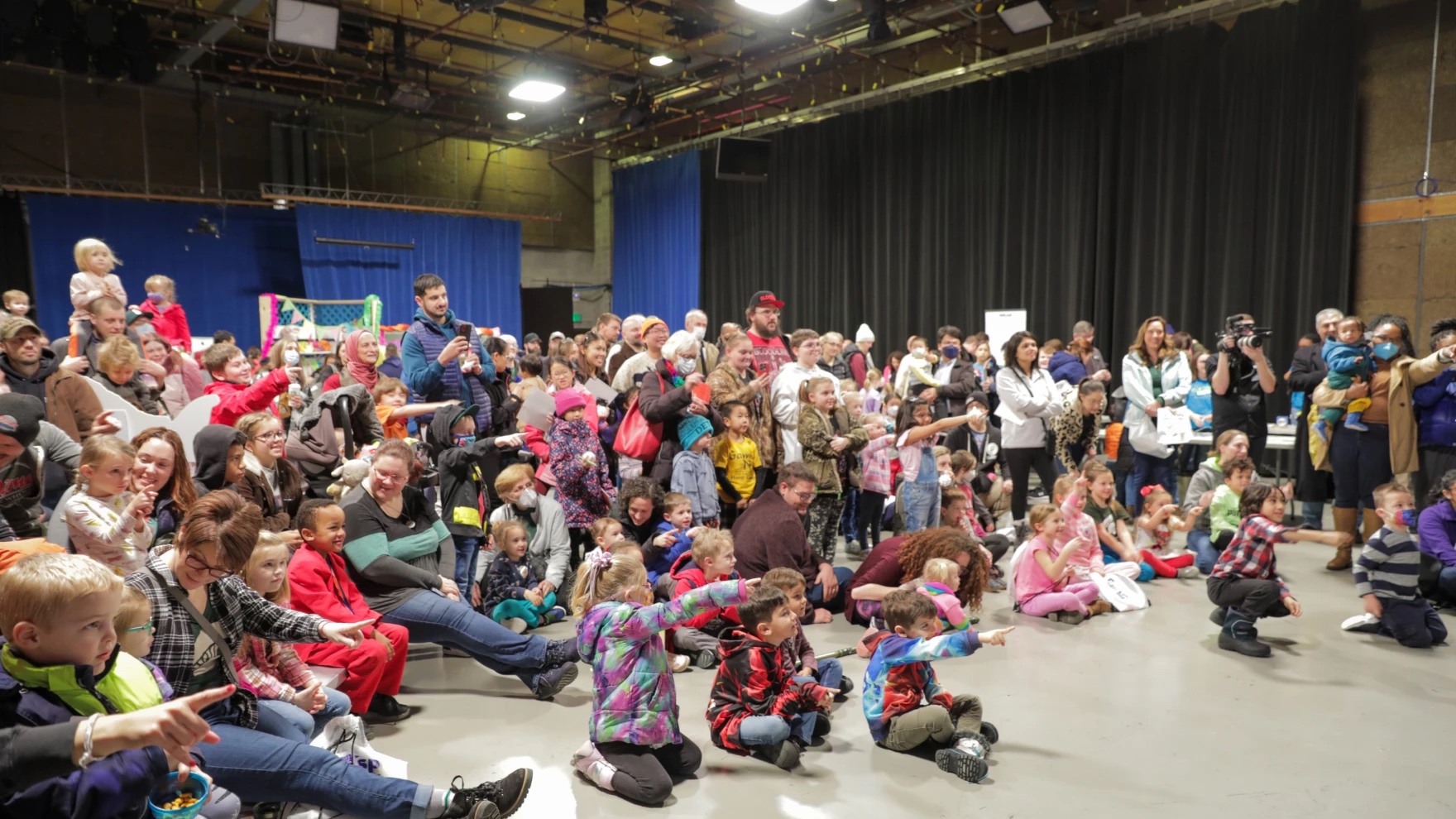 Children and their families gather in WKAR Studio A to partake in the interactive Curious Crew activities on stage. Photo by Emily Dickerson / WKAR-MSU
WKAR education team held a book giveaway with children's books ranging across a wide variety of age groups. Hundreds of children walked away from the event with free books.
"Helping spread the joy of reading to young members of the WKAR community is always a privilege," said Robin Pizzo, WKAR director of education. "Knowing that these books will go on to bring knowledge and joy to the children receiving them is something I cherish."
WKAR was joined for the day by a dozen community partners sharing activities. Partners included Abrams Planetarium, Capital Area District Libraries, Facility for Rare Isotope Beams, Ingham ISD – GSRP, Michigan Education Trust, MSU Federal Credit Union, Child and Family Charities, Sweet Encounter Bakery, Potter Park Zoo, Crest Pontoon / Merrill Institute, MSU Power Plant, and the Wharton Center for Performing Arts.
PBS KIDS Day with WKAR is supported in part by MSU Federal Credit Union.
As an award-winning producer of original television and radio programming, WKAR is uniquely poised to be a leader in children's education across mid-Michigan. The station recently celebrated its 100th year in operation. The Century of Service celebration continues through much of 2023.
This story was adapted from releases on the MSUFCU gift and PBS KIDS Day. To read more, visit the WKAR website.