Providing safe drinking water was a great public health achievement in the 20th century, yet problems persist. According to the Centers for Disease Control and Prevention, about 7.15 million waterborne illnesses occur in the United States annually resulting in 601,000 emergency room visits, 6,630 deaths and $3.33 billion in direct health care costs. Michigan State University, a world leader in water research, is working to make our drinking water safer.
MSU has been awarded a $2.1 million grant from the U.S. Environmental Protection Agency, or EPA, to better understand the amount of pathogens, such as Legionella, and disinfection byproducts in drinking water distribution systems and to assess associated health risks. MSU also will develop a systematic way to monitor water systems.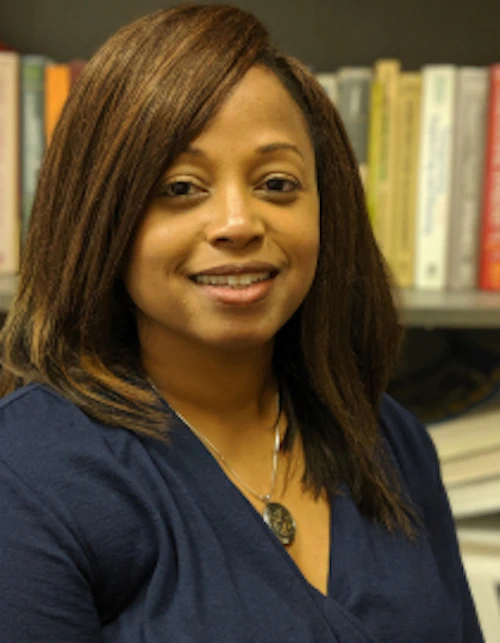 Jade Mitchell is associate professor and associate department chair in the MSU's Department of Biosystems and Agricultural Engineering in the College of Agriculture and Natural Resources, as well as the College of Engineering. Courtesy photo.
"It may be hard to believe, but there are no common systematic ways to assess the safe levels of opportunistic pathogens like Legionella in our drinking water — not in the U.S. or anywhere else in the world," said Jade Mitchell, principal investigator and associate professor in the Department of Biosystems and Agricultural Engineering in MSU's College of Agriculture and Natural Resources and College of Engineering. "These pathogens can grow in drinking water systems as a result of aging infrastructure and private or unregulated water systems. We are working to create a much-needed assessment system."
Mitchell said even though disinfectants are used in water systems to control pathogens, these can cause additional problems by reacting with natural organic matter, bromide and other contaminants to form disinfectant byproducts, or DBPs, which also have the potential to be harmful to human health. While some DBPs are regulated by the U.S. EPA, other toxic compounds may still occur and persist.
"We think we are making water safe with disinfectants, but we really don't know," Mitchell said. "The human health risks trade-offs between opportunitstic pathogens and unregulated DBPs need to be assessed and dealt with."
The EPA said this research will improve our understanding of how to control contaminants and help inform water infrastructure management and risk-mitigation practices to ensure cleaner drinking water for all Americans.
The MSU project team, led by Mitchell, also partners with Ohio State University, Clemson University, Tulane University, the College of New Jersey, Drexel University, Garver Inc. and the New York State Department of Health. In addition to MSU, other institutions received similar grants, including the University of Minnesota, University of Texas at Austin and Georgia Tech Research Corporation.