Michigan State University is on the cusp of making history with construction of the university's first free-standing multicultural center scheduled to begin this spring. This month, the Board of Trustees gave the university the green light to break ground on the $38 million, 34,000-square-foot facility on the corner of North Shaw and Farm lanes.
"I want to thank the trustees for supporting this important part of MSU's history," said MSU Interim President Teresa K. Woodruff, Ph.D. "Students have been calling for a free-standing multicultural center on campus for decades. To be able to deliver on that call only furthers our commitment to welcoming and supporting our increasingly diverse student population."
For Trustee Brianna Scott, the construction of the new center is personal. She, along with former Trustee Joel Ferguson and current Trustee Kelly Tebay worked diligently the last four years to get the project off the ground. This was done through persistence in meeting with numerous student constituencies and collaborative work with other trustees and MSU administration and leadership.
"Seeing the wheels of this project being set into motion is invigorating," said Scott, who previously served as chair of the Student Life and Culture committee during the project's development. "It is also incredibly humbling to be able to be a part of a solution so many Spartans long before me have called for. Your calls have not gone unheard. I look forward to embracing this new transformational space where all of us can come together as one."

"We are excited for what the future holds as the MSU Multicultural Center will be a living, scholarly safe space we passionately believe in for our Spartan community now and for generations to come," said Vennie Gore, MSU senior vice president for Student Life and Engagement.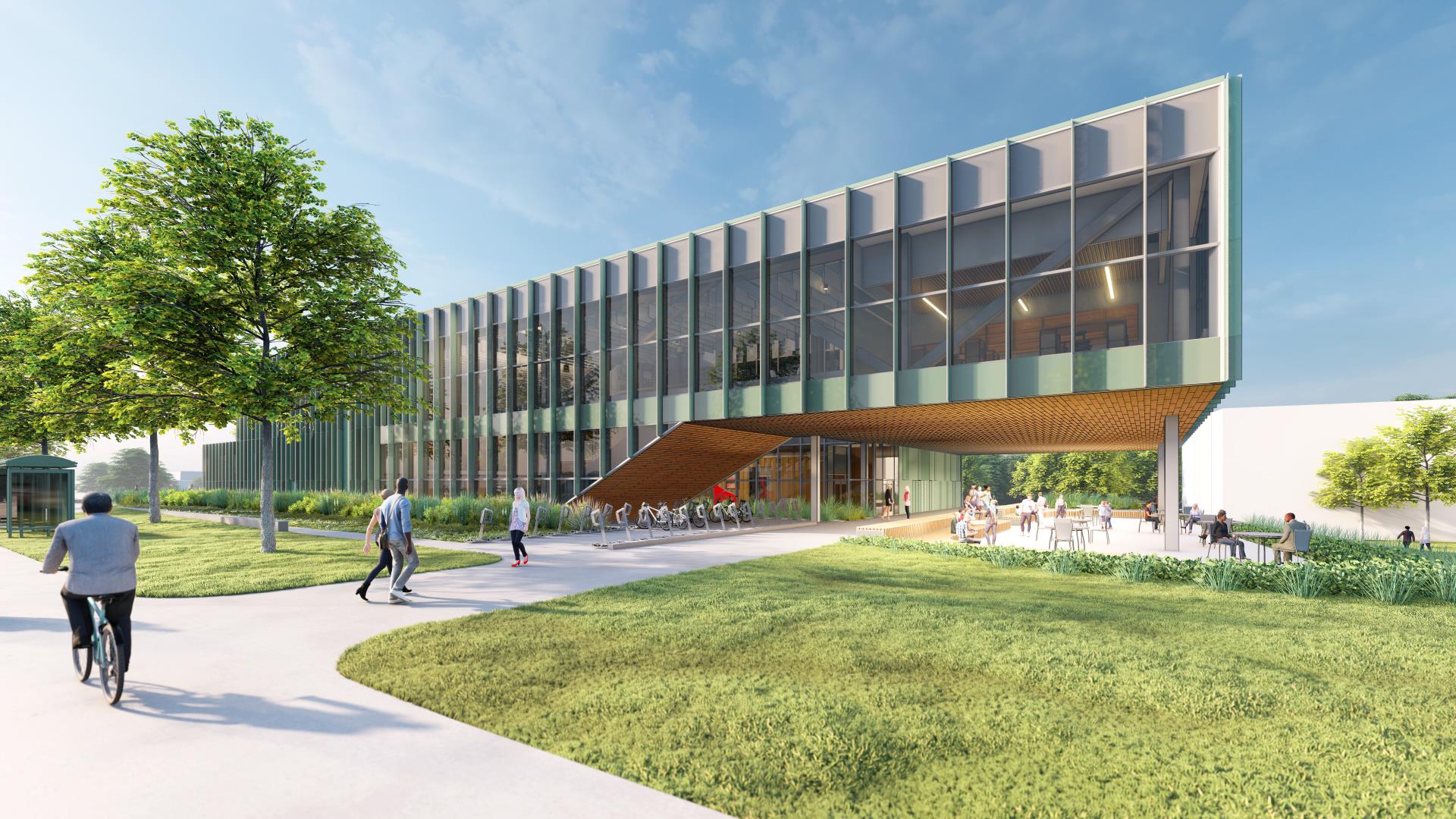 MSU Multicultural Center. Rendering courtesy SmithGroup.
The announcement comes during Black History Month, a time to recognize the inequities, struggles and triumphs of African Americans throughout U.S. history. Calls for a free-standing multicultural center on MSU's campus date back to the civil rights movement when protests were sparked by the demands of Black students who called for increasing racial and ethnic minority representation on campus.
"The free-standing center will be a tribute to decades-long activism by students and campus stakeholders at MSU," said Vice President and Chief Diversity Officer Jabbar R. Bennett, Ph.D. "This effort exemplifies our leadership's commitment to deliver on our intention to create a diverse, equitable and inclusive world-class academic environment."

Lee June, Ph.D., an MSU professor in the Department of Psychology and Honors College has been employed by the university for nearly 50 years, 37 of which were in various administrative roles. He has seen thousands of students come and go during his tenure at MSU — he says what hasn't left are the voices of underrepresented and marginalized students and their calls for a stand-alone multicultural center.

The university's first multicultural center opened in 1999, according to June. But student leaders consistently advocated for more space and a center that was free-standing. In 2013, MSU administration agreed to move the center to a more prominent location. While that move did create more space, students continued to advocate for a stand-alone building.

"It's been a long time coming," June said. "This multicultural center not only brings me a sense of peace, but a sense of renewed confidence in our great institution. I'm so glad to finally see this come to fruition."

In the 2018-19 academic year, Sarah McConville, a student and chief diversity and inclusion officer for the MSU Residence Halls Association at the time, started a petition for a multicultural building on campus.
As a result, Tammi Cervantes, the former president of Culturas de las Razas Unidas, or CRU, a student organization that advocates for the Latinx community at MSU, helped form the Students for a Multicultural Building organization, which helped rally and drum up support for the center.

In 2019, several student organizations, including the Black Students' Alliance, Council of Racial and Ethnic Students, or CORES, and Council of Progressive Students Coalition, or COPS, presented a plan to increase diversity, equity and inclusion on campus that included a free-standing multicultural center.

In response, President Emeritus Samuel L. Stanley Jr., M.D., appointed a steering committee in late 2019 to conduct a feasibility study of constructing the center. In 2021, under Gore's leadership, the feasibility report's results were approved by the board to begin the planning phase, marking the first tangible steps toward construction. Embracing inclusivity in the design process, students and community stakeholders provided input and feedback on the building's design and layout through a series of community engagement sessions. These sessions, which took place over the past year, were facilitated by SmithGroup, one of the nation's leading integrated design firms that MSU chose to complete the project.

"The MSU Multicultural Center must become a safe space so students can be their true authentic selves," said Marcus McDaniel Jr., president of MSU's Black Students' Alliance. "The building will not only create a sense of belonging and a home away from home for marginalized communities, but it will also afford a plethora of dynamic learning opportunities for our diverse Spartan and greater Lansing communities."

Building features will include a living room, community kitchen, office space for CORES and COPS, an art gallery wall, a resource center and many other amenities.
"The new MSU Multicultural Center will be a place of inspiration, discovery, and affirmation," said MSU Board Chair Rema Vassar, Ph.D. "It is an honor to serve the Spartan community in realizing our great work in creating a diverse, equitable, and inclusive campus."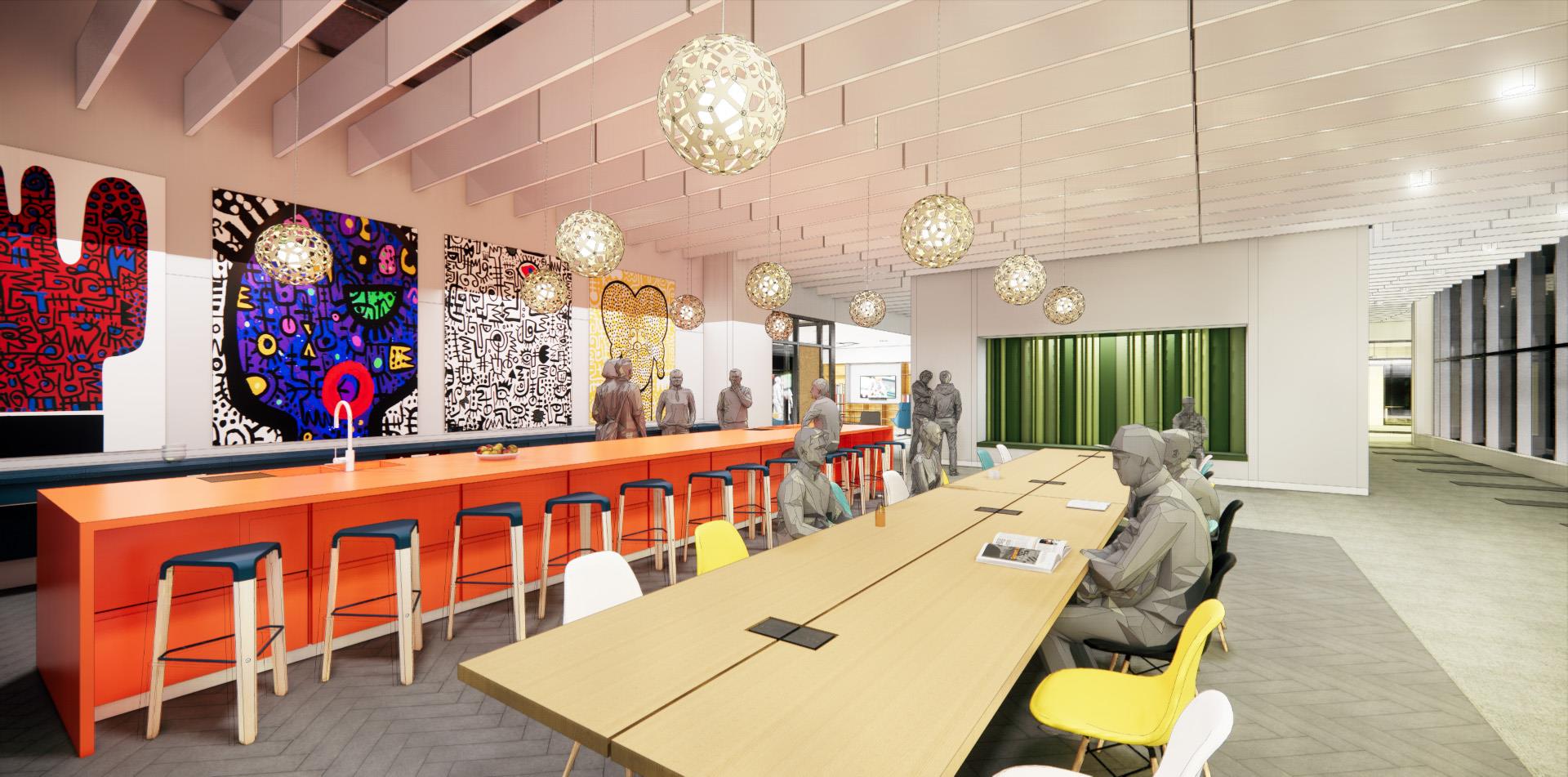 MSU Multicultural Center. Rendering courtesy SmithGroup
The stand-alone building will make for a culturally rich and welcoming environment that promotes intellectual curiosity among students and their peers to learn and share experiences with one another. Those shared experiences will be further amplified through several unique features of the center and its property, including the Dreamer Center and outdoor amphitheater.

The goal of the Dreamer Center will be to help undocumented students succeed academically and professionally, despite the challenges they may face due to their immigration status. The Dreamer Center will provide a safe and welcoming space where those of mixed-immigration status can connect with peers and receive support, mental health resources, financial aid and legal guidance in an intimate and private environment.

In addition to creating an inviting space indoors, the same intentionality will extend to the center's outdoor spaces, including the amphitheater facing the Red Cedar River. There, students will be able to enjoy performances of music, dance, theater and other forms of cultural expression. In addition, an Indigenous-inspired ceremonial firepit featuring natural elements will expand opportunities for all student groups.

Cervantes, a 2020 MSU alum, knows she won't be able to reap the tremendous cultural learning opportunities that will exist with the new center, but she knows others near and dear to her will.

"It's amazing. I genuinely didn't expect it to happen as soon as it did, so I'm really excited. I have younger brothers who want to go to MSU, so for them to hopefully be able to embrace the new multicultural center will be really great."
The MSU Multicultural Center is expected to be completed by the fall semester of 2024.