On April 2, Michigan State University held its first La Cosecha "The Harvest" Celebration, an event welcoming over 150 Latino/a farmers, as well as MSU students, faculty and community members for a luncheon at Spartan Stadium.
La Cosecha Celebration honored the efforts of all the Latino/a farmers and farmworkers throughout the state of Michigan who play an important role in agriculture and are taking steps to advance their educational pursuits.
"This is just the beginning of our work together to find solutions to build sustainable farming businesses and bridge the gap for first- and next-generation Latino and Latina farmers," said Interim President Teresa K. Woodruff, Ph.D., in recorded remarks featured during the celebration.
As a leading agricultural institution, MSU's Department of Entomology, Migrant Student Services, or MSS, and MSU Extension have implemented La Cosecha program as a resource to support historically disadvantaged Latino/a farmers and farm communities.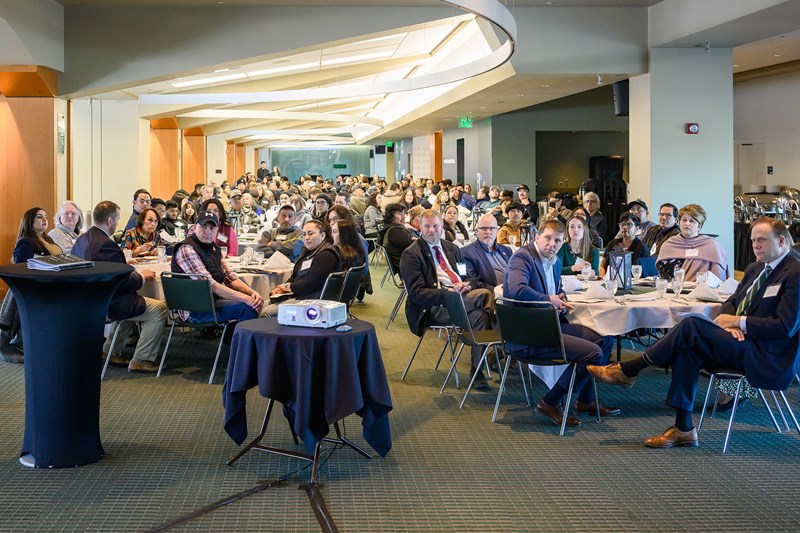 2020-23 La Cosecha team:
• MSU Department of Entomology, College of Agriculture and Natural Resources – Raquel Marin, Omar Posos-Parra and Juan Pedro Solorio
• MSU Extension – Mariel Borgman, Florencia Colella, Ron Goldy, Ana Heck, Mark Longstroth, Cheyenne Sloan, Phil Tocco and Ben Werling
• 4-H, MSU Extension – Dixie Sandborn and Janice Serve
• MSU School of Packaging – Eva Almenar
• Michigan Department of Agriculture and Rural Development – Antonio Castro-Escobar
• COLPOS – Esteban Valtierra-Pacheco
• Telamon Corporation – Don Kuchnicki, Elmira Morales, Sarah Perry and Angelica Solorio-Mendez
La Cosecha is an MSU educational program for beginning farmers and ranchers that launched in 2020 and is funded by the U.S. Department of Agriculture, Michigan Department of Agriculture and Rural Development and Telamon Corporation. The program offers the tools and training needed for Latino/a farmers to be successful farm owners in Michigan.
"Michigan State is strongly committed to Latino and Latina farmers, as well as migrant families," said MSS Director and La Cosecha Co-Project Director Luis Alonzo Garcia, who moderated the celebration.
The recognition event included numerous speakers, including Michigan Sen. Debbie Stabenow, Gov. Gretchen Whitmer's Director of Constituent Services Amanda Youssef, Michigan Department of Agriculture and Rural Development Director Timothy Boring, U.S. Department of Agriculture, or USDA, Director for the Office of Partnerships and Public Engagement Lisa Ramirez, MSU College of Agriculture and Natural Resources Dean Kelly Millenbah and many others.
The celebration kicked off with remarks from Sen. Stabenow, the chairwoman of the Senate Committee on Agriculture, Nutrition and Forestry.
"I always say that we don't have an economy unless somebody makes things and grows things," Stabenow said. "And Michigan farmers do both — whether you're growing and harvesting our fruit and vegetables, raising poultry, producing corn or soybeans or working on a dairy farm. It is a fact that Michigan agriculture can't succeed without all of you."
Ramirez from USDA said, "We are grateful to La Cosecha for providing critical programming and resources to underserved Latina and Latino farmers and for paving the way to the next generation of successful farmers."
Later, David Mota-Sanchez, associate professor in the Department of Entomology and project director who conceived of La Cosecha program spoke on how it helped Latino/a farmers create sustainable operations. John Wise from the entomology department is also a co-project director.
As Latino/a farmers increasingly seek pathways to become successful farmers, programs like La Cosecha are vital in supporting the transition into farm business management. MSU has a long history of supporting migrant farmworker students and has provided educational programs, resources and opportunities for over 20 years.
To conclude the presentations, the audience had the opportunity to hear from Yailene Morales, Pedro Bautista and Paulino Martinez as they shared their individual journeys and inspiration of becoming farm owners and how they benefitted from MSS programs like the High School Equivalency Program, or HEP, College Assistance Migrant Program and, now, La Cosecha.
Several key leaders from MSU and the community were present to recognize the success of the program, including MSU Board of Trustees member Dennis Denno and Isabel Montemayor-Vazquez, executive director of the Hispanic/Latino Commission of Michigan. Interim Provost Thomas D. Jeitschko, Ph.D., AgBioResearch Director George Smith and MSU Extension Director Quentin Tyler were also in attendance.
La Cosecha Celebration provided an opportunity to appreciate the work and contributions of Latino/a farmworkers and farm owners in Michigan while inviting them to connect with community and state leaders in recognizing the importance of these assistance programs.
The event concluded with Ingrid Aguayo-Fuentealba, HEP's associate director, presenting completion certificates to the farmers in attendance. With La Cosecha drawing to an end this year, Mota-Sanchez and Garcia are working on plans to apply for another grant to build on the increasing interest and success of the program.