Dream big. Work hard. And don't let others tell you what you can or cannot do.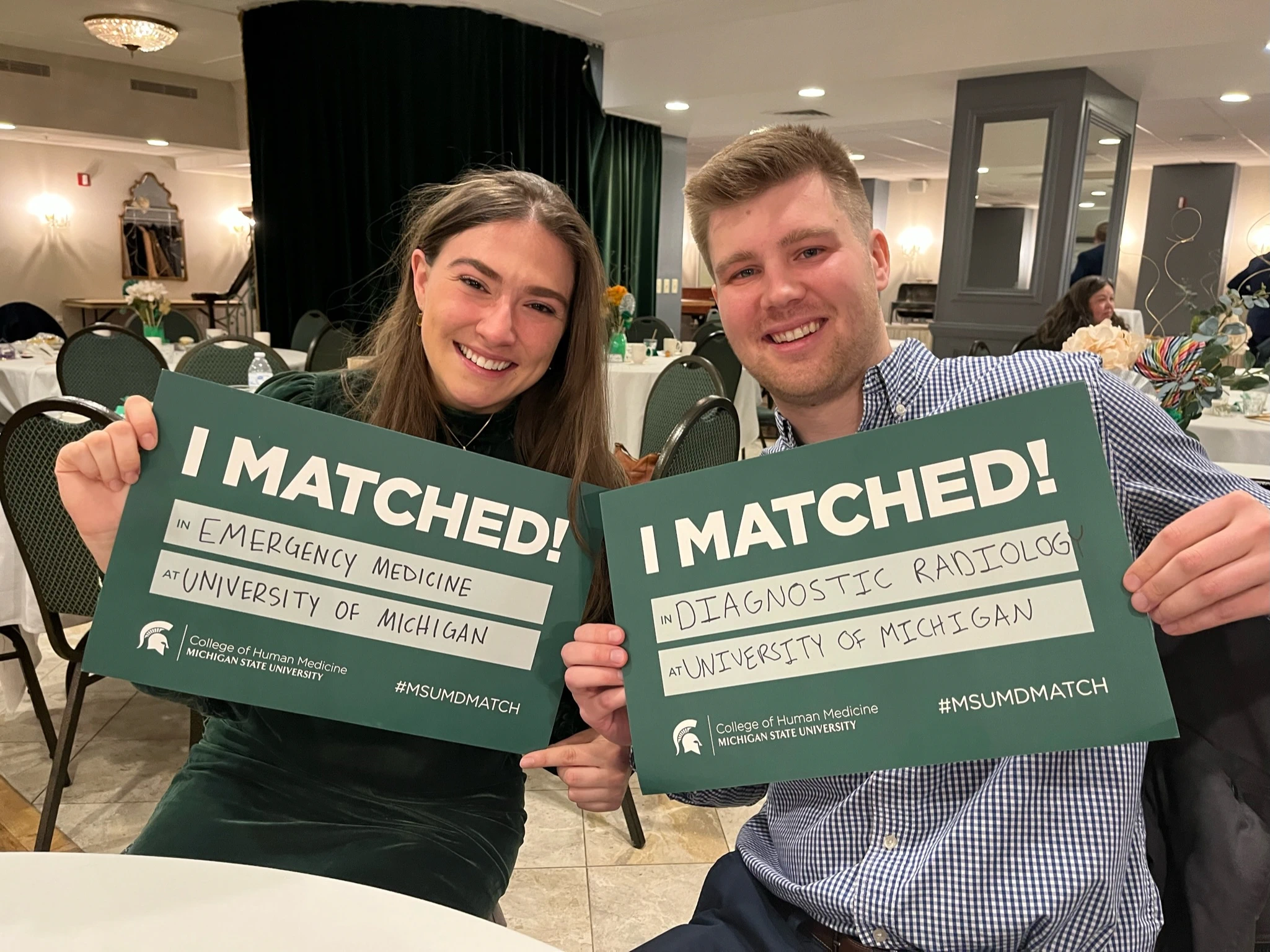 Erica Lydey and John Berglund
That's the advice that rising medical students had for future generations as they celebrated "Match Day," the annual event in which graduating medical students learn where they matched for their residency program.
This year, nearly 100 percent of rising seniors from MSU colleges of Human Medicine and of Osteopathic Medicine matched, well above the national rates.
Nationally, a record 42,952 participants applied to 40,375 certified positions in the national event, organized by the National Resident Matching Program®. M.D. seniors had a 93.7% match rate, while D.O. seniors saw a 91.6% match rate.
At the College of Human Medicine, 100% of MSU College of Human Medicine's senior students secured residency placements. This includes students who participated in the NRMP Match, the NRMP Supplemental Offer and Acceptance Program, and other residency placements, including the advanced matches and the Military Match. Of the 184 students who matched, 48% are entering a primary care residency (i.e., Family Medicine, Internal Medicine, Medicine/Pediatrics, or Pediatrics) and 44% will remain in Michigan for their residency.
At the College of Osteopathic Medicine, 269 students — 98% — matched, including 100% of military and international students. Of the students, 78% will remain in Michigan, 44% are entering a primary care residency and 51% matched into facilities in a Statewide Campus System residency program.
"We are extremely proud of this group of rising Spartan MDs," said Aron Sousa, MD, dean, College of Human Medicine. "They had the unique experience of learning medicine during a global pandemic. When COVID-19 hit, this class was barely six months into their medical education. Immediately, these students stepped up to support frontline workers with PPE deliveries and, when the vaccine became available, administered vaccines in our statewide communities."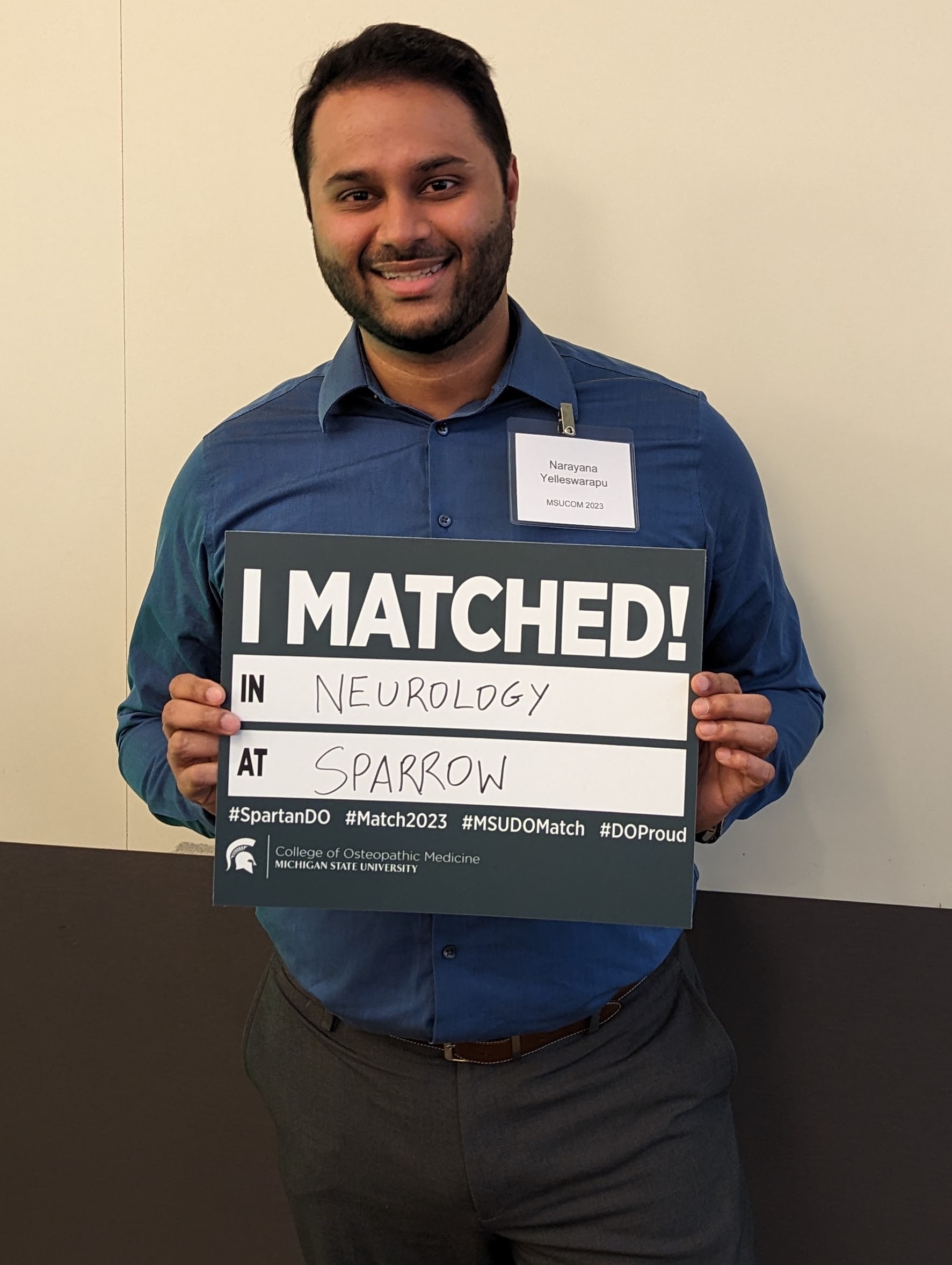 Krishna Yelleswarapu
"It is impressive that we not only have one of the largest graduating medical school classes in the state, but we have for many years had final residency placement rates of 98%-99% annually," said Andrea Amalfitano, D.O.-Ph.D., dean, College of Osteopathic Medicine. "We know that these freshly minted osteopathic (DO) physicians will be making great impacts in communities, especially serving as primary care physicians — physicians that are most needed now in the state of Michigan. In fact, 78% of our graduates will be doing residency in our state this year — and where they do residency is a great indicator of where they will spend their career, as most of our alumni also practice primary care in the state of Michigan, particularly in medically underserved areas."
The College of Osteopathic Medicine rising seniors met at the Kellogg Center in East Lansing to open their envelopes. At noon, after counting down they opened the envelopes and hugged, cried and took selfies after learning where they had matched .
"Stay focused on your goals and don't let failures take that away from you," said Krishna Yelleswarapu, 32, of Norwood, Massachusetts, who matched in neurology at Sparrow Hospital in Lansing.
"It's also important to have a support system and being able to network with them. At the end of the day, there are many ways to find success. Many of us work extremely hard, so even a slight setback can be devastating. But stay motivated and others will see that and give us the opportunity to move forward."
Nearby, at the University Club, College of Human Medicine Lansing campus rising seniors met to open their envelopes as well. Similar celebrations were held in Grand Rapids, and at the college's Flint, Traverse City, Upper Peninsula, Midland and Southeast Michigan campuses.
"I matched in my No. 1 chosen specialty in emergency medicine at the University of Chicago. It's been a long emotional journey… long hours of studying, multiple tests, late nights in the hospital, pure exhaustion, just to get to this final moment, just to see that our work paid off," said Trey Williams, 29, of Holt, Michigan, adding that he has one advice for students: persevere.
"It might seem hard and difficult while you're going through it but the pain and suffering that sometimes comes with medical school is worth it in the end, when you get to do what you love. So keep going event through the hard times and just remember that end goal and if you have a goal, you'll be able to achieve it."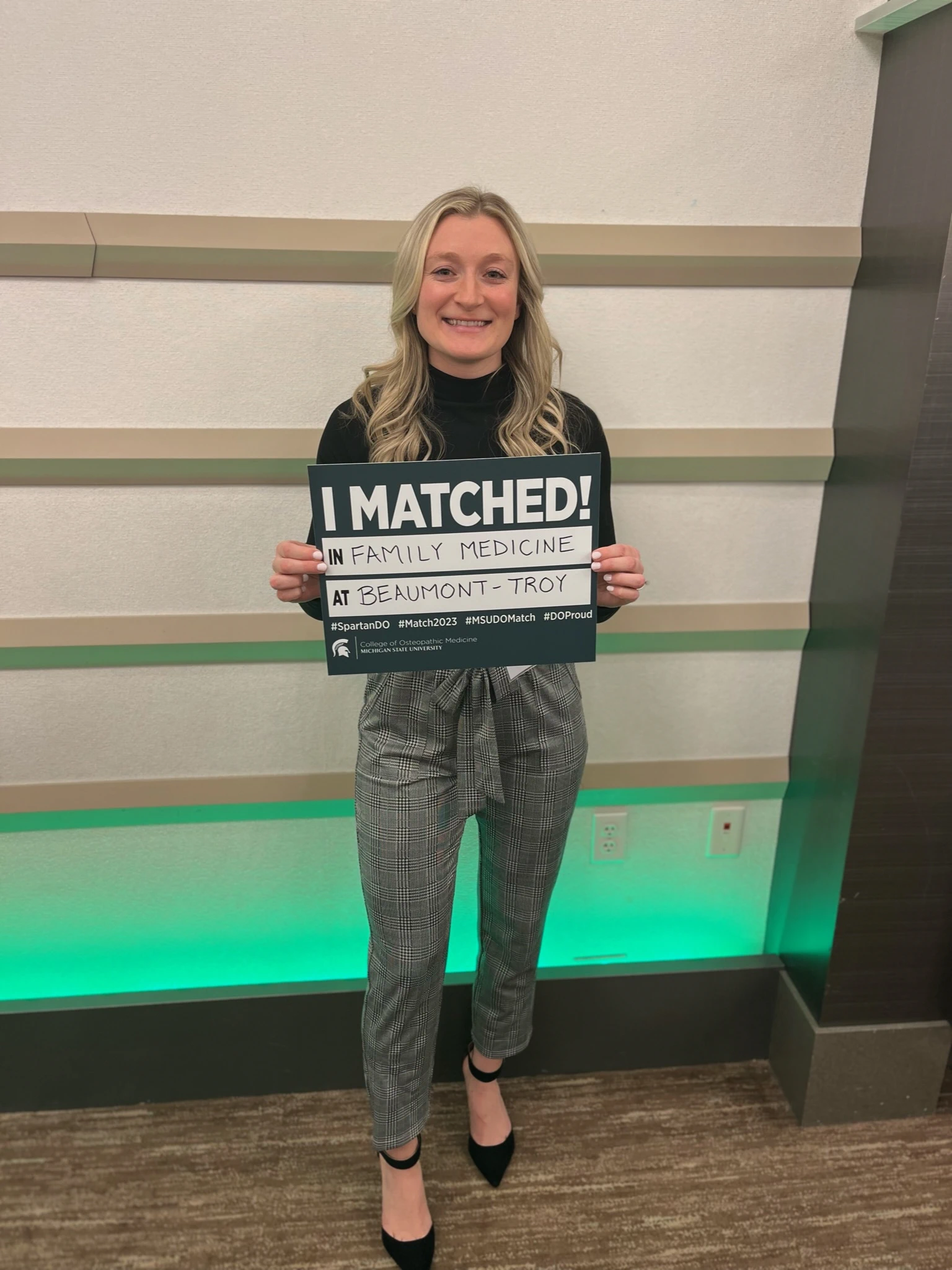 Victoria Behlow
"This moment is the culmination of many years of determination, hard work and perseverance," said Lansing Community Assistant Dean Jamila Power, M.D. during the Match Day celebration, held at the University Club. "Each of the residency programs will get a well-rounded, companionate, and competent physician who's ready to make their mark in medicine."
Erica Lydey, 26, of Toledo, Ohio, was part of the College of Human Medicine's Leadership in Rural Medicine Program that has students rotate in three clinical sites: Midland, Traverse City or Marquette.
"I've spent the last two years up here in Marquette. I've never seen this much snow in my whole life," said Lydey, who matched in emergency medicine at University Hospital in Ann Arbor. "I chose rural medicine because I had the opportunity during my master's program to experience a 10-bed emergency department. I thought rural medicine was a place where I could make a difference … where I could take an awesome degree from Michigan State, learn cutting-edge techniques and take it back to a community that needs some help."
Victoria Behlow, 28, of Sterling Heights, Michigan, said one of the things that attracted her to the College of Osteopathic Medicine was the statewide campus system. She matched in family medicine at Beaumont Hospital, Troy.
"I knew that having a relationship with so many hospitals across the state would be beneficial for networking, increased resources and educational opportunities," Behlow said. She called the next generation to remain true to themselves.
"Your journey is your own — do not compare yourself to anyone else. We all have the same end goal, which is to become competent, compassionate physicians. All our journeys to get there may look different and that is perfectly OK.
"Enjoy every moment because time flies by so quickly. Cherish the memories and lifelong friendships that you make while in medical school."