Elida Villegas proudly hails from a family of migrant farmworkers. A love of learning brought her to Michigan State University where she is pursuing a degree in the College of Engineering's computer science program — a field she hopes to see include more Latinx people.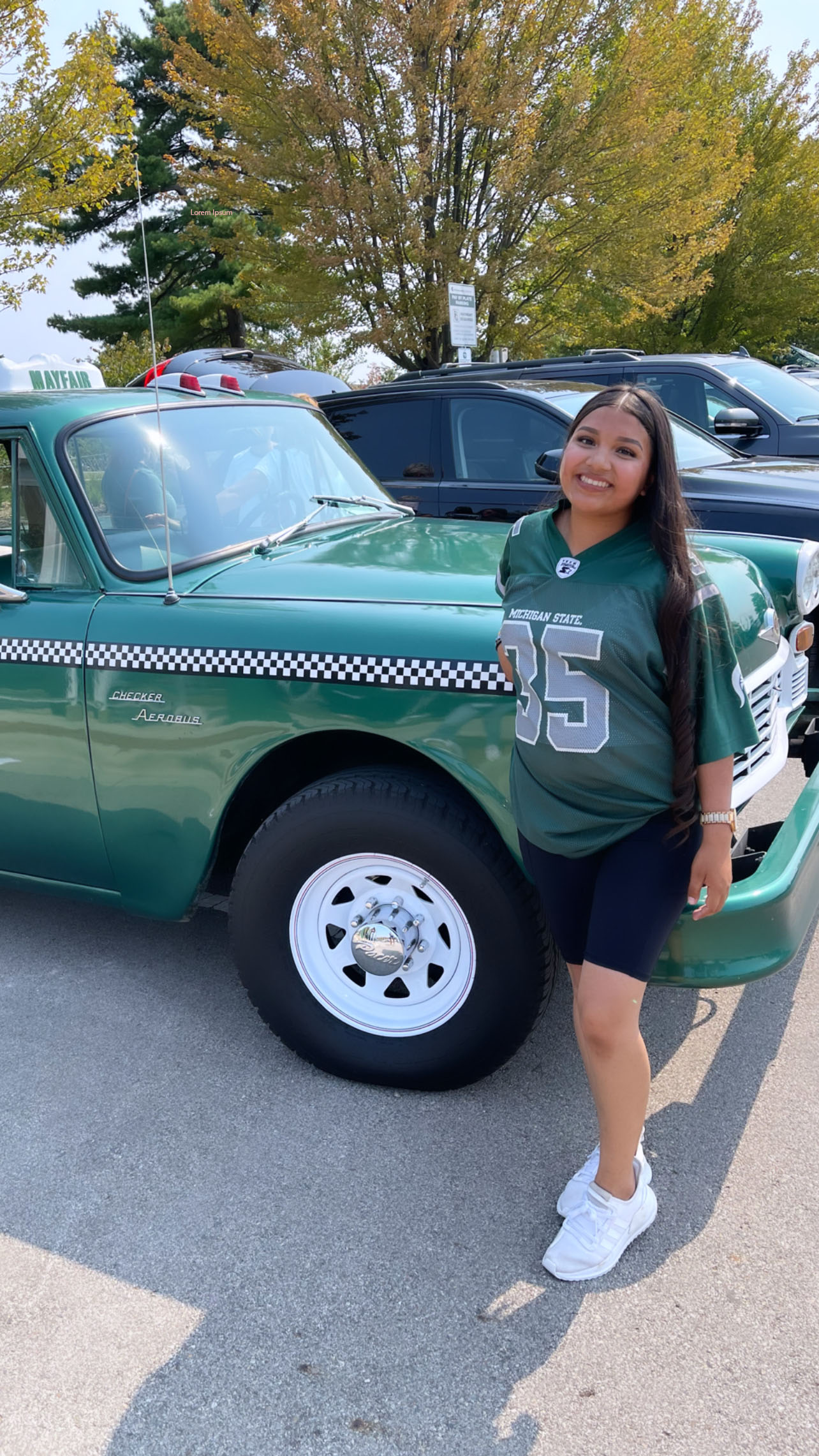 Growing up, education was always a priority for Villegas, whether she was in Florida for the winter months, in Michigan or attending another school as her family traveled north for work.
"Honestly, when I was in high school, I knew I had a passion for school," said Villegas, who is entering her third year at MSU this fall. "I had a passion for learning. I read a lot of books, and I was always so intrigued to read and read and read. With kids nowadays, it's more 'Put your phone down.' But back then, for me, it was 'Put the book down.'"
Villegas knew she wanted to continue her educational career at a college or university, but she did not know what she wanted to study. After some persuasion from her sister's husband, who was studying mechanical engineering at MSU at the time, Villegas decided to attend MSU and study engineering. Michigan was already a familiar place for her, and MSU was an inviting place to study.
Finding a network of support
When she arrived on the East Lansing campus, Villegas immediately connected with the MSU College Assistance Migrant Program Scholars Initiative, or MSU CAMP, a U.S. Department of Education-funded program to help individuals with migrant or seasonal farmworker backgrounds to succeed in university life by providing students with academic, social and financial support to help them complete their first year at MSU.
"The interesting thing that oftentimes we don't realize as an institution is the impact that a program like this has," said Luis Alonzo Garcia, MSU's Migrant Student Services director who oversees MSU CAMP. "This is where they come from. This is their life. Without a program like this, these folks oftentimes would not have an opportunity like this. What they can bring to the academy is phenomenal. They bring a whole new set of experiences that others do not have."
MSU CAMP students bring fresh perspectives to other students, faculty and staff who learn about the world of migrant farmworker families — a world that many people know nothing about, Garcia said.
"How do we get people together that otherwise would never be together?," Garcia asked. "I think a true university is exactly that. How do we get the diverse mindsets, the diverse experiences of people together and help them grow and learn from each other? The world experiences are extremely valuable."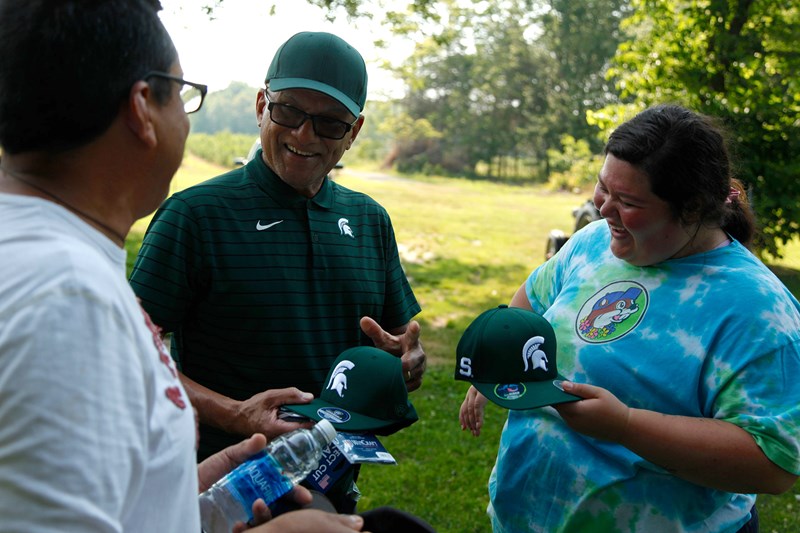 Luis Alonzo Garcia with a Latino/a farmer family in West Michigan. Photograph by Henry Mochida.
Villegas looked to the MSU CAMP scholars who were also studying engineering for insights as she tried to pick from the variety of different engineering majors, like civil, mechanical and electrical engineering.
She began fulfilling requirements to enter the MSU College of Engineering, including taking prerequisite courses. Then it was recommended she take a coding course in the fall 2022 semester. The class was difficult, but it sparked a passion for Villegas and helped her pick her major.
"It can be challenging, but I think there's some joy that comes with doing a code, making it do certain things and seeing that it actually runs — seeing your project run in full effect! I'd be so excited to see that," she said. "I put all my time and effort into the class project and now it finally works and ultimately that's how I decided that, yes, I wanted to do computer science."
'You can't be what you can't see'
Across the nation there is a lack of Latinx representation in computer science and engineering fields, a realization that drove Villegas to pursue such a career and work toward reversing the trend. Villegas thinks about the shortage of students in engineering programs who look like her or who also come from migrant farmworker families. It helps drive her.
Throughout the spring semester and especially through final exams, projects and other challenges, a quote has constantly been at the top of her mind: "You can't be what you can't see."
"I definitely want to just represent that quote and show people that, yes, this is me, this is the background that I have, this is what I'm studying, and you can do it too," she said. "Just show people who have similar backgrounds as me that they can do it, and it's definitely possible, and we need to change the statistics out there."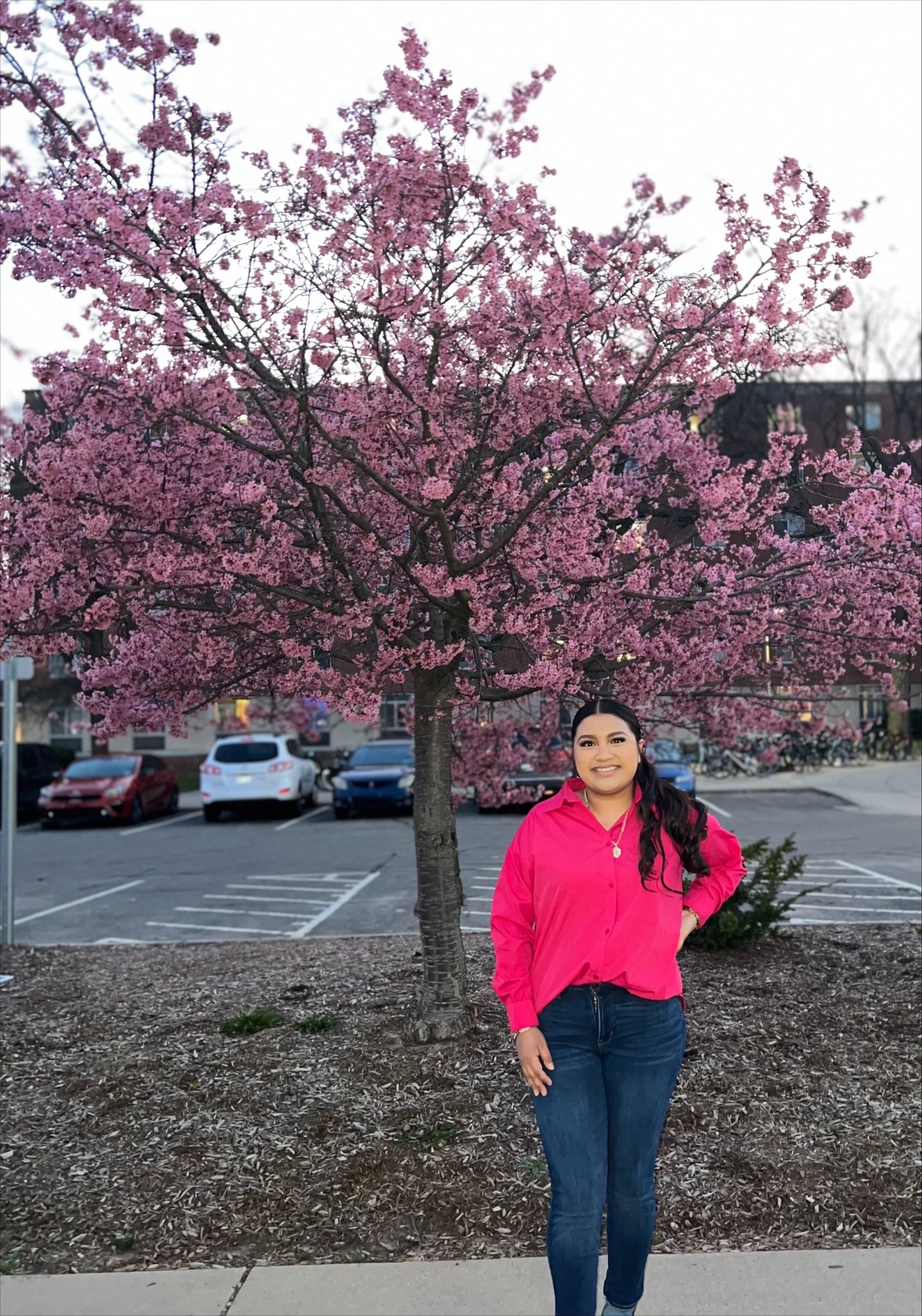 Many people have helped Villegas through her college experience so far at MSU, and she especially credits Garcia.
"There's not a moment where I feel that I cannot go to him about anything — whether that's personally, academically or professionally," Villegas said. "I feel comfortable enough to talk to him about all aspects of what I'm going through, and I know that he won't judge me. I know that he'll give me his honest opinion on where I stand about something if I'm ever confused. I feel very comfortable knowing that I have other people that I can branch out to and let them know what's going on, whether it's good or bad. Luis has definitely been in my corner, and I really appreciate his guidance, his mentorship. I appreciate him being like one of my second parents throughout my first and second years here."
Garcia also admires Villegas for her hard work as a student and for her work in the migrant farmworker student population.
"Elida is a very focused student," he said. "As she works toward her degree, she doesn't forget where she comes from. She is constantly assessing issues that affect our migrant farmworker population and is not one bit concerned about speaking to those issues."
In the MSU CAMP program, Garcia said they start by working with each student to understand what their dream is and line them up with the help they need to get there.
"Is it going to be difficult? Absolutely. Are there going to be days you want to go home? Absolutely," Garcia said. "But we're here. And there are going to be days that you want to yell, scream and cry. One of the things this office does is we have a lot of tissue, so if you need to cry, yell, you come in, shut the door and cry. But once you get done, let's get out there and do it again."
July is Migrant and Seasonal Farmworker Appreciation Month in Michigan. This month MSU is recognizing the experiences and contributions of migrant farmworkers and Latino/a farmers. Join our campus community in supporting the College Assistance Migrant Scholars Program.
This story was written by the Office of the Provost communications team.