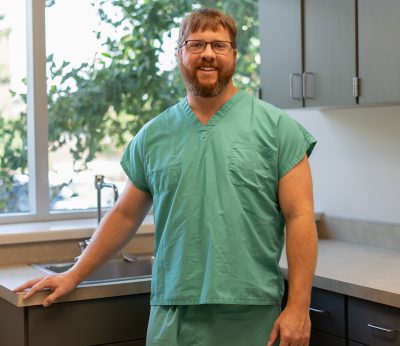 Daniel Langlois, DVM, DACVIM, has been selected to lead the MSU CLinical Innovations Program (CLIP) at the MSU College of Veterinary Medicine and Veterinary Medical Center.
Michigan State University's College of Veterinary Medicine has named Daniel Langlois as director of its Clinical Innovations Program. The program, referred to as CLIP, connects patients, clients and industry partners with clinicians and scientists at the MSU Veterinary Medical Center who work toward improved outcomes in animal, human and environmental health.
Working with client-owned animals, rather than lab animals, allows for more genetic diversity and increases understanding of diagnostic and therapeutic outcomes. CLIP will facilitate research that can lead to new drugs, devices and treatments that benefit both animals and humans.
"Langlois brings extensive experience as a boarded internist and a scientist," said Srinand Sreevatsan, associate dean of research and graduate studies in the College of Veterinary Medicine. "His experience in clinical trials and translational research makes him an ideal candidate for CLIP directorship."
As director, Langlois will oversee finances, the Clinical Trial Review Board and environmental health and safety protocols; liaise with the Institutional Animal Care and Use Committee; help clinicians develop appropriate regulatory protocols; work with clinicians to develop case definitions to help market trials; report all new trial proposals to the hospital director for consideration; and act as an industry liaison for research collaboration and sponsorship.
Langlois' own research in endocrinology is focused on improving diagnostics and treatments for adrenal gland disorders in dogs and cats. In terms of liver disease, his work has focused primarily on copper-associated hepatitis and has included studies aimed at understanding the contributions of diet and genetics to etiology, as well as refining current treatment protocols.
Langlois earned his doctor of veterinary medicine degree from Louisiana State University and first began working for the MSU College of Veterinary Medicine in 2013.
Learn more about the benefits that will come from CLIP.
This originally appeared on the College of Veterinary Medicine website.