Michael Nyika Andrew, MD, M.P.H, attained his Master's in Public Health and Doctorate in Medicine from the College of Human Medicine in 2020. Currently, he is in the process of concluding his residency training in Physical Medicine and Rehabilitation at Spaulding Rehabilitation Hospital/Harvard Medical School.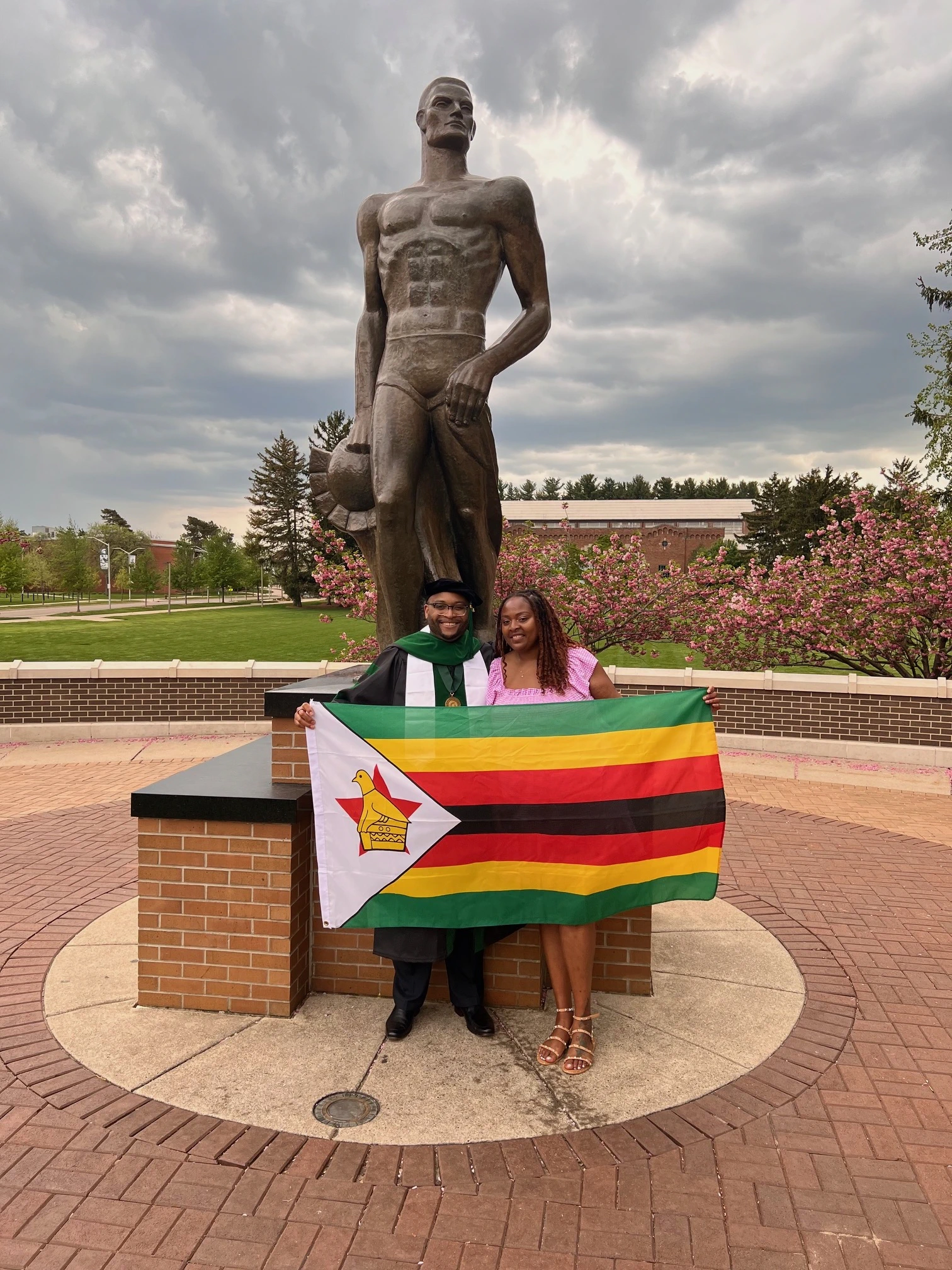 Michael Nyika Andrew and his sister, Moreblessing, pose in front of The Spartan holding the Zimbabwe flag. "My sister and I used to walk past the statue as children when we lived in Cherry Lane Village, and we would see people take graduation pictures. I never thought that it would be our turn one day after graduating from medical and graduate school."
"So, this is what it feels like," were the words I remember uttering as I looked at The Spartan statue. It marked the first instance I truly sensed the accumulated depths of emotions shared by countless previous graduates who had celebrated their accomplishments beside the iconic figure.
To fathom the significance of that moment, let's journey back in time to a distant land across oceans and mountains, to a place where pathways were etched through arid grasslands. I was raised in Zimbabwe, a land of boundless potential but also profound sorrow. My mother believed that when the mind wandered, the body should heed its call. As such, my sister, Moreblessing, and I were taught to embrace the harmony between mind and body during our evening strolls. This upbringing instilled in me the importance of cherishing small moments, contemplating the journey and not the destination.
Following our mother's untimely passing, my family migrated to the USA, where we discovered a new home in East Lansing and were embraced by MSU. I recall exploring the myriad of winding trails on campus, often leading to buildings steeped in history. For my sister and I, these paths became our way of honoring our mother's memory and exploring our newfound abode. During these walks, I often observed students and visitors capturing moments next to The Spartan, their excitement and the flood of emotions tangible even to bystanders nearby. Oblivious to the elation experienced by those graduating beside the statue, my sister once softly whispered in my ear, "One day, you will have your photograph taken here." Those words reverberated within me, motivating me to set lofty goals in all my academic pursuits.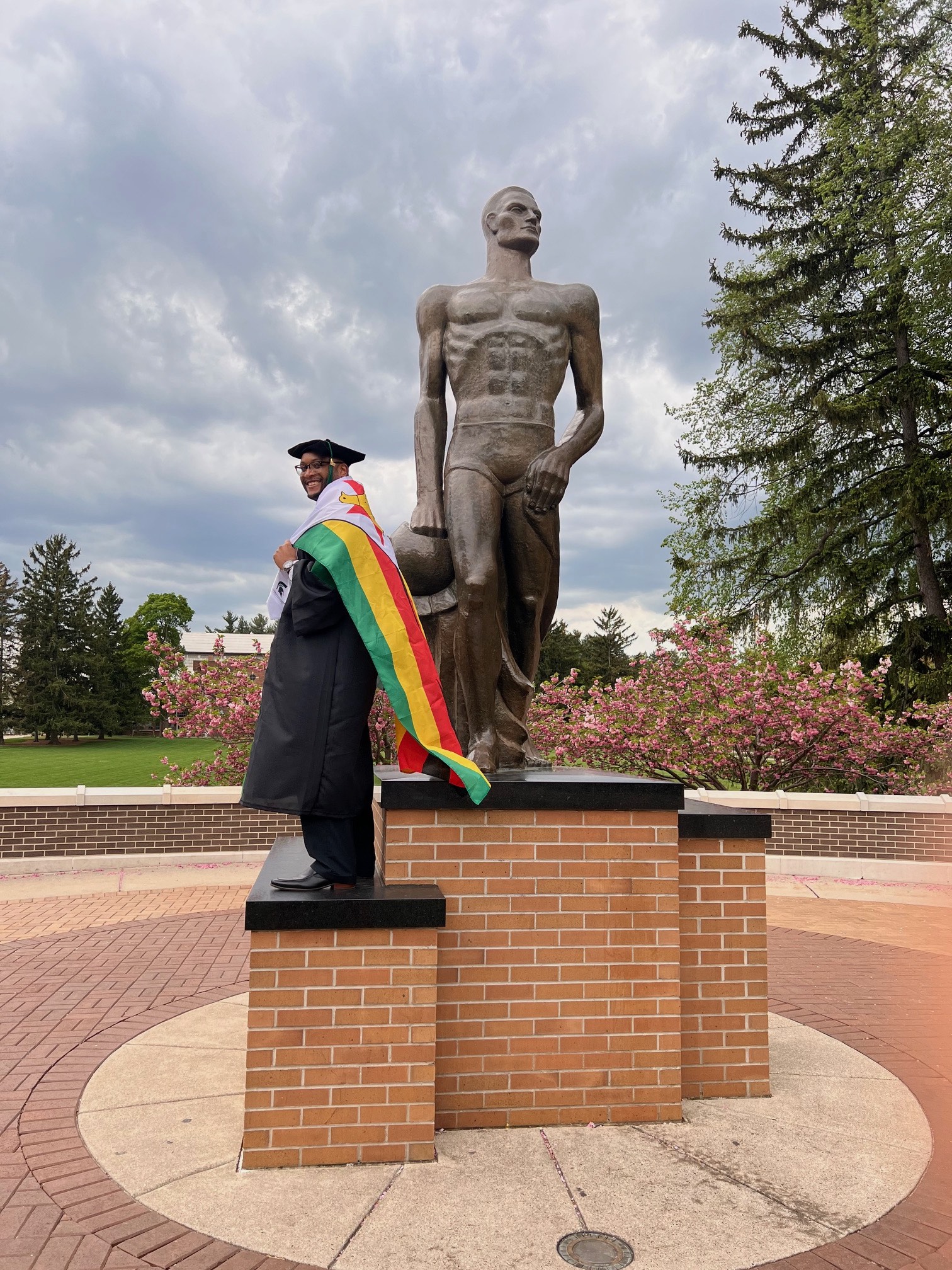 Michael Nyika Andrew
Fortune smiled upon me, as I matriculated into the College of Human Medicine for my graduate studies and medical degree. It was during this time that I found solace under the guidance of exceptional mentors such as Dr. Wanda Lipscomb, Dr. Anthony Paganini, Dr. Janet Osuch, the late Mrs. Wrenetta Green, and many others. They ignited in me a passion for intellectual exploration and community service. I realized that, as individuals, we tread diverse paths, each leading us to stand tall in this world, much like the imposing Spartan statue on campus.
Reflecting upon my journey from my early adolescence on the MSU campus to my present days walking the hallways of Massachusetts General Hospital and Brigham & Women's Hospital, I am reminded that this path continues to evolve, branching off into new adventures. I hope my journey inspires those who once gazed upon The Spartan statue, pondering the same thoughts that once occupied my mind. As my residency training at Spaulding Rehabilitation Hospital draws to a close, I aspire to become a physiatrist who not only enhances function but also enriches the quality of life for community members in need of a helping hand.
---
See how The Spartan has left its mark on the lives of those in the MSU community.