On Friday, Sept. 15, the Burgess Institute for Entrepreneurship and Innovation hosted its second annual Venture Summit, a two-day event focused on the future of entrepreneurship and innovation at Michigan State University. Nearly 200 attendees gathered in East Lansing, including entrepreneurs and investors—alumni and current students.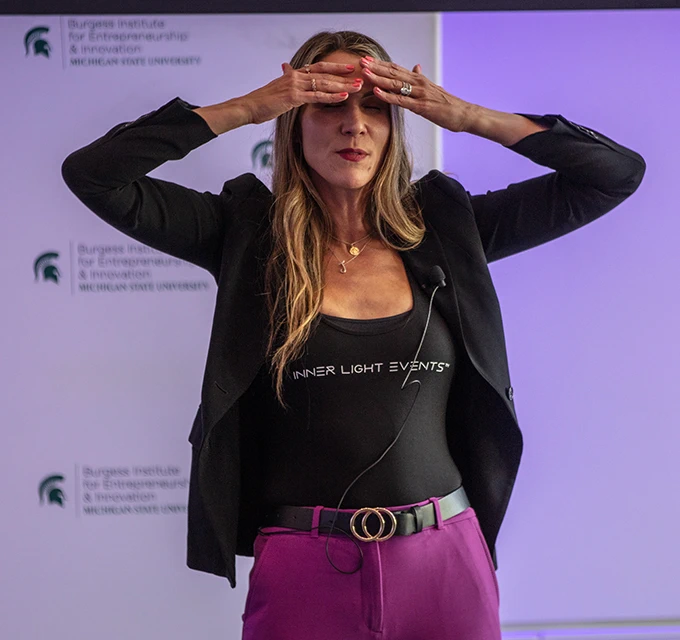 "We're proud of Venture Summit," said Laurel Ofstein, faculty director of the Burgess Institute. "The event celebrates the entrepreneurial community and highlights student ventures. It's also a chance for alumni to see how our programming has evolved, underlining the impact of their support."
Held at the Eli Broad College of Business Minskoff Pavilion, participants listened to talks from Evan Dunbar, a '15 Management and International Business alumnus, and Jillian Lorenz, a '00 Mechanical Engineering graduate. Dunbar, Research Data Science Tech Lead for AI Infrastructure at Meta, discussed AI's future relevance to startups. Lorenz and her co-founder of The Barre Code, Ariana Chernin, led a workshop on founder wellness.

After the talks, attendees moved to the Entrepreneurship Lab to engage with student startup teams from the Burgess Institute's Discovery and Launch programs. They also met leaders from campus student entrepreneurship organizations such as Women in Entrepreneurship, the Entrepreneurship Association, and the MBA Entrepreneurship Association.

Student-Made at Michigan State, a new collaboration between the Burgess Institute and Student-Made, made its debut at Venture Summit, showcasing student creators and the products they sell on the platform.
For the full story, visit entrepreneurship.msu.edu