Florensio Hernandez is the first assistant director for diversity, equity and inclusion in the Office of Admissions.
Florensio Hernandez grew up in Lansing, Michigan, and attended Michigan State University from 2002 to 2006. As a first-generation college student, Florensio saw the importance of college. "It provided a sense of hope," said Hernandez.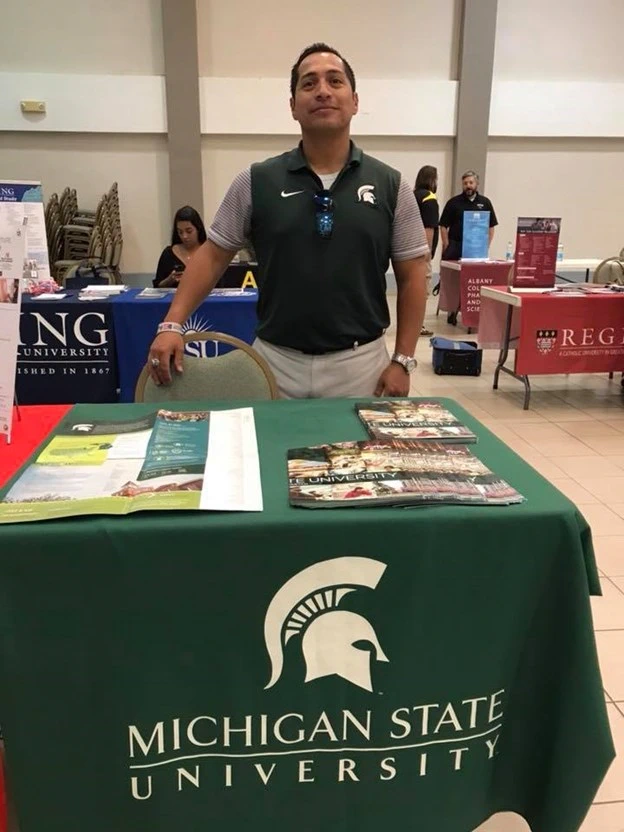 However, Hernandez was not always set on attending college. That changed when Lansing's Eastern High School held a college night, which hosted admissions counselors from various universities to visit and help students complete college applications. There, Hernandez met Lucinda Briones, Associate Director of Admissions at Michigan State University who recognized his potential and urged him to apply to MSU. Soon after, Hernandez attended Dia de la Familia, or Family Day, at Michigan State where he got to meet Latinx student leaders from MSU. It was at that point Hernandez knew MSU was the right fit for him.
Throughout his time as an undergraduate student at MSU, Hernandez was a prominent leader in the Latinx community. He served as the vice president, treasurer and Residence Halls Association's representative of Culturas de las Razas Unidas, or CRU, and was a brother of the Sigma Lambda Beta Latinx Fraternity. Hernandez also worked under Lucinda Briones in the Office of Admissions, assisting her with events to drive Latinx student attendance like Dia de la Familia. Additionally, during his last two years as an undergraduate, Hernandez worked as a racial aid for the Office of Cultural and Academic Transitions.
After graduating from MSU in 2006 with a degree in political science pre-law and a specialization in Chicano/Latino Studies, Hernandez had plans to teach and perhaps attend law school. However, one day at a CRU meeting, Hernandez heard about a fellowship opportunity with the National Association of Latino Elected and Appointed Officials.
After applying, Hernandez was presented the opportunity to work with New Jersey Sen. Bob Menendez on Capitol Hill. During his time there, Hernandez was able to network and meet Latinx leaders across the United States and found his passion for helping underrepresented communities.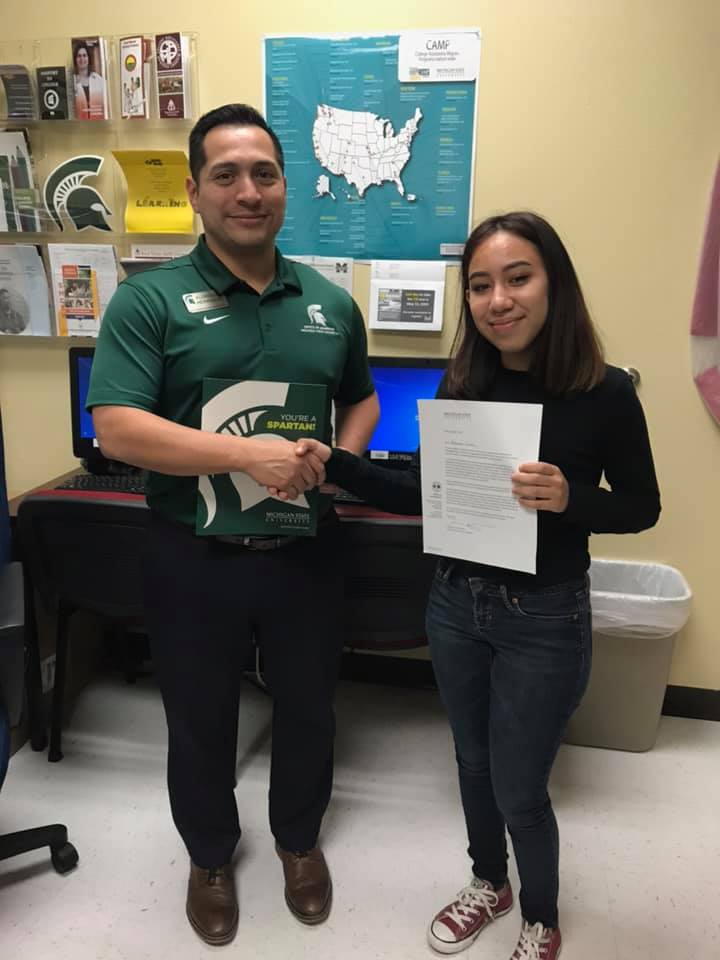 Following his fellowship, Hernandez attended an MSU event celebrating Hispanic Heritage Month, where he reconnected with former colleagues who presented him with an opportunity to recruit Latinx students in southwest Detroit for the Office of Admissions. After a year of recruiting for MSU in Detroit, Hernandez returned to campus to work as an admissions counselor focusing on Genesee and Oakland counties. Hernandez excelled in these roles and, every two to three years, he would recruit in a new territory. Eventually, Hernandez served nearly the entire state of Michigan as an MSU admissions counselor.
During his professional tenure at Michigan State, Hernandez has been committed to helping underrepresented students in various ways. Since 2008, Hernandez has assisted MSU's College Assistant Migrant Program, or CAMP, in partnership with the Office of Admissions. With CAMP, Hernandez meets with students in California, Texas, Florida and other states to help recruit students to Michigan State. In 2016, Hernandez began working with the Fostering Academics, Mentoring Excellence, or FAME, program, which is designed to assist the application efforts of students who have experienced foster care, kinship care, homelessness or are otherwise independent. Hernandez sees his work as creating new practices for recruiting and keeping communication with students.
"I've always been a firm believer that DEI is everyone's responsibility, especially in recruiting diverse students," said Hernandez. "I know what it's like to come from an area or place where education is not the priority."
Making a significant impact on students even before they start at MSU, Hernandez has supported connecting students to a network of campus support.
"Florensio, without knowing me, had not only helped me out with resources on campus, but also connected me with other students looking to start a Latinx student organization," said Emilio Silerio-Gonzalez a first-year student in the James Madison College.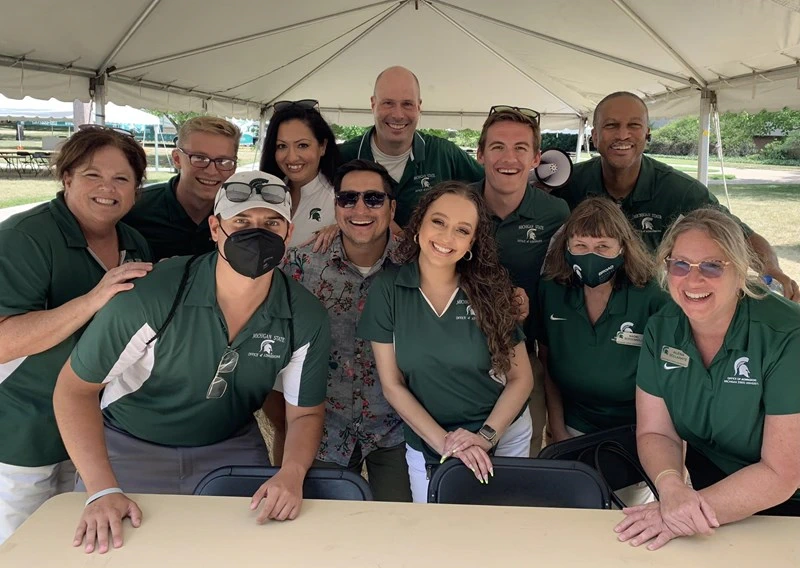 Hernandez started his role as the Office of Admissions' first-ever assistant director of diversity, equity and inclusion in January 2023.

"What excites me the most about my new role is being able to work with people who I have not had the opportunity to interact with or collaborate with before," said Hernandez. "I hope to collaborate with the Resource Center for Persons with Disabilities, the Gender and Sexuality Campus Center and Counseling and Psychiatric Services by building programming around their efforts and tie that into recruitment."

Hernandez says it is essential to continue focusing on DEI within admissions. Because MSU continues to be predominantly white, it is important to make students of color feel included and provide the proper resources for students to succeed both academically and personally.

"The work needs to continue; we need to continue to elevate the voices of all different communities," Hernandez said. "Our differences make us stronger. We shouldn't be afraid of learning about other people, cultures and subgroups that we are not familiar with."