For decades, the College of Music at Michigan State University has offered high quality, diverse and accessible music performances, activities and lectures to the entire community, and the 2023-24 season continues that trend with variety, exceptional talent and expertise, and performances in acoustically beautiful and intimate venues on campus.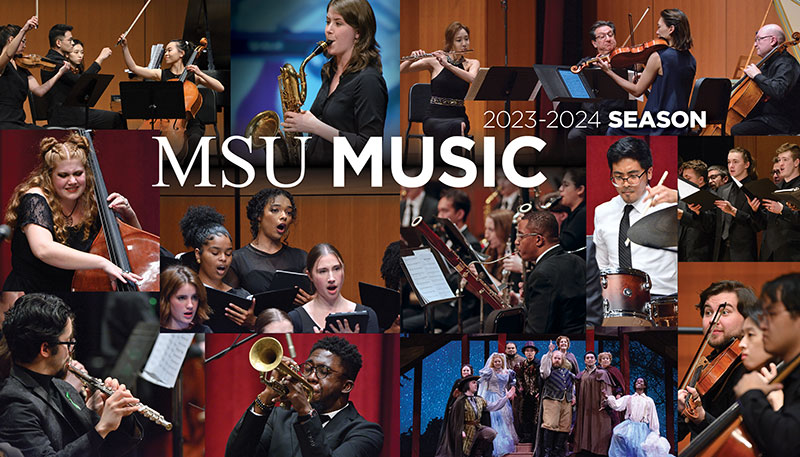 The 2023–2024 MSU Music Season presents more than 120 ticketed events featuring 35 guest musicians and groups, a broad spectrum of MSU artist-faculty instrumentalists and vocalists, and a variety of concerts highlighting band, choir, jazz and orchestra ensembles, including two fully staged opera productions.
The College's most beloved series returns:
The

MSU Federal Credit Union Showcase Series

with its ever-popular holiday concerts and other special events;
The

Joanne and Bill Church West Circle Series

with a special salute to the 75th anniversary of Israel and its excellent chamber performances highlighting some of the most notable composers of all time;
Suren Bagratuni bringing the

Ken and Sandy Beall Cello Plus Chamber Music Festival

to life again—this time during fall semester—with its lineup of special guests;
The Taylor Johnston Early Music Series, welcomes fascinating guest artists with repertoire and instrumentation that is both captivating and educational;
In addition, the Worthington Family Foundation Opera Theatre Season features two fully staged and costumed operas, Sondheim's "A Little Night Music" and Mozart's "Don Giovanni." Of course, no MSU Music season would be complete without a spectacular jazz lineup of MSU Federal Credit Union Jazz Artist in Residence guests and several other special jazz events. The College also features fan-favorite seasonal events, a variety of orchestral, band and choir performances led by expert conductors with talented student artists in large and small ensembles, and several free lectures and master classes.
On top of that, nearly 50 additional concerts highlight a variety of performances by MSU band, choir, jazz, orchestra and new music ensembles, and more than 40 faculty and guest recitals bolster this very robust season through the Artist-Faculty and Guest Recital Series sponsored by WKAR. The artists teaching at MSU are world-class performers, often invited to share their talents across the globe.
"Our faculty artists, ensembles, students and special guest artist performers have offered a season with great variety, and the result is a full and diverse list of performances for those in our community to experience excellent artistry in intimate venues and at affordable prices," said College of Music Dean James Forger. "Whether you are seeking the thrill of something new or a relaxing evening on the town, this season will provide you with many opportunities."
The 2023-2024 season runs September through May with more than 120 events that take place at College of Music venues, including the MSU Auditorium's Fairchild Theatre, the Cobb Great Hall in Wharton Center, and Cook Recital Hall, Murray Hall, and Hollander Hall in the Music Building. Events are also held at the MSU Alumni Memorial Chapel featuring the Red Cedar Organ (Opus 134), a custom-made pipe organ. A majority of the events are general admission (free for students), emphasizing the budget-friendly, accessible nature of MSU College of Music seasons.
Specific dates and details for featured event series and more can be found on the College of Music website. See the full listing of concerts online, or browse events in the season brochure.