This story refers to recent acts of violence at Michigan State University that may be difficult to read. Resources and assistance are available through multiple campus programs.
On March 13, members of the Michigan State University community gathered at the International Center on campus for the installation of the butterfly garden exhibit "Together We Heal, Grow and Soar," featuring folded-paper butterflies. The event was organized by AgeAlive, a program in the College of Osteopathic Medicine, and the Asian Studies Center's Japan Council. The project's goal is to promote cultural awareness, inclusion and community.

The butterfly gardens are art exhibits designed, created and installed by Zahrah Resh, AgeAlive's artist-in-residence. Resh's first garden was installed at the Spectrum Health Cancer Center in Grand Rapids, Michigan, inspired by her own cancer survival story.

"The project brings people together," said Resh, who's based in Lansing. "It gives people a sense of belonging and a sense of pride and accomplishment because they contributed to a community project for everyone to see and enjoy."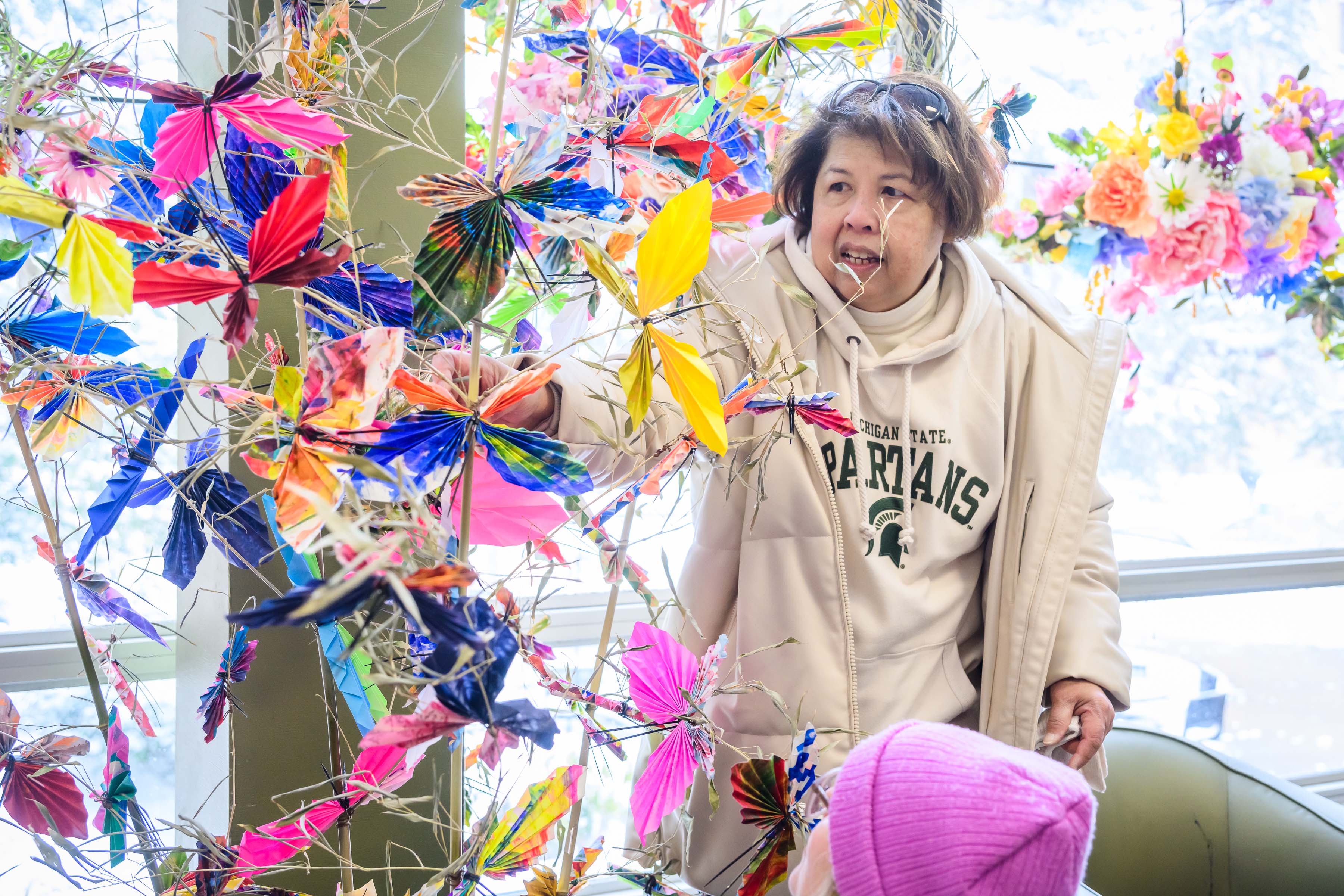 Artist-in-resident Zahrah Resh adds the finishing touches to the butterfly garden installation in the International Center's lobby. Photograph by Dane Robison.
These garden installations were initiated by Mariko Kawaguchi, instructor of Japanese language. She came across an earlier butterfly garden of Resh's in 2022 and was in awe of the origami. This led her to the idea of collaborating with Resh and sharing the gardens even further in the International Center's lobby.

The art exhibition includes thousands of paper butterflies made by MSU students, faculty and staff, as well as local residents in the area. Participants were invited to write a message of hope or to memorialize a loved one with each butterfly. The event began with a Butterfly Migration Parade, in which participants carried signs and 10-foot-tall bamboo stems tied with paper butterflies to the International Center installation.

While the exhibition holds significance in many realms, organizers dedicated the parade to the collective Spartan community after the violence on campus on Feb. 13.

"We knew that the butterfly-making sessions could provide a healing space where people could come together and feel connected to a caring community, where they could talk with others or sit quietly and create something beautiful and meaningful," said Clare Luz, associate professor in the College of Osteopathic Medicine and director of AgeAlive.

March is Asian Pacific Islander Desi American Heritage Month at MSU. Every year, the Japan Council also holds several events in celebration of Japan Month. The butterfly garden honors these recognitions to promote well-being, community engagement in meaningful activity and appreciation for unity through diversity and inclusion.

"Like the butterflies, we as a community are strong and resilient together, in spite of our human fragility and vulnerabilities," said Resh. "Each individual, regardless of color, where you come from, size, who you love and how you worship, are welcome here in this community. We each have an important role to play: to help our community grow and flourish."

The exhibit itself holds significant value for Japanese culture: the act of creating paper butterflies is known as origami, the Japanese art of paper folding. Origami has a unique history, and many people use the folded paper to make wishes. The butterfly garden's style of art is not purely Japanese, but the purpose remains the same in that there is a wish for healing on campus.

"The butterfly garden also symbolizes solidarity and resilience," said Resh. Since the COVID-19 pandemic, hate crimes against people of Asian descent have increased. Presenting this exhibition serves as a symbol of standing united with Asian and Asian American people in expressing opposition to discrimination and violence.

MSU recognizes Asian Pacific Islander Desi American, or APIDA, Heritage Month during March and April each year to increase the visibility and awareness of the group's multicultural diversity. For information on events, visit msutoday.msu.edu.