Since #OscarsSoWhite went viral in 2015, the Academy of Motion Picture Arts and Sciences publicly committed to increasing diversity in film, enacting guidelines to help the industry hire more equitably both in front of and behind the camera.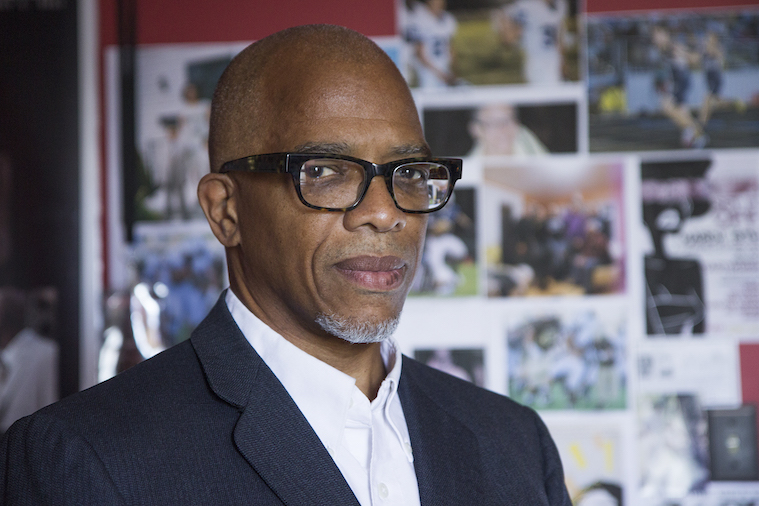 Jeff Wray, film studies professor and Timinick Chair in the Humanities in the MSU College of Arts and Letters, is also a professional filmmaker. He makes a point to hire a diverse cast and crew for the movies he writes and directs.
While Oscar nominees remain overwhelmingly white, some strides have been made. For example, the Asian American-led film "Everything Everywhere All at Once" received 11 nominations for this year's 95th Academy Awards — more than any other film — and is a favorite to win best picture. One of its stars, Michelle Yeoh, is a favorite to win best actress.
But Black leads and directors didn't receive any Oscar nods in 2023, and there weren't any women nominated for best director. Notably, "The Woman King" was not nominated for Best Picture, and neither were its lead, Viola Davis, and director, Gina Prince-Bythewood, both Black women. Jordan Peele's film "Nope" received some Oscar buzz, but no nominations. Danielle Deadwyler was considered a best actress lock for her performance in "Till," but didn't receive a nod.
Jeff Wray, a professor of film studies and Timinick Chair in the Humanities at Michigan State University, is also a professional screenwriter and director. He co-founded the independent film company Jazzy Tam Films with his wife, Tama Hamilton-Wray, also a film studies professor at MSU, to tell the stories and realities of undocumented Black lives.
Ahead of the 2023 Oscars on March 12, Wray discusses why broader representation of people of color and women in the film industry is significant, the progress the Oscars and Hollywood have made in recent years and why more still needs to be done.
Why is representation in film important and how did it affect you when you were an aspiring filmmaker?
Film is a microcosm of America, period. It's an image-making industry. For a long time, American movies have been the de facto representation of America, but these films don't represent all of America.
People of color and women have historically been underrepresented in casts, crews and leadership positions in Hollywood. Consider the actors and films nominated for Oscars . . . oftentimes, if you were to ask 'Who gave these films the green light? Who cast thse films? Who directed, produced, filmed and edited these films?' you wouldn't find minorities in those decision-making spaces.
When I was growing up and developing my interest in film, I would sometimes see film crews. These crews were always made up of white men. For someone like me — Black and from a small Midwest town — to see that was a bit deflating. It was like, 'I can't do that,' just because I didn't see myself reflected in those roles. Representation allows aspiring, young and established filmmakers to see themselves in their role models and their peers and know that success is possible.
What are the biggest obstacles to increasing representation in film?
We need more minority decision-makers who are free to actually make decisions. Hollywood is historically conservative when it comes to having a diverse group of people in decision-making and leadership positions. We all know that a Hollywood film costs so much money to make, and that makes folks nervous. Even in 2023, the idea of spending $25 million on a film that has Black creatives leading it may sound risky to a lot of people. Hollywood's decision-makers seem mostly afraid of Black movies, which suggests that movies made by Black creatives with Black actors in the casts can't be applied beyond a Black audience.
An exception to this is the Black Panther franchise. Those films have gone beyond the Marvel genre and beyond an omnipresent Black film to become a modern classic. But it's an anomaly.
Another exception is one of this year's best picture nominees, "Everything Everywhere All at Once," which was led by Asian-American creatives. I'm so glad this film was made, and it deserves the attention it's getting. Unfortunately, it's still risky to make a film centered on an underrepresented group or family and say, 'yes, this family is Asian American, but this story is universal,' but it shouldn't be.
Why is it difficult to have sustainable diversity efforts in Hollywood?
Most Hollywood studios, even significant independent studios, are private entities. They have to decide themselves to do the right thing, and this often comes as a result of pressure from unions in the film industry, as well as the public. The problem is awareness ebbs and flows. For example, after George Floyd's murder, Hollywood was among those making promises to do better and uplift Black voices. It's interesting to see how just three years later, the urgency to make good on those promises appears to have dwindled.
Oftentimes, people in an industry like Hollywood — and other industries as well — just don't have the patience and the courage to sustain meaningful efforts to advance diversity, equity and inclusion. It seems like there has to be a crisis to bring attention to the injustice Black people face, something that suddenly captures wide attention: a death, police brutality or a videotaped situation that garners collective outrage. Then it's labeled an awakening. The problem with an awakening, though, is that sooner or later, people fall back asleep.
Has any progress been made based on your assessment of the 2023 nominations?
Hollywood, at large, was really taken aback and offended by #OscarsSoWhite. It was so brilliant because it focused on the obvious and called attention to it on social media in a way that couldn't be ignored. The hashtag #OscarsSoWhite — a simple truth — says it all. It spurred a momentary uptick of Black creatives being nominated for top awards for a few years, but for the most part, progress has fallen back to the mean.
It's rare for a Black performer to be nominated for an Oscar multiple times. This year, Angela Bassett is nominated for the second time in her career for her supporting role in "Black Panther: Wakanda Forever." She was last nominated in 1994 for her lead role as Tina Turner in 'What's Love Got to Do With It?' That was a very strong performance, and I remember listening to a TV personality say that Angela Bassett won't win it this time, but she'll be nominated many other times. I just thought, 'Does this dude know that Angela Bassett is Black and the chances of her getting nominated multiple times are basically zero?' For many Black performers, getting an Oscar nomination is a once-in-a-lifetime thing. As much as things have changed, that continues to be very prevalent.
How is advocating for representation a part of your creative process, and how is it reflected in your role as a teacher?
As a creative person, you want to tell your story the way you want to tell it. Others can have input, and I think that's important, but at heart, I want authority over my stories. I used to write scripts and label a character a 'Black man' or a 'Black woman.' I stopped doing that. There may be indicators that suggest a character is a Black person, but I don't feel the need to say it explicitly anymore. I was looking at something that's mine through other peoples' eyes, and I had to learn to stop that.
My production company, Jazzy Tam Films, makes a point to hire women and people of color on the cast and crew. We also bring on students. For many aspiring filmmakers who work with us, this is their first time working on a large crew made up mostly of women and people of color. I also insist that students in my capstone filmmaking class have a diverse cast. I don't have a lot of rules about what my students can make, but that rule is nonnegotiable.
What films and individuals are your favorites to win at this year's Oscars?
Best picture: "Everything Everywhere All at Once"
Best actress: Michelle Yeoh, "Everything Everywhere All at Once"
Best supporting actress: Stephanie Hsu, "Everything Everywhere All at Once" or Angela Bassett, "Black Panther: Wakanda Forever"
Costume design: Ruth Carter, "Black Panther: Wakanda Forever"