Chrysler's "Imported from Detroit" ad with Eminem, Michael Jackson singing about "the Pepsi generation" to the tune of "Billie Jean," the Budweiser Clydesdales, the E*Trade babies — all are iconic Super Bowl commercials, according to Robert Kolt, professor of practice in the Michigan State University Department of Advertising and Public Relations.
For the 26th year, faculty in MSU's College of Communication Arts and Sciences will gather on Super Bowl Sunday to determine the big game's best ads.
"Our faculty has expertise in production, brand strategy, creativity, writing and more. We're looking for aspects that really stand out and that are emotional, ads that really move an audience and identifying what's memorable," said Kolt, who has organized the event since its inception.
As we look toward Super Bowl LVII between the Kansas City Chiefs and the Philadelphia Eagles on Feb. 12, Kolt discusses the high stakes of Super Bowl ads, the elements of a great Super Bowl commercial, and how companies can build off the momentum of a well-received Super Bowl spot.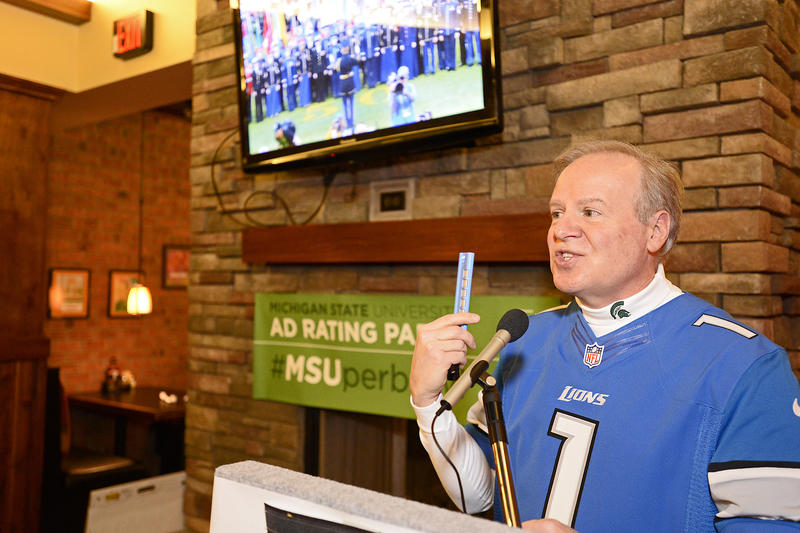 Robert Kolt leads discussion during a past Super Bowl ad rating party.
What makes the Super Bowl such an important opportunity for advertisers?
The great thing about the Super Bowl is that all the best commercials in the advertising business are showcased throughout the game. The Super Bowl is to the ad industry what the Oscars are to the movie industry. It is a really big deal.
Historically, the Super Bowl has the largest American audience out of any television event every year. Twenty-nine of the last 30 highest-rated program games on television have been Super Bowls. It's an event that with a huge audience across all ages and demographics.
It's like a holiday. In fact, people have said the Monday after Super Bowl Sunday should be a holiday. And as we recover from the excitement, people get together to talk about the game and to talk about the ads.
What makes a great Super Bowl ad?
Super Bowl ads have to be unique and memorable and recognizable long after the game. They have to be high quality in production, and they have to make people laugh.
But most of all, a successful Super Bowl ad must sell something. In the end, these commercials need to be successful in influencing people to go out and buy the product they're advertising.
A good Super Bowl ad usually has a celebrity. Maybe an animal. If you have an animal in an ad, it's a winner for me. If you have a celebrity selling something, people pay attention. And having a celebrity do pretty much anything wakes up an audience.
How do companies continue the momentum of a successful Super Bowl ad?
If it's a new product, it's a tough sell. And it takes time. A Super Bowl ad is not a one and done sales tactic. If the same ad or follow-up campaign airs well after the Super Bowl, then it might influence sales.
With some advertisers, though, it's more about the long game. For example, if you're a car company, you're really looking at branding. And if you make a positive impact with your ad, you just want someone to remember your brand and vehicle six months, a year, maybe two years later when they're deciding to buy a car. It wouldn't be an immediate sell. It's more that the consumer saw the ad, thought it was cool and want to associate with that product/brand in the future.
Oftentimes, companies will have post-game campaigns associated with ads that air during the Super Bowl. If it proves to be an ad that resonated with audiences, it might be played for the rest of another sports season or during an awards show.
Is the cost of a Super Bowl ad worth it?
The cost of an ad in the Super Bowl continues to escalate rapidly. A 30-second ad slot for the Super Bowl in 1967 was around $40,000. Today, the cost of a Super Bowl ad is $7 million for 30 seconds. And some of the ads run for 60 seconds or even up to two minutes. Advertisers also have to account for the cost of production, which could be millions, plus the cost of a celebrity appearance or animation.
Advertisers think it's worth it. Audience data proves that people watch the Super Bowl — it is the biggest American event in television every year. The companies who buy the time testify that Super Bowl ads produce revenue and sales. If they're happy and they make a good investment, then the advertising companies are happy that their clients are happy.
And if the audience likes the ad, they'll come back and maybe be willing to accept more information. Advertising is designed to share important information, and Super Bowl ads are a fun, humorous way to reach audiences and share information about a product.
---