Nature plays a critical role in improving mental health and well-being by creating a sense of belonging for people. Some of the benefits — increased happiness, reduced feelings of depression and anxiety and improved physical health — are only steps away when you visit Michigan State University's W.J. Beal Botanical Garden.
Katie Fry is the collections manager at the Beal Botanical Garden, the oldest continually operated university botanical garden in the U.S. celebrating 150 years of operation. Fry, who started with the garden 10 years ago as a student botanical technician, discusses how a visit to Beal Botanical Garden can positively affect people's physical and mental health.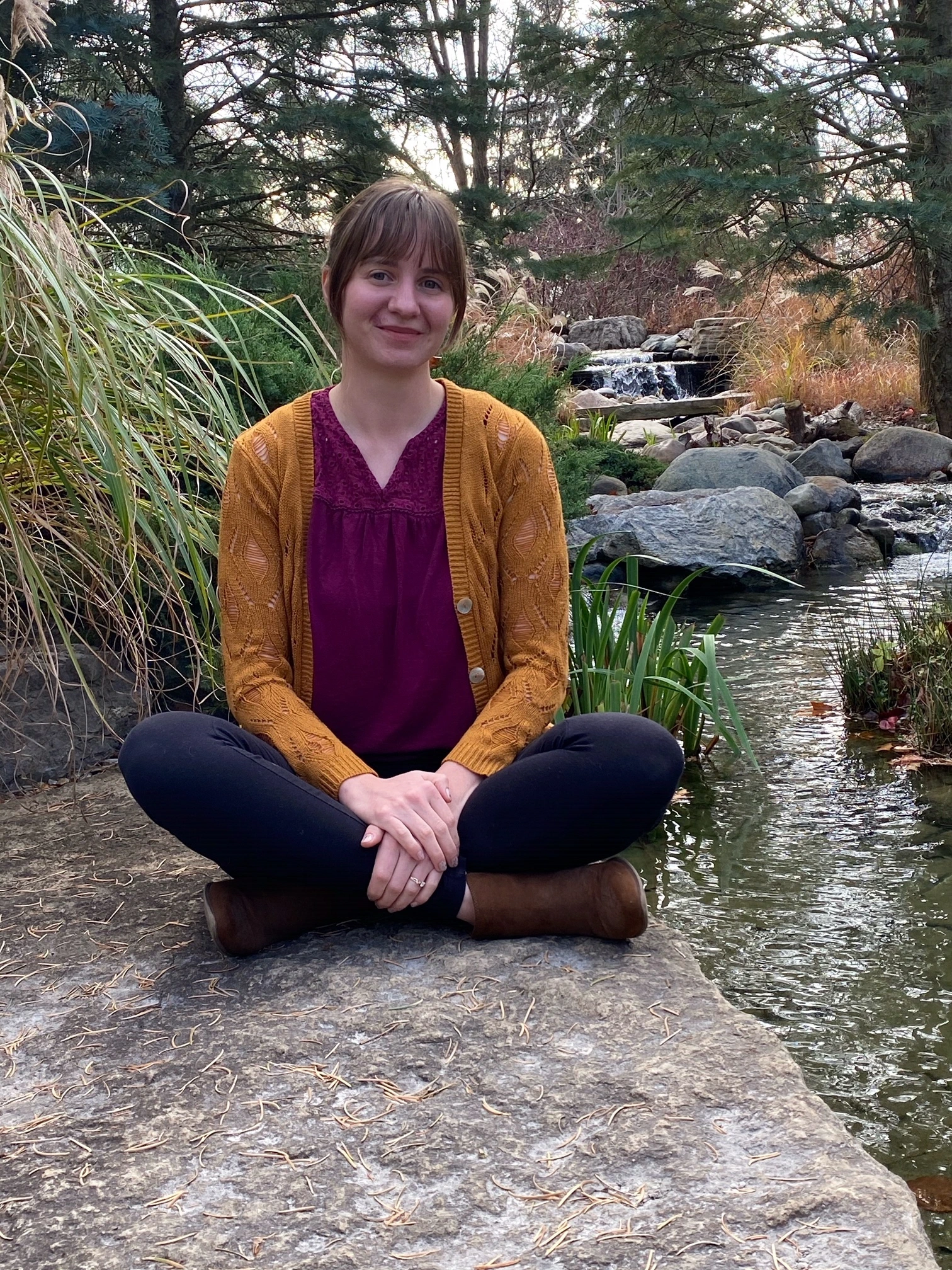 Katie Fry is the collections manager at the W.J. Beal Botanical Garden where she oversees a plant collection of over 2,000 plants. Courtesy photo.
What do you do as the garden's collections manager?
As collections manager, I maintain and document plant species in the garden. If you come to the garden, you will see formal display beds showcasing plants with corresponding labels. The goal is to build a collection that works for the community and reflects campus, but also promotes native plant diversity and storytelling.
How does nature promote wellness?
Being in nature reduces stress, boosts mood, improves attention and helps us be more active. Most importantly, nature develops a sense of belonging. Everyone should recognize they have a place here and should feel comfortable enjoying the garden. When we spend time outsde, we can create a meaningful relationship with nature. As a result, we hope that people become more inclined to care about plants and want to protect them for what they offer.
How does the Beal Botanical Garden facilitate activities for improving health?
The garden has increased its events and programming, and the physical space of the garden provides a serene place for programming that supports well-being. This past September, the garden celebrated its 150th anniversary with an event that featured activities, tours, games and music where people could come together to socialize and promote well-being.
We also partnered with the College of Music to bring free live performances to the garden and offered yoga classes in the garden during the summer months. The garden hosted outdoor films during September and, this October, Beal has partnered with MSU Libraries to present a Bizarre Botany Movie Series. We provide these activities so people can create more meaningful connections to nature.
Can you explain what the garden's Nurture Your Roots program is and how to participate?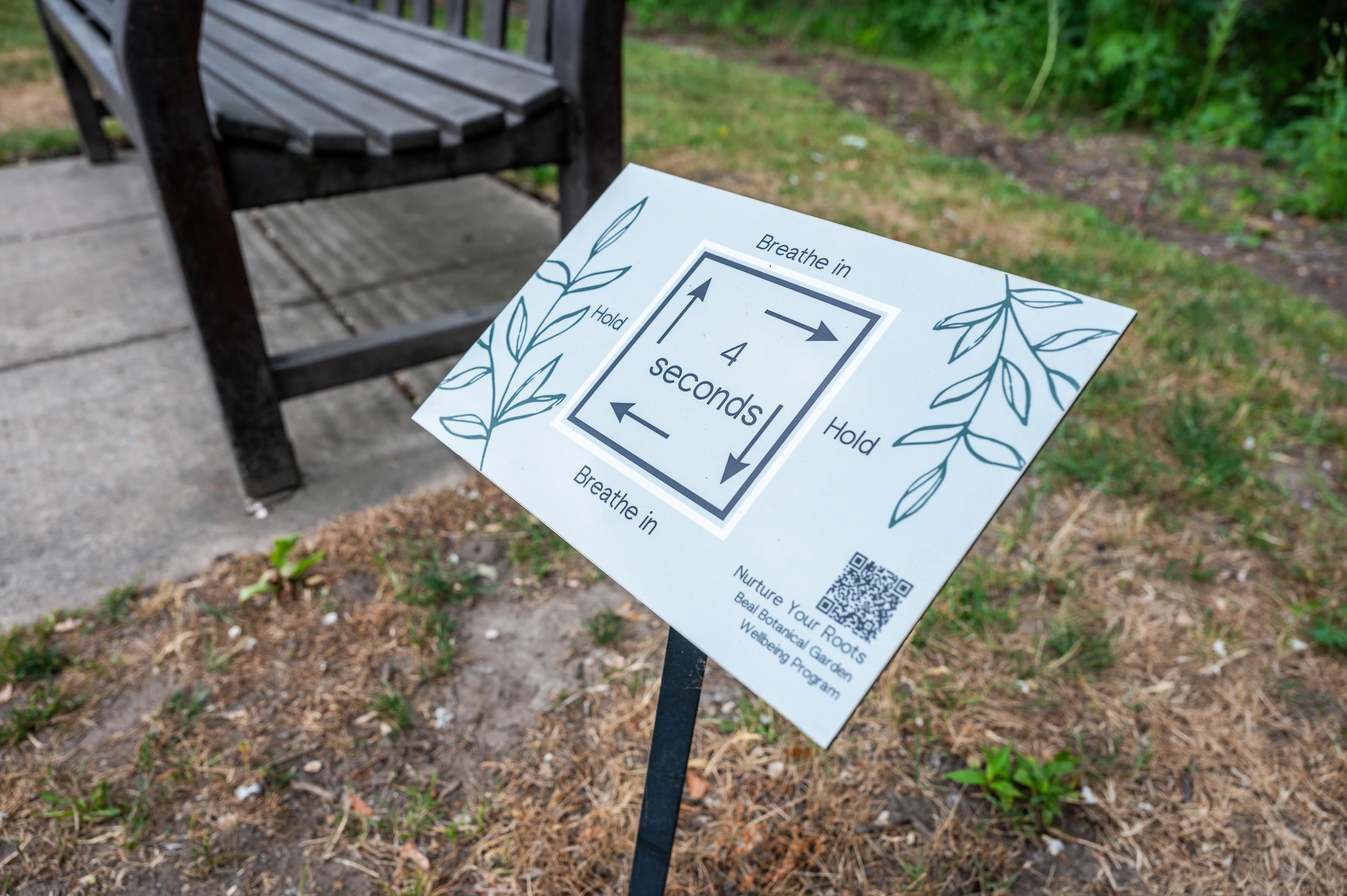 One of the stations of the Nurture Your Roots program. People scan the QR codes with their phones to participate, and this station provides a guided meditation to listen. Credit Derrick Turner.
The program provides various mindful exercises to help connect with nature and the garden. Scattered throughout the garden are rooting stations where visitors can use QR codes to access different mindfulness activities, such as listening to music, guided meditation, journaling and poetry. These activities keep us present in the moment and connect with the environment. While the garden is a beautiful space on its own, it's important to bring out positive emotions. We want to support people's desire to improve their well-being and have access to activities that create connection with nature.
How does the physical layout of the Beal Garden provide comfort?
The garden has always been this place of respite where you can escape from studying or the office. Beal is a sunken garden — so it is lower compared to surrounding buildings — and it is a quieter space on campus. You are surrounded by trees, and that part of the design has stuck with us throughout. This garden is designed to be your place to relax, step away and engage with nature.
What is your favorite part of the Beal Garden?
I think all the places in the garden are so beautiful so, for me, the morning is my favorite time because not only can you see a lot of wildlife, but it is also peaceful and quiet. There isn't a lot of traffic on campus at that time, which allows for relaxation and connection at any spot in the garden.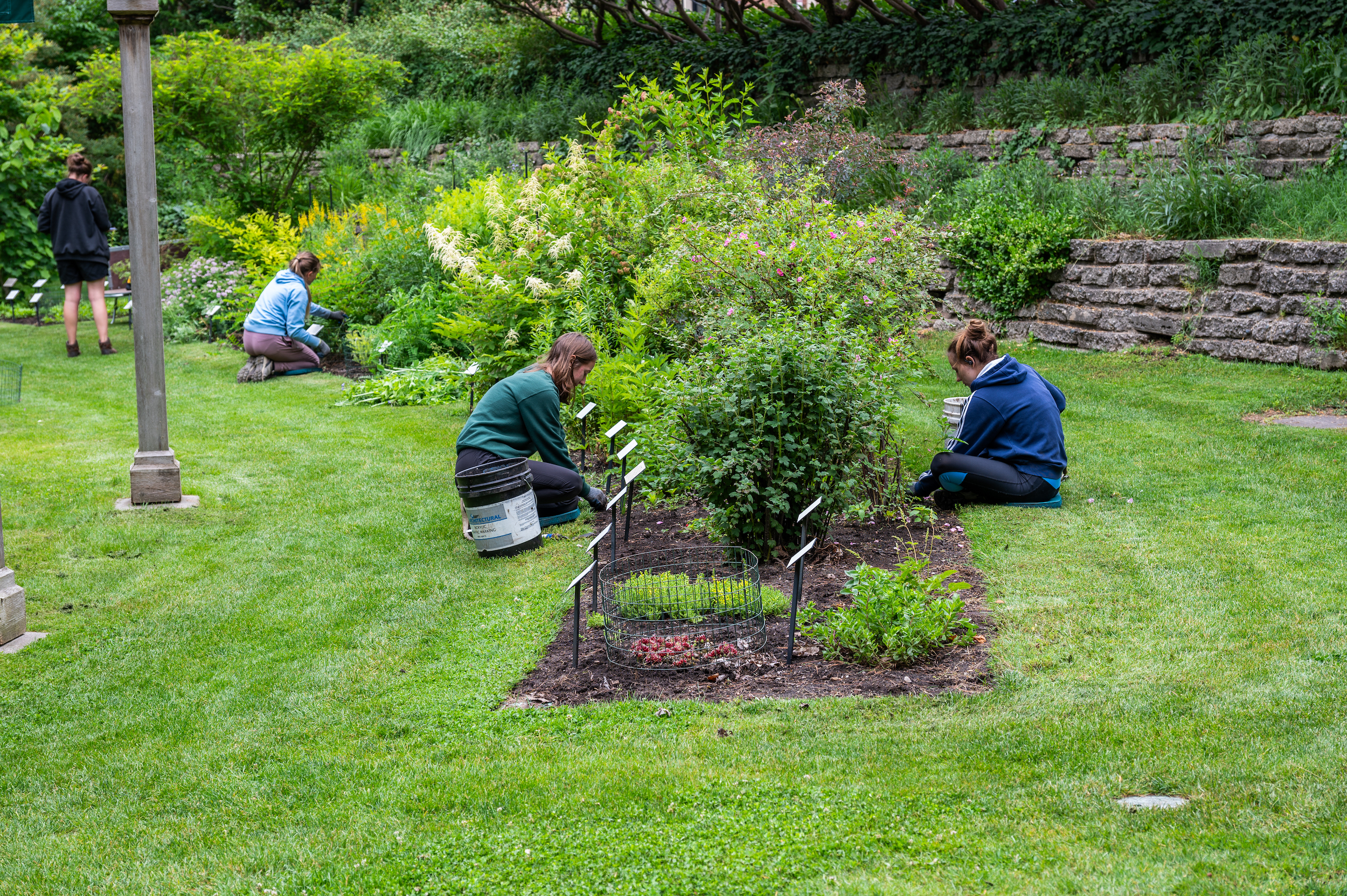 People associated with the W.J. Beal Botanical Garden are maintaining the flower and plant beds. Through the Beal Scholars Program, students can work with Fry on the upkeep of the flower collection. Credit Derrick Turner.
What other opportunities does the Beal Botanical Garden offer to support wellness?
· Campus Meditation Map: The map highlights different beautiful spots across campus for people to mediate and engage with nature, with many locations in the garden.

· The Beal Scholars Internship Program: The paid internship includes project-based work where students can focus on professional interests while still contributing to the garden. Students have the space to be creative, collaborative and take ownership of their work. People of all backgrounds and majors can participate — not just plant enthusiasts.

· Guided tours: Free tours with a variety of focus areas are available to anyone and can be requested online.

· Upcoming Red Cedar River walk: The community is invited to join Beal staff for a guided two-mile walking tour on Wednesday, Oct. 11 from noon to 1 p.m. to learn about the garden spaces that make MSU's campus special. Participants can meet at the picnic tables in the Beal Botanical Garden to start the tour.
More programming and events are planned throughout the winter and spring to continue recognizing the Beal Botanical Garden's 150th anniversary.