While balancing being a freelance fashion stylist, fashion designer, creative director and social media influencer, Michigan State University student Takai Taggart also manages the demands of a new magazine. As of fall 2022, the apparel and textile design major launched N Crowd, a fashion magazine created by and for Black students.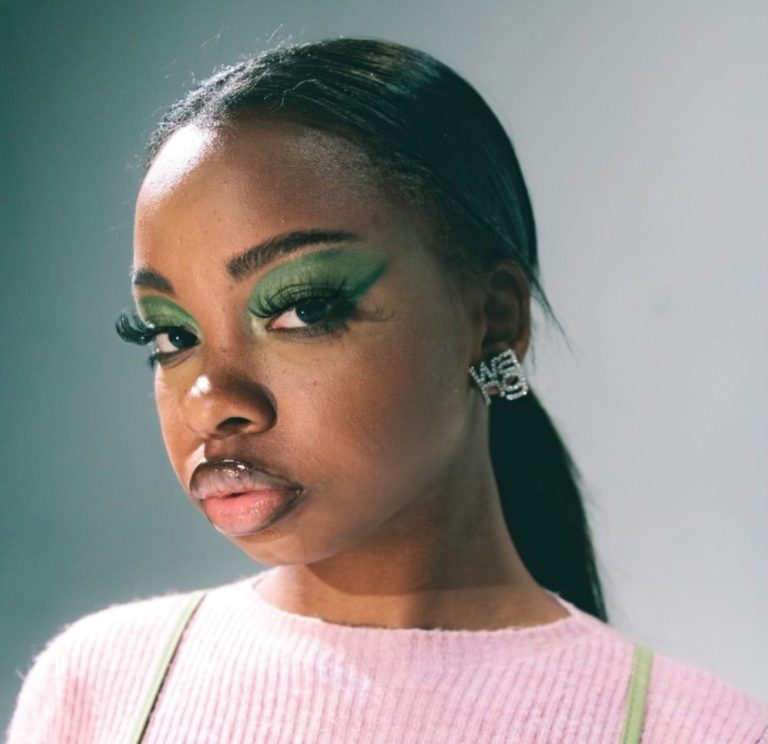 Takai Taggart
"My main focus when creating N Crowd was to offer a safe space for Black creatives who attend Michigan State University," said Taggart, who was inspired by her experience interning for PhotoBook Magazine in New York City under Alison Hernon during summer 2022.
"I worked in New York City alongside a woman who started her own magazine from the ground up and that made me want to start my own. And, I always knew I wanted to start my own organization at MSU, but I didn't know what it would consist of," Taggart said. "After working for PhotoBook Magazine this past summer, it clicked for me."
Since its launch in August 2022, N Crowd has published its first issue; launched a website, Instagram and TikTok accounts; hosted two fashion shows; and now has 50 team members. Taggart, who started to sew this past year, was a designer in N Crowd's most recent fashion show, which took place in April. At the same time, she also planned the event.
"My experience with N Crowd has been amazing. I'm happy with how far we've come as an organization, we're changing the culture," Taggart said. "I plan to take N Crowd to the next level this summer and expand my team."
Besides managing and helping N Crowd grow, Taggart also founded her own luxury fashion brand, TAKAI, and works as a freelance stylist where she assists customers in shopping for clothes that suit their style and current trends. Her fashion brand was followed by her improvement in sewing and being featured in N Crowd's fashion show. Taggart also is a social media influencer, sharing her style and fashion trends with more than 11,000 followers on Instagram.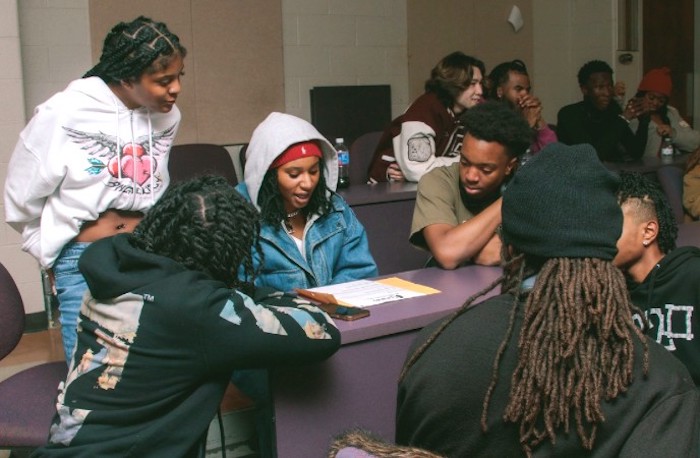 N Crowd's members working to produce the magazine at its club meeting.
For all her efforts, Taggart received the Black Student Alliance's Black Entrepreneur Award in spring 2022.
Taggart said she first fell in love with fashion as a little girl, but only recently decided to pursue it as a career.
"I was a huge fashionista growing up; I'd always cut my clothes up and make something new out of them and my mom would always let me pick her outfits out for her," Taggart said. "However, it wasn't until I was a sophomore in college when I realized I wanted to pursue fashion as a career. It was an amazing breakthrough. I always knew I loved fashion, I just never knew I could pursue it as a career."
Her first experience working in the fashion industry was as an intern for PhotoBook Magazine. Her responsibilities working for the magazine included delivering and picking up clothing from showrooms, helping at photoshoots, sourcing clothing and designers, and styling celebrities.
"I learned so much about the ins and outs of the fashion industry and what living in New York was like," she said. "I also got to network and meet so many notable people."
As she looks to the future, Taggart said she wants to make N Crowd a household fashion magazine. She's also interested in becoming a celebrity stylist and growing her luxury fashion brand.
With plans to graduate in Spring 2024, Taggart says her time at MSU is helping her reach her goals.
"I've seen myself grow so much over the last three years at MSU. I'm much more extroverted and less shy now. This has definitely come from me being an RSO (registered student organization) leader," she said. "In the future, I see myself being successful and simply creating every day. I want to keep N Crowd's legacy going and style celebrities all while having a successful luxury fashion brand."
This story originally appeared on the College of Arts and Letters website.