The Burgess Institute for Entrepreneurship and Innovation proudly announces that Shubham Aggarwal from the College of Social Science and Yuktha Pulavarthi from the Broad College of Business are 2023's Vandervarro Scholars. Aggarwal and Pulavarthi are founders and CEOs of startups within the Burgess Institute's Launch Program. They are recognized for their academic excellence, innovative mindset and drive for success in their respective entrepreneurial ventures.
Established in 2022 by Alexandra Clark and Kyle Welch, Broad College of Business graduates in 2010 and 2009, respectively, the Vandervarro Scholarship recognizes exemplary student venturers focusing on startups within the food, agricultural and hospitality industries at Michigan State University.
Clark and Welch are accomplished food entrepreneurs who have launched successful companies at a relatively young age. Clark is the founder/owner of Bon Bon Bon. This world-renowned chocolate dessert business started in Hamtramck and has since expanded to multiple other locations. Welch is the co-founder at Chicago Scoops, a franchise group that owns and operates Cold Stone Creameries.
The Seeds of Entrepreneurial Drive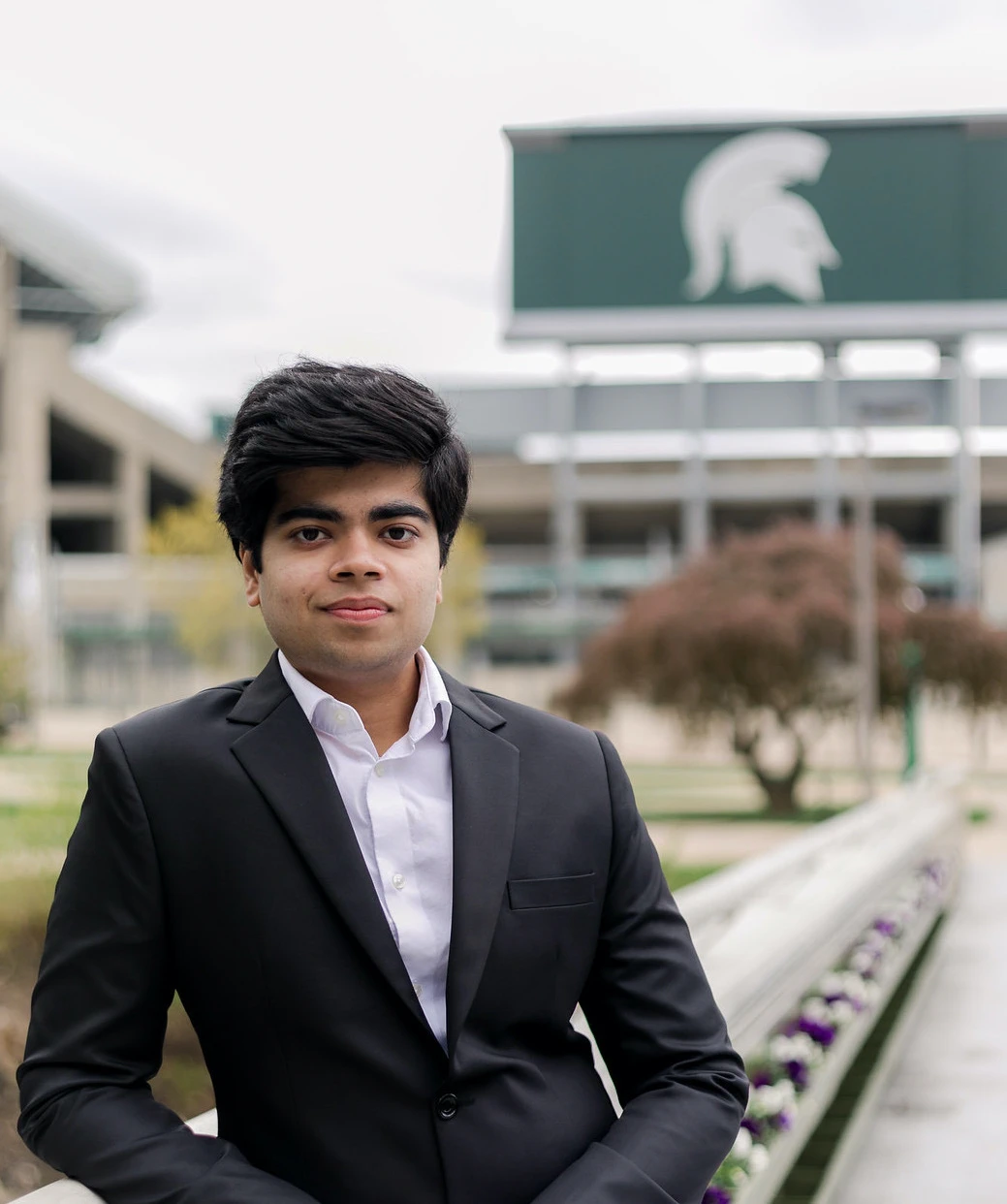 Shubham Aggarwal
Shubham Aggarwal's early entrepreneurial leap was driven by his desire to create a meaningful impact, regardless of scale. He recognized the transformative potential of new products and services. Beyond that, he sought a different experience from that of his peers.
"I wanted hands-on experience in the business world, as I often learn better through action than reading," said Aggarwal.
The founder of Foxpops — snacks made from seasoned, popped water lily seeds — Aggarwal sees entrepreneurship as the key to innovation and addressing people's unmet needs. For an international student, entrepreneurship provides flexibility and a unique platform to bridge cultures, share stories and make an impact globally.
An entrepreneurial drive opens many doors. It can also be a catalyst for skills development.
Yuktha Pulavarthi's startup story began in the genuine moments when the entrepreneurial spirit takes hold. Growing up in Troy, she found inspiration in the bustling Eastern Market in Detroit and the local farmers' markets.
"Seeing all the businesses, especially the smaller, home-based ones, was always inspiring," Pulavarthi said.
Her venture, Macaronza!, was born from her love for baking. It started with her bringing macarons to every event she attended. She quickly realized her creations were more than sweet treats that brought joy to those who tasted them. They were a sensation. "People began asking, 'Can you bake these for my event?'"
Pulavarthi did not initially see herself as an entrepreneur, but as someone with a hobby. As she dove deeper into this "hobby," she acquired a wide range of skills — from managing social media to designing a website to creating packaging. These skills transformed her from a passionate baker to a full-fledged entrepreneur committed to learning, growing and fostering an entrepreneurial mindset.
The Power of the Entrepreneurial Mindset
Entrepreneurship is not just about running a business; it's a mindset, and both Shubham and Yuktha have seen the benefits of fostering and employing this entrepreneurial mindset.
For Pulavarthi, the entrepreneurial mindset enables her to think creatively, especially when time is limited, pivot when necessary, and seek help when needed most. And she does this all while juggling the rigors of academics and the demands of her business.
Aggarwal points out that an entrepreneurial mindset is not confined to business alone; it extends to every aspect of life, from education to job opportunities.
"Overcoming the fear of failure propels us to surpass our limitations and exceed expectations," Aggarwal said.
A Hub for Aspiring Entrepreneurs
Both Aggarwal's and Pulavarthi's journeys took a significant turn when they became involved with the Burgess Institute for Entrepreneurship and Innovation.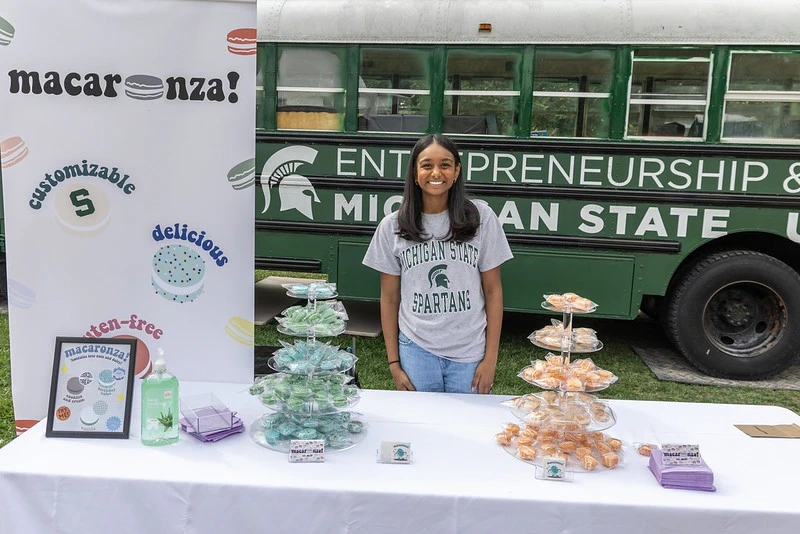 Yuktha Pulavarthi
Inspired by the success stories of students who had been part of the program, Pulavarthi began getting involved with the Entrepreneurship Association and Women in Entrepreneurship, or WE, leading her to participate in the 2022 WE Pitch Competition.
"I would've never thought I would place, but I ended up getting third! That gave me the confidence to actually take Macaronza! seriously," said Pulavarthi." "I joined the Discovery Program and applied to participate in the 2023 Burgess New Venture Challenge."
The Burgess Institute prides itself on the vibrancy of the community it nurtures — a community filled with motivated individuals striving to better themselves and their businesses, becoming a source of inspiration and support for each other.
"Everyone is constantly learning from each other and wanting to help wherever they can ... [That] creates a very comforting environment," said Pulavarthi.
Dreams in Progress
It is clear that the Vandervarro Student Entrepreneurship scholarship empowers both Aggarwal and Pulavarthi to continue their entrepreneurial journeys.
For Pulavarthi, receiving the Vandervarro Scholarship was a symbol of faith in her business and her potential as an entrepreneur.
"Being an entrepreneur is always going to be risky, but having others that have faith in you and your venture is extremely helpful."
Aggarwal's and Pulavarthi's journeys are just beginning.
Pulavarthi's next challenge is to find the right packaging to protect and magnify the deliciousness of her macarons. She also focuses on experimenting with new, unique flavors. You can look forward to apple pie, pumpkin spice, brown butter and chai macarons this fall.
Aggarwal's vision includes establishing a community for his startup, Foxpops, and expanding the company's presence across North America. He points out that this scholarship, beyond its financial support, grants him access to invaluable mentorship, which will play a crucial role in achieving his aspirations.
Aggarwal and Pulavarthi's stories inspire all aspiring entrepreneurs at MSU — a reminder that dreams turn into realities with the right mindset and community.
This story originally appeared on the Burgess Institute for Entrepreneurship and Innovation website.