Michigan State University College of Osteopathic Medicine has been selected as one of 10 schools — and the only osteopathic medical school — to participate in an innovative, two-year quality improvement project to enhance obesity education curriculum with The Obesity Society, or TOS.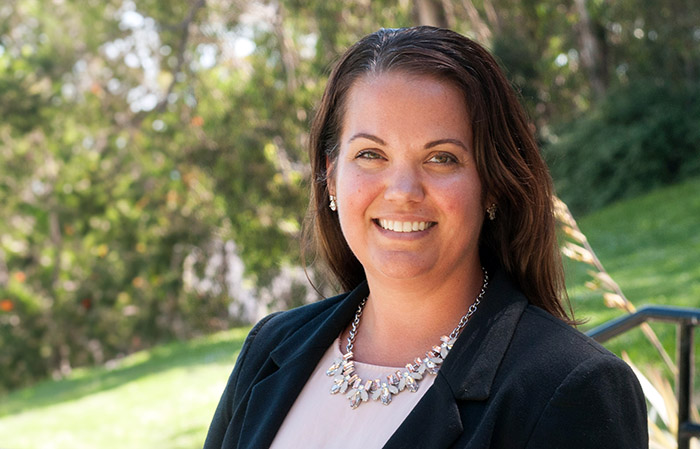 Kim Pfotenhauer
The goal of the FORWARD Education QI Obesity Project is to address the national and global need for comprehensive medical school training on the practice of obesity care. According to the World Health Organization, the worldwide prevalence of obesity nearly tripled over the past four decades. Yet, according to a recent TOS survey of 40 medical schools, one-third of those medical schools do not have an obesity education program in place, and only 10% felt that their medical students were "very prepared" to manage patients with obesity.
Critical time for obesity care
The QI project will refine, implement and assess a comprehensive, competency-based obesity education curriculum. Kim Pfotenhauer, assistant dean for clerkship education at MSUCOM, who spearheaded the college's application, will serve as principal investigator.
"This much-needed curriculum has the potential to impact the quality of care for people living with obesity," Pfotenhauer said. "Educating physicians and future physicians helps ensure that patients receive compassionate, higher quality treatment."
Diabetes and obesity are a focus of Pfotenhauer's work, and she has noticed heightened interest from osteopathic medical students to learn more about these topics. With no existing standard national curriculum around obesity care, she believes now is an excellent time for the MSU College of Osteopathic Medicine to develop and implement the new curriculum, especially as new treatment options for obesity continue to appear.
Two diabetes medications that have been in use for over 20 years are now available as a means to "treat obesity first and prevent other issues, such as diabetes and cardiovascular disease, later," Pfotenhauer said. "It really moves the treatment pathway upstream."
Harnessing the expertise of osteopathic medicine
Participating alongside nine allopathic schools, the MSU College of Osteopathic Medicine will help provide the unique whole-person approach to health care that is rooted in osteopathic principles. "Obesity affects over 236 different disease processes throughout the body," Pfotenhauer said. "By treating obesity first, we are truly treating the whole patient which, of course, is a cornerstone of osteopathic medicine."
The medical approach to treating obesity is no longer a "calories in and calories out" method, Pfotenhauer explained, but rather a treatment plan that examines the person's lifestyle, mental health, social determinants of health and other factors that may contribute to overall wellness.
"We look forward to educating the students early with this new evidence-based curriculum," Pfotenhauer said. "TOS makes for a strong partner for this project to improve the way medical schools nationwide teach nutrition, obesity and weight management."
Reducing stigma
Another critical element of the curriculum is to dispel common myths and misconceptions around obesity to foster better patient care. Students will be taught to remove blame from the patient and instead use patient-first language, such as "person with obesity," versus "obese person."
"Weight stigma is a real thing that happens in medicine and society," Pfotenhauer said. "Oftentimes, there is shame around discussing weight with a physician or seeing the number on the scale at the doctor's office — this may make people less likely to see a physician, which can lead to many untreated, serious health issues."
In addition to improving the patient experience, reducing stigma may make patients more likely to seek preventative care, which can result in the improvement of a patient's quality of life and the reduction of health care costs nationwide, she said. According to the Centers for Disease Control and Prevention, the estimated annual medical cost of obesity in the United States was nearly $173 billion in 2019, and medical costs for people with obesity were $1,861 higher than medical costs for people with healthy weight.
About the project
In the project's first year, the participating schools will conduct research to identify gaps in the obesity curriculum and how each school can fill those gaps by refining the educational modules and collaborating on new content. The second year will focus on implementation of obesity educational curriculum and outcomes. Pre- and post-surveys will be distributed to see how knowledge changes among medical students and educators. All curricular materials produced from the program will eventually be available through an open-source website hosted by TOS.
This inter-institution collaboration continues MSU College of Osteopathic Medicine's long-standing commitment to advancing health care and lifelong learning. The 10 schools were selected based on need, diversity, preparedness, commitment and ability to implement a new obesity curriculum. A steering committee selected these institutions through a competitive application process including screening questionnaires, one-on-one interviews and qualitative and quantitative standardized scoring systems.
The other medical schools participating in the project include Loma Linda University School of Medicine, University of Texas-San Antonio Joe R. and Teresa Lozano Long School of Medicine, Howard University, University of Illinois Chicago, University of Hawai'i at Manoa John A. Burns School of Medicine, University of California-San Diego, Case Western Reserve University, Oakland University William Beaumont School of Medicine, and Cleveland Clinic Lerner College of Medicine. The project is supported by a multi-year educational grant from Novo Nordisk.
Learn more about obesity care at obesity.org.
This story originally appeared on the College of Osteopathic Medicine website.