The 23rd annual Dr. William G. Anderson Lecture Series, Slavery to Freedom: An American Odyssey has added community engagement opportunities to this year's series, which is focused on the history and legacy of African Americans in the U.S. Named in honor of William G. Anderson, D.O., the series honors his legacy as a trailblazer in the Civil Rights Movement, as the first African American member and president of the American Osteopathic Association Board of Trustees, and contributions to the MSU College of Osteopathic Medicine, the lecture series is designed to be a campus and community conversation.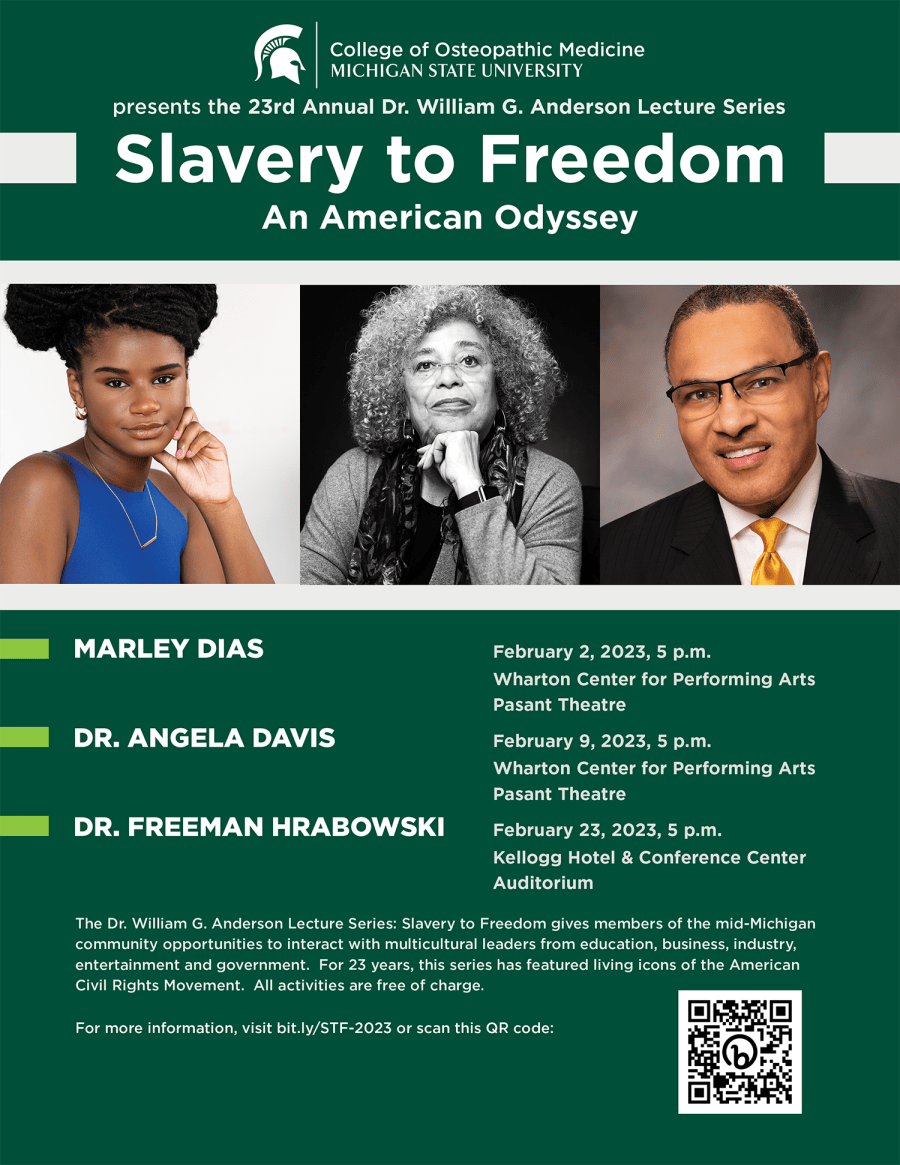 Marita Gilbert, Ph.D., MSUCOM associate dean for diversity and campus inclusion, hopes the conversations will continue far beyond this year's events. "The Slavery to Freedom series is an annual opportunity to reflect on the richness of our histories and herstories while preparing ourselves for freedom movements and justice work now and, in the future," said Dr. Gilbert who leads the Dr. William G. Anderson Lecture Series, Slavery to Freedom: An American Odyssey series.
Looking forward is something the series' first speaker, Marley Dias, has done since she was a young girl. She created #1000BlackGirlBooks at the age of 11 and collected over 13,000 children's books featuring Black girls as the lead character. In addition to collecting books, Dias is also an author, was recognized by TIME in 2018 as one of the 24 most influential teens and was also named the youngest member of the Forbes 30 Under 30 list. Today, Dias is a student at Harvard University and is the executive producer and host of "Bookmarks: Celebrating Black Voices" on Netflix. She will kick off this year's Slavery to Freedom series at 5 p.m., Thursday, Feb. 2, in the Pasant Theatre at the Wharton Center for Performing Arts.
As part of the series this year, Dias and MSUCOM will also host events in the greater community, including a book drive to continue Dias' work to collect books to provide to children in the community, as well as providing books to Reading is Fundamental and small lending libraries.
"The work goes beyond the Slavery to Freedom series," Dr. Gilbert said. "We hope the series continues conversations and starts new ones to keep us moving toward true diversity, equity and inclusion."
Angela Davis, Ph.D., is the second speaker of the 2023 Slavery to Freedom series, 5 p.m., Thursday, Feb. 9, in the Pasant Theatre at the Wharton Center for Performing Arts. The university educator is well-known for her activism and scholarship, emphasizing the "importance of building communities of struggle for economic, racial and gender justice." She is the author of 11 books and is known for helping to popularize the notion of a "prison industrial complex," urging others to think about a world without prison systems.
The final speaker for this year's series is Freeman A. Hrabowski, Ph.D., who will speak at 5 p.m., Thursday, Feb. 23, at the Kellogg Hotel & Conference Center Auditorium. Dr. Hrabowski served as president of the University of Maryland, Baltimore County, from 1992-2022. He also co-founded the Meyerhoff Scholars Program, received the American Council on Education's Lifetime Achievement Award in 2018 and a $1.5 billion pledge from the Howard Hughes Medical Institute to support early career scientists and increase diversity in STEM through the Freeman Hrabowski Scholars Program.
Special to the Slavery to Freedom: An American Odyssey! series this year is art inspired by the series and its speakers, created by Detroit-based artist Darnell Kendricks.
The 2023 Dr. William G. Anderson Lecture Series, Slavery to Freedom: An American Odyssey speaker events are free and open to the public. Registration is required. Learn more about the series and events, purchase books for the book drive and register.
MSU recognizes Black History Month, and our community is coming together to strengthen resources, programs, research centers and scholarships supporting Black students at MSU and promoting a culture of inclusion. Learn more at givingto.msu.edu.
This story originally appeared on the College of Osteopathic Medicine website.