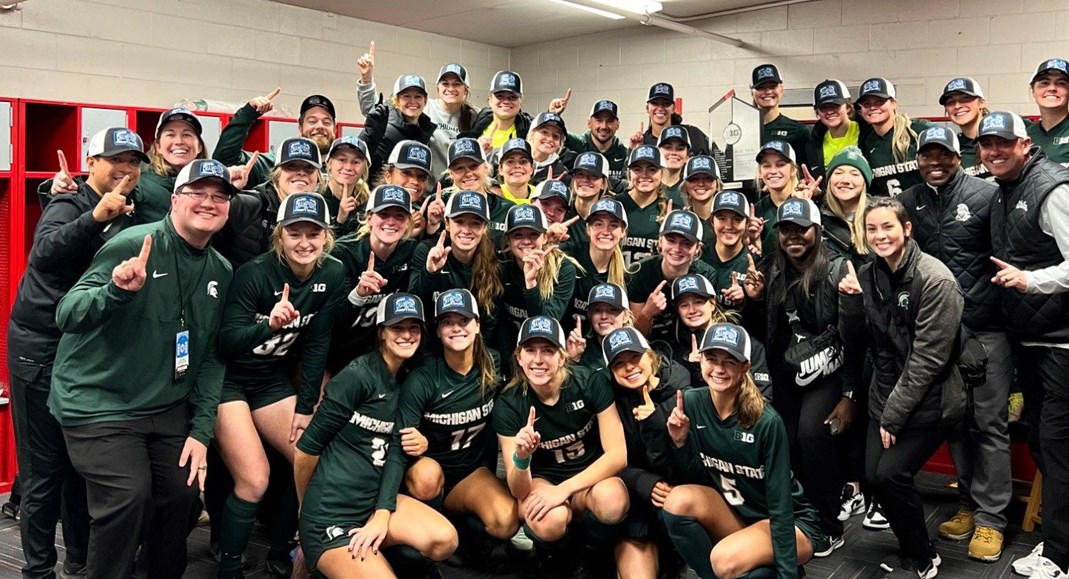 The 2022 Michigan State women's soccer team cemented its place in history Thursday night, as the No. 6 Spartans captured a 1-0 win over No. 17 Ohio State at Jesse Owens Memorial Stadium that finalized MSU's Big Ten Championship. Following Northwestern's loss to Iowa around an hour later, the Spartans seized control of the outright league title and top seed in the 2022 Big Ten Conference Tournament.

In the 50th Anniversary season of Title IX, Michigan State officially became the second Big Ten Champion in the 2022-23 academic year. The league title marked the first championship for Michigan State Athletics under the direction of second-year Director of Athletics Alan Haller, who was hired officially on Sept. 1, 2021. The women's soccer program took home the first outright Big Ten Championship for any Spartan Athletics program since women's golf earned the 2020-21 league title.

Following its historic win, the Spartans improve to 13-1-2 overall on the 2022 season with an untouchable 8-0-1 mark against Big Ten Conference opposition this year. With their eighth conference victory, Michigan State set a new program record in the category. The previous MSU record for single-season B1G wins was set in the 2011 campaign, when the Spartans published a 7-4 mark. In defeat, the 17th-ranked Buckeyes drop to 10-3-3 with a 5-2-2 league ledger.

Offensive opportunities poured in for both teams, as Michigan State out-shot Ohio State in a 20-15 barnburner in their respective final thirds. The Green & White put up nine shots on target, while surrendering only three, also narrowly edging the Buckeyes in corner kicks by a 4-3 tally. Senior forward Lauren DeBeau scored MSU's only goal late in the first half and led the team in shots with five.

An extensive feeling-out process defined the opening portion of the first half, with each squad finding opportunities in their opponent's final third. Ohio State published the first shot of the game in the eighth minute of play from well outside the penalty area, but the attempt sailed far above the crossbar for an MSU goal kick. Both sides exchanged corner kicks without incident, but MSU's possession-based offense resulted in a 5-2 Spartan differential in shots through the 24th minute. Continued pressure from both offenses led to a raucous final five minutes in the first half.
To read more about the Big Ten Champions, visit msuspartans.com