Yesenia Zamora-Cardoso is a recent graduate who worked as an intern at WKAR Public Media on a news podcast "¿Qué Onda Michigan?" with host Michelle Jokisch Polo. The podcast is available weekly on Fridays.

WKAR Public Media at Michigan State University has partnered with the MSU College Assistance Migrant Scholars Program, or CAMP, to create an ongoing internship position working on the WKAR podcast "¿Qué Onda Michigan?"

CAMP is a residential program that offers opportunities to migrant and seasonal farmworker students. MSU student Yesenia Zamora-Cardoso was selected to fill that internship.

In this Q&A, Zamora-Cardoso discusses her passion for MSU and the value of having diverse perspectives in media.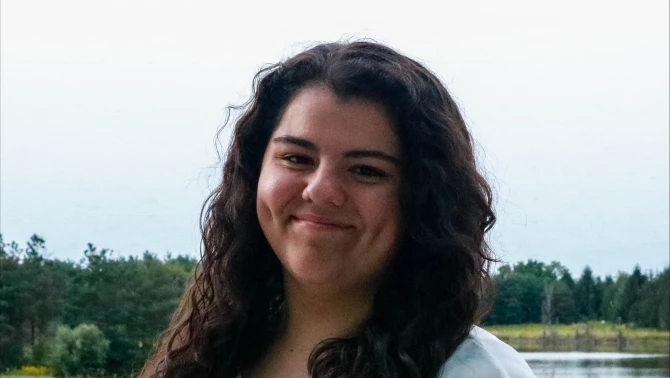 Yesenia Zamora-Cardoso
What is WKAR Public Media's podcast "¿Qué Onda Michigan?"
"¿Qué Onda Michigan?" is a weekly Spanish-language National Public Radio Podcast from WKAR Public Media that focuses on providing relevant news updates on the people and the issues most important to Michigan's Latinx community.
Note: "Latinx" is a gender-inclusive description of people of Latin American descent who live in the United States.

What was your daily work like as an intern?
Typically, my daily work would vary depending on what step of the podcast production process that we were in whether it be researching, interviewing, scripting, etc. At the end of the week, my supervisor would provide me with information regarding what the podcast's next episode(s) would be focusing on. There were also times that I was allowed the chance to research and pitch topics, which were then created into episodes. After knowing the new topics that were selected, I would research the topic and write up various questions asking for information that our listeners may want to know. The next step would be to find individuals to interview that were experts or related to the topic in some form, then schedule and record an interview with these individuals. I was also given the opportunity every few weeks to host and produce an episode, and during those weeks I would write up a script, record and edit the audio to put the episode together for airing.
As a bilingual student, why is it so important to you to be involved in a podcast like "¿Qué Onda Michigan?"
As a bilingual student, it was important to me to be involved in a podcast like "¿Qué Onda Michigan?" because it provides the Latinx and Spanish-speaking populations of not only MSU but Michigan as well, with a voice and a presence that is underrepresented in media. Through this experience, I was able to focus on telling stories and news that was aimed specifically for my community and I am truly grateful to have had the opportunity to have been part of that.
What is the goal of "¿Qué Onda Michigan?" in helping the Latinx and Spanish-speaking communities here at MSU?
The goal of "¿Qué Onda Michigan?" is to help the Latinx and Spanish-speaking communities at MSU in providing these communities with content that was created for them and by them. So much of general media and content that is generated isn't geared towards these communities, so "¿Qué Onda Michigan?" is providing that steppingstone and opportunity for the Latinx and Spanish-speaking communities at MSU to have representation, as well as making these voices known and heard throughout our campus and state.
---

MSU recognizes National Hispanic Heritage Month, and our community is coming together to strengthen resources, programs, research centers and scholarships serving Hispanic and Latinx students at MSU. Learn more at givingto.msu.edu.