With nearly $3 million in support from the National Science Foundation, Michigan State University is training today's students to solve tomorrow's STEM problems with the power of machine learning and artificial intelligence.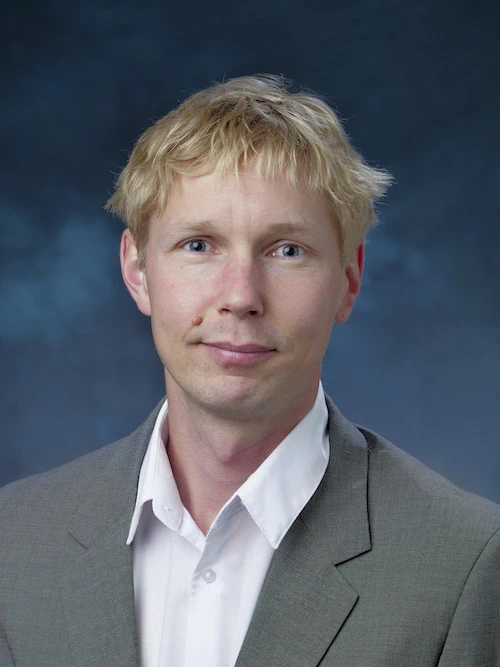 Michigan State University Associate Professor Daniel Appelö
The project's leader, Daniel Appelö, knows this probably won't be the first time people have heard a researcher banging the drum about using computer tools to make pressing problems more tractable. But he also knows that machine learning has weathered its own hype and is already helping develop medicines, design high-performance materials and more.
That's why MSU and the NSF are working to ensure the U.S. can maintain its leadership in the machine learning space — especially in science, technology, engineering and math applications — for generations to come.
"I'm old enough that I've seen lots of trends come and go in academia, but machine learning is different," said Appelö, an associate professor in the Department of Mathematics and the Department of Computational Mathematics, Science and Engineering, or CMSE. CMSE is jointly administered by the College of Natural Science and the College of Engineering.
"Companies are making money from it. Countries are investing in it," Appelö said. "This is where jobs are going to be generated in the future, and it's important for us to stay competitive."
MSU is one of 22 institutions across the U.S. to receive this type of award in 2022, which comes from the NSF Research Traineeship program.
"This NSF program supports graduate students, educates the STEM leaders of tomorrow and strengthens the national research infrastructure," the agency said in a release earlier this year.
This year's award had an explicit focus on artificial intelligence — which NSF called a national priority of utmost importance — and how it could help advance multiple STEM fields.
MSU's co-investigators on the project are Yingda Cheng, a professor in mathematics and CMSE; Elizabeth Munch, an associate professor in mathematics and CMSE; Keith Promislow, professor of mathematics; and Brian O'Shea, a professor in CMSE and the Department of Physics and Astronomy, as well as the director of the Institute for Cyber-Enabled Research, or ICER.
"This has been a big collaborative effort with all the coinvestigators and personnel at my departments, colleges, the Office of the Provost," Appelö said. "This environment is extremely supportive."
The NSF grant itself will support about 50 graduate students over five years. MSU will be able to nearly double that — training more than 80 students over nine years — thanks to contributions from the College of Natural Science, the College of Engineering and the Office of the Provost.