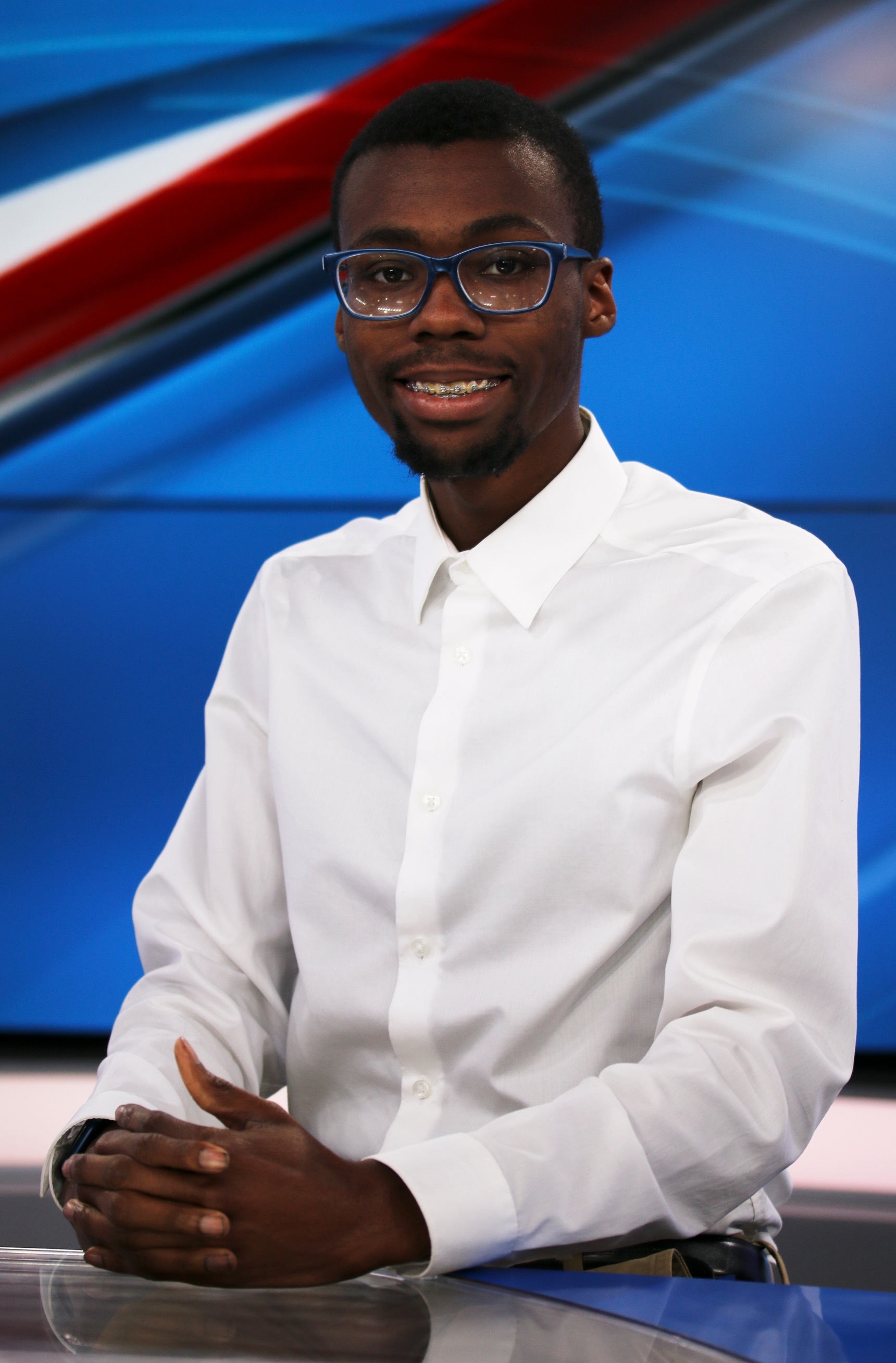 Julian Stainback at WILX studios. Photo courtesy of Julian Stainback.
One day toward the end of his final semester in the College of Communication Arts and Sciences at Michigan State University, Julian Stainback was feeling the pressure. He was in the middle of one of the most important days of Advanced TV News and Producing, a class in the School of Journalism responsible for the student-produced newscast Focal Point. Stainback was the executive producer leading Focal Point on a 12-hour news shift.
From 8 a.m. to 8 p.m., students put on a production with all the work on the stories being done in that period. Stainback was there to keep everyone on track.
"If something happens," he says, "producers and reporters can contact me to get us back on track." His phone buzzed and his email inbox filled up. Stories fell through. New ones popped up. Stainback did his best to stay calm. At the end of the day, the team produced a news shift it was proud of.
"You have to shoot everything in a day," Stainback says. "Writing, editing and practicing your scripts from start to finish. It's simulating what happens in a newsroom."
That simulation is working. In April, the Michigan Association of Broadcasters recognized the journalism school with 18 awards, including the prestigious Station of the Year award for the fourth consecutive year, and Focal Point won Best Newscast.
First in the nation
Focal Point is not the only student-run production winning awards. MSU's student-run radio station, Impact 89FM, has been recognized as the Michigan College Radio Station of the Year 17 times during the past 20 years. It was named the 2021 College Radio Station of the Year by the College Media Association, a national award the station had never won before. The staff of The State News, MSU's student-run newspaper, was selected as a finalist for the Corbin Gwaltney Award for Best All-Around Student Newspaper at the Society for Professional Journalists Region 4 contest. Additionally, The State News has won 17 Pacemaker Awards, the most recent coming in 2020.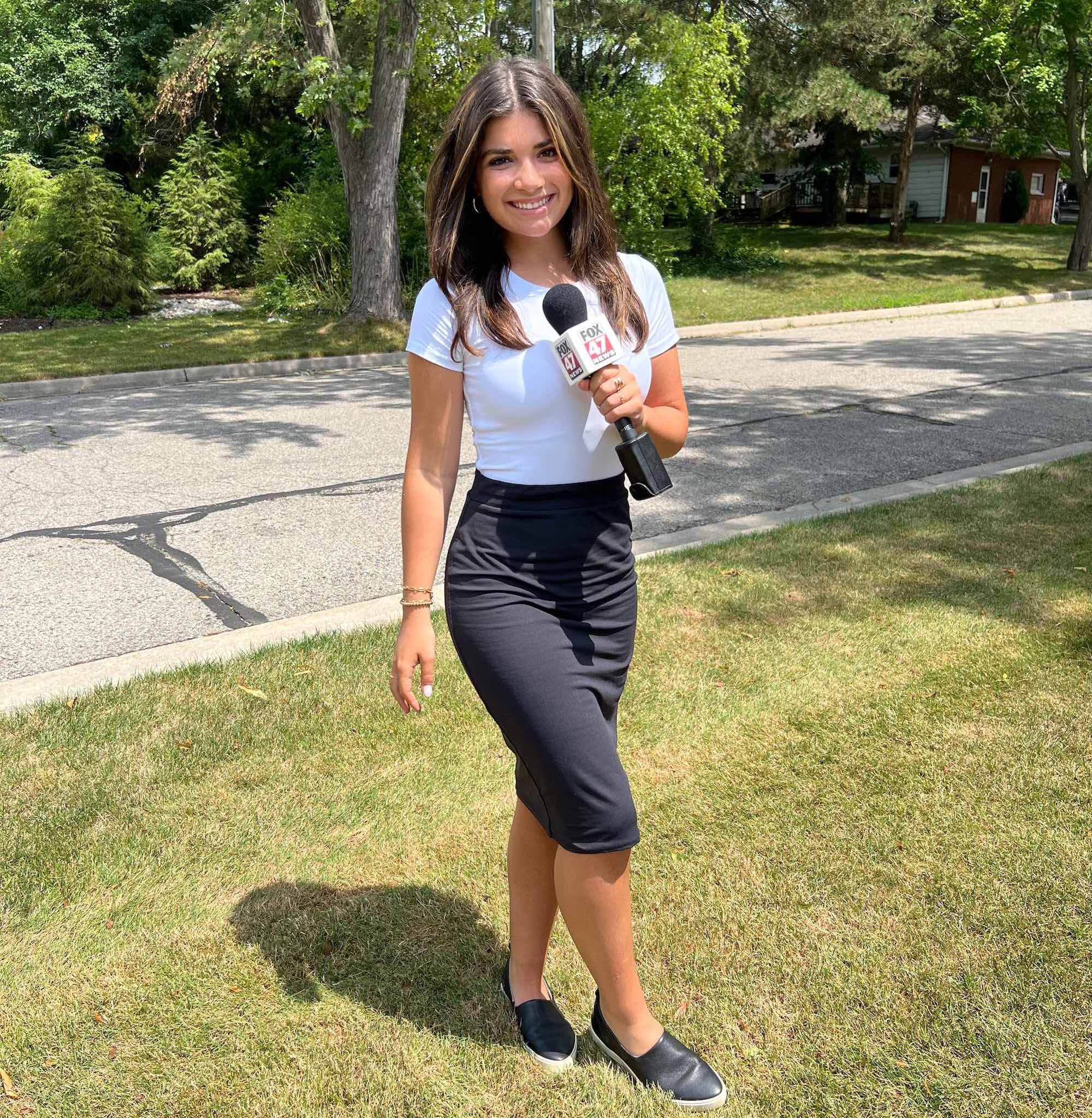 Isabella Martin reporting on location during her Fox 47 internship. Photo courtesy of Isabella Martin.
The hands-on experience prepares MSU students and graduates to lead in their industry. As the first college of communication in the country, ComArtSci has been leading the field since 1955. With more than 56,000 alumni, today, the college consists of five departments and 22 programs, led by world-renowned faculty. Students in the School of Journalism have access to world-class facilities and labs like the Spartan Newsroom and Immersive Media Studio, a learning space in the ComArtSci building for students applying their skills in news, animation and motion-capture arenas. Plus, there are courses for student-led news production teams to work in the space, including the students behind the award-winning news program Focal Point.
Professor of Journalism Mike Castellucci, who along with Professor Bob Gould leads the courses that produce Focal Point (TV News and Advanced TV News and Producing), knows that the work being done in his classes can be difficult. However, it is the same kind of work being done to produce the news stories seen on national television. At the beginning of the pandemic, Castellucci and Gould's students wanted to keep producing Focal Point. Working with the university to comply with COVID-19 rules, they produced multiple episodes, working remotely and often shooting with phones.
"It's just like a TV station," Castellucci said of the pandemic newscasts, "except it's better. I don't know any TV station that goes live with three phones in a newscast."
Next-generation talent
These courses put students right into the thick of the broadcasting process, but there are also teaching moments that happen during the classes. While Focal Point is student-run, both Castellucci and Gould are instrumental in the success of the show — they also plant story ideas for the aforementioned 12-hour news day. Alumna Myesha Johnson had done a lot of work toward mastering print journalism before joining Focal Point as a reporter. While learning how to get the right camera angle like a pro, she says that Castellucci and Gould were able to work with her sometimes-shaky shots to help her produce a great piece. Castellucci and Gould are only two faculty members leading the next generation; ComArtSci is filled with faculty who help students hone their craft.
The faculty and staff also assist students looking to land internships and jobs, and as rising senior Isabella Martin says, studying at ComArtSci provides the "opportunity to create meaningful professional relationships." Martin ­— who is a senior producer on Focal Point — is spending her summer as a multimedia reporting intern at Fox 47 News in Lansing. Castellucci put Martin in touch with the news director at Fox 47, and from there she landed the role.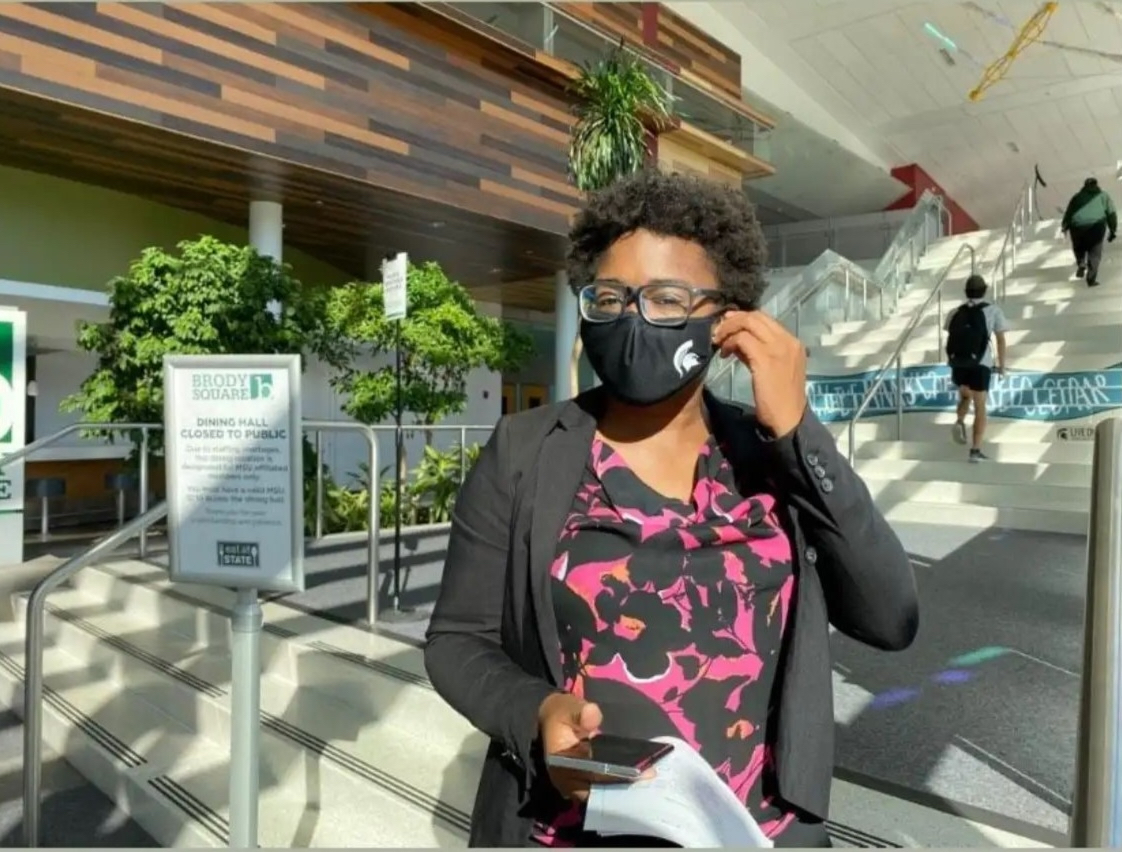 Myesha Johnson reports on a Focal Point piece. Photo courtesy of Myesha Johnson.
Internships are an important part of the ComArtSci experience. Journalism students are required to complete Journalism Professional Field Experience at a professional media organization. Martin is one of many students gaining even more real-world experience. "Focal Point has taught me leadership skills and how to work under pressure," she said. "It also prepared me for what a real newsroom is like," she said. "All of these valuable skills have assisted me in my current internship at Fox 47."
Like Martin, recent graduate Johnson is getting her career started thanks to the work she did at MSU. One of her pieces for Focal Point, "No Work, No Food," about the staffing challenges MSU dining services faced during the pandemic, won first in the Hard News category in the Michigan Association of Broadcasters awards. Having also worked for The State News as a reporter, she graduated in May and took a role as a reporter at the Detroit News in June.
"Working in the fast-paced world of TV," Johnson says, "was all about the pressure of getting things done on time. Working with everyone on Focal Point helped show me that journalism is really a team effort." Now working for a print publication, Johnson's TV background knowledge is helpful, but she enjoys taking the extra time to perfect a story. Plus, she's happy to be working at a place with colleagues who have been in the industry for a long period.
Top of their game
Some of those colleagues, like those at many news and media companies throughout the country and world, are Spartans. It is not only in Michigan that you will find Spartan journalists. From Jemele Hill at The Atlantic to Ryan Field at ABC in NYC to Don Gonyea at NPR to name a few, ComArtSci alumni are at the top of their field.
Current students have many to look up to, and they are learning the ins and outs of the trade thanks to student-run productions like Focal Point, Impact 89FM and The State News.
For Stainback, the former executive producer of Focal Point, his collegiate experience prepared him for his next step. He came to MSU with plans of studying engineering but soon discovered it was not the right track for him and found his calling in journalism. Over four semesters in TV News and Advanced TV News & Producing (students can take the class multiple times), Stainback took on more and more responsibility within the show.
After graduating in May, he began a role as a news producer for the 6 p.m. news on WILX in Lansing. One day in July at 5:55 p.m., just before that night's program was set to begin, breaking news hit. The top local story changed.
"Literally five minutes before we're set to go on," Stainback says and takes a deep breath, "we have breaking news." Only a few months into his job, the fast-paced world of live news was in full force. He was ready for it, even with only five minutes to spare. "We were able to get it on the air," he says. "It was a productive day."