Zahra Ahmad is a third-year student majoring in comparative cultures and politics in James Madison College and minoring in global public health and epidemiology in the College of Human Medicine's Department of Epidemiology and Biostatistics, and computational math, science, and engineering in the College of Natural Science. Ahmad is also a student in the Honors College.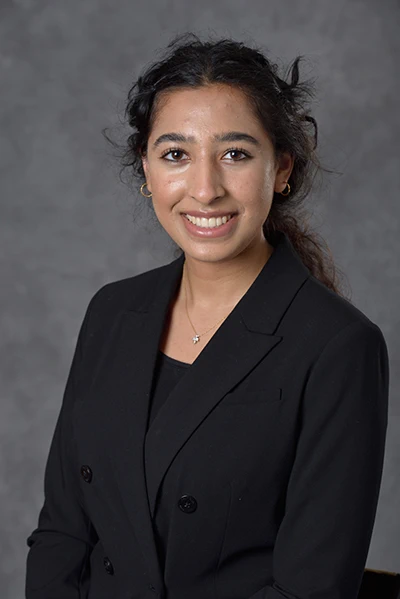 I entered college as a pre-med student in James Madison College. While I didn't do too much exploring (in high school) of all of the various career paths I could achieve with my area of study — public and international affairs — medicine seemed like a safe bet.

Research is a critical prerequisite to many career paths, pre-med being one of them, so I explored research opportunities advertised by the university. Though organic chemistry was one of my favorite classes, doing particle research did not seem appealing.

As I continued my coursework, my interest in public health grew. One of my good friends knew of my interest and sent an opportunity my way for an epidemiology research program where you would be paid to do research with an epidemiology professor of your choice.

One of the people I listed as my top choices and with whom I interviewed was Dr. Mieka Smart, an assistant professor with MSU's College of Human Medicine. During the interview, she encouraged me to contact her if I was interested in doing research, regardless of my application status.

Unfortunately, I did not get the position, but I took her words to heart and reached out. She told me about a campaign called #8cantwait that advocates for eight key police policy reforms. These reforms, when implemented, have been proven to show a decrease in police-related mortality.

Dr. Smart suggested we compare police policies in the state of Michigan with the #8cantwait guidelines, and then compare them to police-related mortality statistics. This was an idea that hadn't been explored for the entire state of Michigan.

After our meeting, I felt this huge sense of gratification and anticipation. This research would bring together all components of my academics in a way that was so important and quite overdue to be studied.

Once we began the data collection, we decided to sample policies for Michigan counties as it would be the most realistic way to cover the geographical scope of the entire state. When we began looking for county sheriff department use-of-force policies, our results were quite alarming: We found only three of 83 policies online.

We know controlling policy impacts police behavior, so the lack of data, notably data that is easily accessible to us, was concerning. This created the necessity to re-shift our focus to highlight the (lack of) transparency of our institutions with their administrations, and this is the focus of the paper we are drafting now.

Pursuing this work has given me confidence to trust myself. I can do meaningful work that encompasses not just one but multiple interests of mine. I have honed my research skills and gained an incredible mentor.

Additionally, I won an award for Outstanding Research Promise for this work in the Honors College Diversity Research Showcase.

My research is not a niche field; I was just underexposed to these incredible opportunities that you can seek out on your own. MSU faculty members are always there to support, and I would encourage everyone to seek out exactly what you are looking for — because if it's not out there, you can create it.